If you want to crochet something special for the man in your life that he'll actually use and love, give this men's ear warmer crochet pattern a try. It'll keep him warm and make for a thoughtful gift he'll proudly wear.
I made this crochet ear warmer pattern with my picky husband in mind. He only wears what he genuinely likes, not just to please me. And for me, it's always a good indicator that he genuinely likes his crochet gift if he wears it to work or out, not just when working in the backyard! 🙂
This post may include affiliate links, view my disclosure policy for details.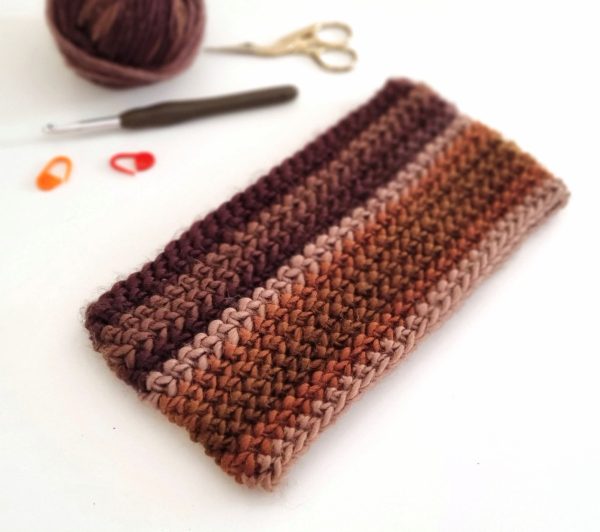 About the Yarn
I used Lionbrands Landscapes in Sand Dune for this men's ear warmer crochet pattern. By the time I made this headband, I had noticed that this colour had been discontinued, but there are other colours to choose from, and the Mountain Range is very similar, which I think would work great in this pattern. They're always introducing new, vibrant and beautiful colours, so take a look if you find something you like.
The yarn is 100% acrylic and is beautiful to work with. I really enjoyed the chunkiness, the smoothness and how easily the hook glides through the yarn. It states that it's a #4 medium worsted yarn, but it felt a little chunkier to me. There are some slight inconsistencies in the thickness of the yarn, and it might be on purpose. Either way, I actually liked it.
About the Stitch
I used the herringbone half double crochet throughout the pattern. I worked in spiral rounds, all in one direction without turning. The stitch created a nice texture on the right side of the headband and a slightly different, smoother texture on the wrong side. I much prefer the more textured (right) side, but it can be worn interchangeably.
Sizing
Measure the circumference of your (or the person you're making it for) head. Usually, it's a good idea to make a headband that's 2-3 inches shorter than your head's circumference, as the headband will stretch.
Once you connect the round and begin working in a circular pattern, it will obviously be half of that length. The completed headband measures 9.75 inches when laid flat on the table.
In this ear warmer pattern, the head circumference is 23 inches. Since we're creating a headband that's worked in a round, you'll need to chain (or, in this pattern, I used foundation stitches as they stretch better) until you have approximately 20-21 inches.
Modern Men's Crochet Headband Pattern
Scroll down for the free crochet pattern, or get the ad-free & premium PDF pattern with step-by-step photos and written instructions from my Etsy or Ravelry stores.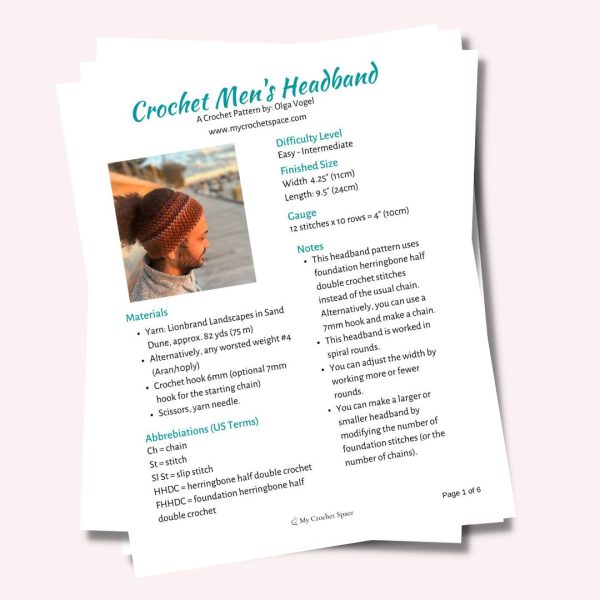 Kitchen Towel Crochet Pattern PDF
Or pin this men's crochet ear warmer pattern to your Pinterest Crochet Board for later!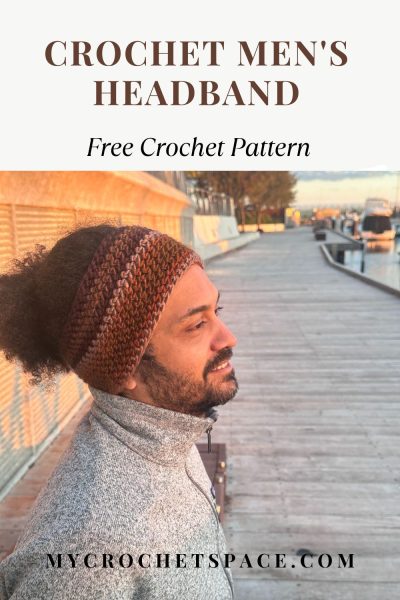 Men's Ear Warmer Crochet Pattern
Difficulty Level
Easy – Intermediate
Dimensions
Width: 4.25′′ (11cm)
Length: 9.75′′ (25cm)
Gauge
12 Sts x 10 rows in HHDC = 4′′ (10cm)
Abbreviations (US Terms)
Ch = chain
St(s) = stitch(es)
Sl St = slip stitch
HHDC = herringbone half double crochet (HHDC tutorial here, or a short video demonstration of this stitch here)
FHHDC = foundation herringbone half double crochet or a short video here.
Materials
Yarn: Lionbrand Landscapes in Sand Dune (Note: Sand Dune is discontinued, but you can choose other colours here) approx. 82 yds (75 m). Alternatively, you can use any #4 worsted-weight yarn of your choice.
Crochet hook 6mm (optional 7mm hook if starting with a chain instead of foundation stitches)
Scissors, yarn needle
Crochet Men's Ear Warmer Pattern Notes
This headband pattern uses foundation herringbone half double crochet instead of the starting chain, to create more stretch in the first row. If you're not familiar with this technique, you can learn it here. Alternatively, you can use a 7mm hook and make a chain.
The Ear Warmer is worked in spiral rounds.
The width of this headband is 4.25″ (11cm). You can adjust the width by working more or fewer rounds.
You can make a bigger or smaller headband by adjusting the number of foundation stitches (or the number of chains).
Crochet Men's Headband Instructions
FHHDC 53 or until you reach your desired size (2-3 inches less than the head circumference, see sizing). Alternatively, chain 53 with a 7 mm crochet hook.
Connect the row (or the chain) with a Sl St to create a circle.
Round 2: Ch 1, HHDC in first St and each St around. When you reach the end of the round, don't join the round. Instead, continue working HHDC in spiral rounds by working a HHDC on top of the first stitch in the previous round and in each stitch around in the same direction.
Rd 3-11: work HHDC in continuous spiral rounds.
When you reach your desired width, work until the approximate end of the round (it doesn't need to be the exact stitch). You'll identify the start and end of each round by looking at the yarn tail from the first row. That's the beginning and end of each round. Work a SC, Sl St, Sl St, Sl St. Fasten off, weave in ends on the wrong side.
Once you've reached your desired width, continue working until you're near the end of the round (it doesn't need to be the exact stitch). To identify the start and end of each round, look at the yarn tail from the first row; that marks the beginning and end of each round. Then, work a SC in the next St, and a Sl St in each of the next three stitches. After that, fasten off and weave in the ends on the wrong side.
Your crochet ear warmer is done! I hope you like this simple men's crochet headband pattern!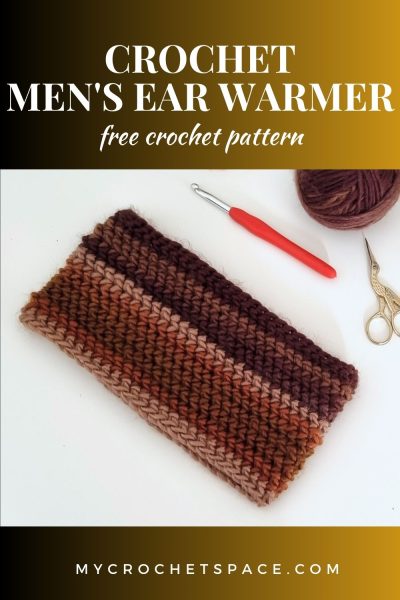 I really love seeing your beautiful creations using my patterns! Make sure to tag me on Instagram @my_crochet_space to show off your makes!
Just for Men Blog Hop (September 2023)
Join us for the Just for Men Blog Hop 2023 and be inspired with a new crochet pattern every day in September 2023! Among the featured designs is this Crochet Men's Headband pattern, and on September 9th, you can grab the premium PDF version for free, but only for 24 hours. Just visit the roundup page to get the coupon code and download the pattern using the provided button!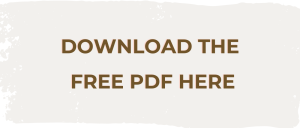 If you missed the date or want to catch up on all the other fantastic men's crochet patterns you've missed, here's an incredible opportunity to get them all for just $14.99! This amazing bundle will be available until the end of the Blog Hop, September 21st.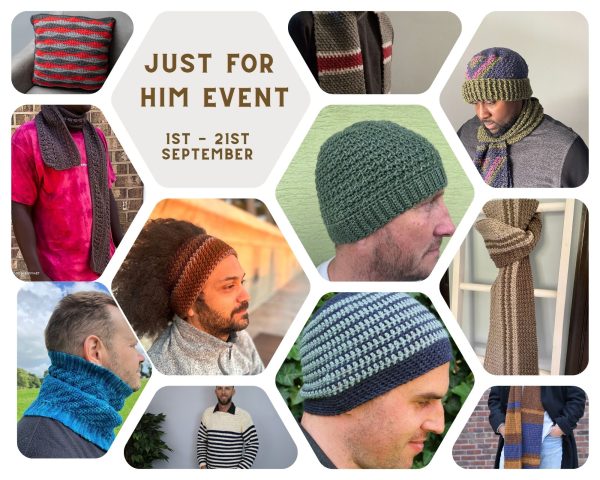 Benefits of purchasing the Bundle:
Huge cost savings – 90% off compared to buying patterns separately.
Diverse range of designs to explore.
Chance to learn and master new stitches.
Quick and useful projects, perfect for gifting.
Access to the patterns forever!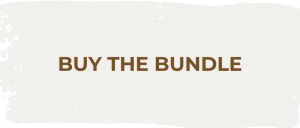 Enjoy your crochet patterns! Happy Making! 🙂
Free Crochet Patterns