There are many different shapes and sizes of crochet shawls and wraps. And some shapes are easier to crochet than others. I wanted to make a shawl that is easy to crochet but also looks pretty and has some interesting texture. So, a rectangular crochet shawl pattern would be an easy shape to start with for beginners!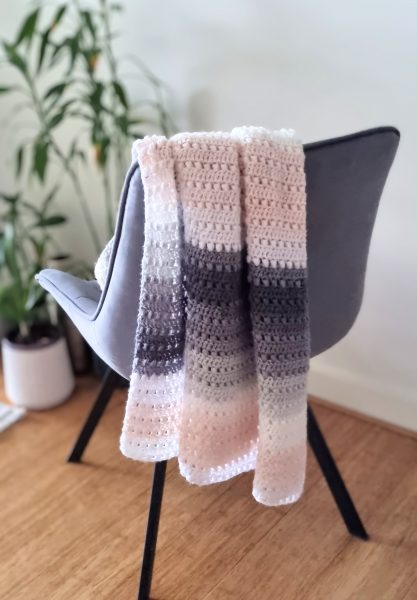 The Primavera crochet shawl has a rectangular shape and worked in back and forth rows. It's most likely the simplest shape to work with since there's no need for increasing or decreasing stitches at any time.
This crochet shawl pattern is a two-row repeat and only two types of stitches are used throughout the whole pattern – Double Crochets and Puff Stitches. I love Puff stitches here as they create such a beautiful texture.
I'm using a hook size (5mm/ H-8) that is one size larger than the recommended size. This creates fluffier and airier puff stitches.
In comparison to the puff stitches in my crochet Laptop Sleeve, where I used a much smaller size hook (3mm/D-3) the puff stitches there are quite dense and smooth.
Crochet Rectangular Shawl Free Pattern
Please scroll down for the free pattern or get the ad-free & print-friendly version with step by step photo and written instructions for a small fee from my Etsy or Ravelry stores.


Or get this shawl & scarf bundle that includes the Aquamarine Triangle Shawl, the Ocean Breeze Scarf and the Primavera Rectangular Shawl! You can get it from Etsy here.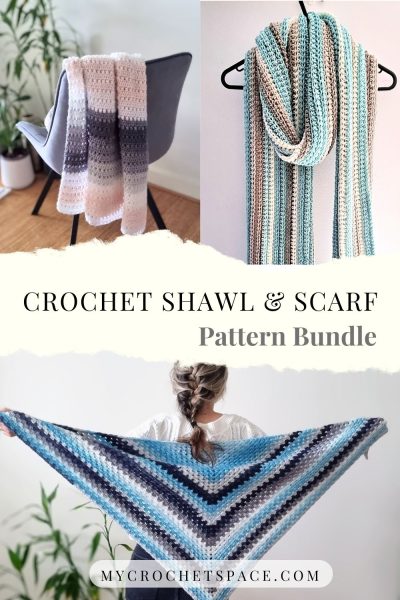 Crochet Shawl Pattern Notes
The shawl is worked widthways. You need to determine the width of your shawl first in order to chain the right amount of chains for the foundation chain.
You can make a wider or narrower shawl by chaining more or less (chain any odd number)
Always chain 2 at the beginning of a row.
Ch 2 at the beginning of DC rows counts as a stitch.
You can make a longer/shorter shawl by working more or fewer rows.
Materials:
Yarn: Caron Skinny Cakes from Yarnspirations, 2 skeins. Colour: Cookies & Strawberries (Weight: Light Worsted/DK/8ply)
Crochet hooks: H – 8 (5mm) and J-10 (6mm) for the foundation chain
Yarn needle
Scissors
Note: foundation chains do not stretch as much as normal rows. The bigger size crochet hook will create some space between the chains and make that side of your shawl stretch better together with the rest of your shawl.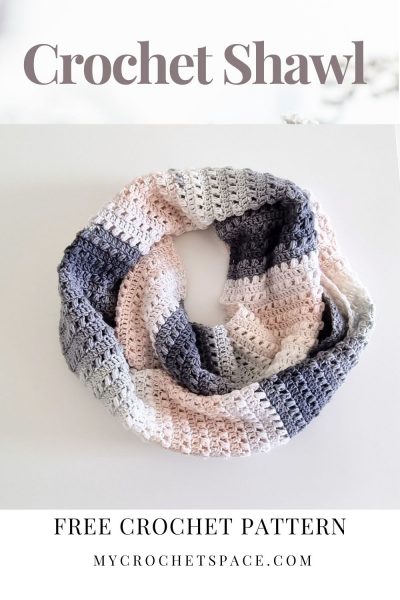 Dimensions:
19" x 64" (48cm x 163cm)
Gauge:
15 DC stitches x 9 rows = 4" (10cm) in pattern.
Abbreviations:
Ch = chain
St(s) = stitch(es)
DC = double crochet
Pf st = puff stitch
Sk = skip
Puff Stitch in this pattern: Yarn over, insert your hook in the specified stitch, yarn over and pull up a loop to the height of double crochet, yarn over, insert your hook into the same stitch and pull up another loop to the same height, yarn over and insert your hook again into the same stitch and pull up a loop. You should have 7 loops on your hook now. Yarn over and pull through all the loops on your hook. Ch 1 to secure the Puff stitch. (you can watch the video demonstration below)
Rectangular Crochet Shawl Pattern Instructions:
Ch 73 (or any odd number if you like to make it wider or narrower, e.g. 71, 73, 75, 77 etc)
Row 1: Pf st in fourth Ch from hook, *sk 1, Pf st in next**, repeat from * to ** across the row. DC in last Ch. Ch 2 and turn. (35 Pf sts, not counting turning chain and last DC)
Row 2: DC in first st (on top of Puff St in the previous row) and into every stitch across the row (including the Ch 1 between the Puff stitches). Work the last DC into the turning chain. Ch 2 and turn. (71)
Row 3: Pf st in first st (on top of the second DC in the previous row), *sk 1, Pf st in next**, repeat from * to ** across the row. DC in last St (turning Ch). Ch 2 and turn. (35 Pf sts, not counting turning chain and last DC)
Repeat rows 2 and 3 until you reach the desired length of your shawl.
I have 143 rows and finished with the same stitch (Puff st row) and the same colour I started with.
Fasten off and weave in all ends with the yarn needle.
Rectangular Crochet Shawl Pattern – Video Demonstration
Note: If you're using Caron Skinny Cakes yarn or any other yarn that changes colour – pay attention to those colour changes when you start a new skein. If you like a symmetrical flow of colour then make sure you start from the same colour you have just finished with. There is an order to the colour change in this yarn – a few rows of dark grey followed by a few rows of light grey, then white followed by cream and white again. If you started the first skein from the centre then you should start the second one from the centre too in order to maintain the same flow of colours.
The same goes for the finish: if you started with white and would like to finish with white then make sure to look for that colour change when you get closer to your desired length and plan ahead. But of course, you don't have to! As long as you're happy with the way it looks 🙂
I hope you enjoyed making this rectangular crochet shawl! Let me know in the comments below if you have any questions about the pattern 🙂
More Free Crochet Patterns