The Sea Breeze Throw is a stylish and cozy modern crochet blanket featuring a stunning three-dimensional texture! This blanket would make the perfect addition to your home. Whether you want to cozy up on chilly evenings or impress your friends with your crochet skills, it's perfect for both!
This post may include affiliate links, view my disclosure policy for details.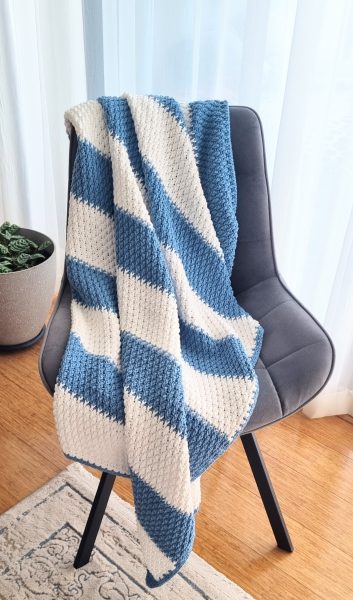 Initially, I intended to make a small, cozy baby blanket. However, as I worked on it, I decided to change course and create a versatile lapghan/afghan for chilly evenings. This modern crochet blanket falls somewhere in between the two sizes, but you can easily customize it to fit your preferences. Adjust the width and length to create a larger blanket for sharing or a smaller one just for yourself.
This crochet blanket pattern may not be the fastest to complete, but it's certainly worth the time and effort. If you're seeking a project where you can take your time, relax, and fully enjoy the process of crocheting, then this is the perfect choice for you.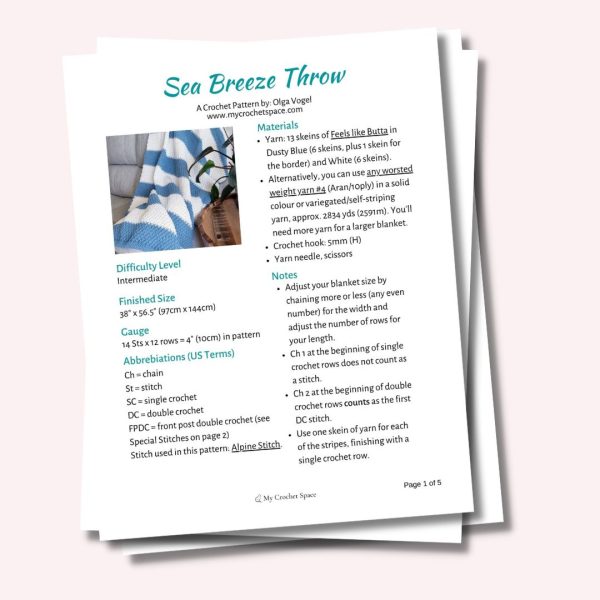 Sea Breeze Throw Crochet Pattern PDF
I'll be honest, I began this blanket a while back, but I quickly realized it would take a little longer than I thought. So, I put it aside (for about five months!) and worked on some other, quicker crochet projects for a few months.
But every time I looked at my half-done crochet blanket, I couldn't wait to dive back into it. The stitch definition and the yarn I picked out were just perfect and I so enjoyed working on it.
Once I picked it up again, I found that the repetitive pattern of this blanket was almost like a form of meditation, incredibly soothing and calming. There's a certain magic to working on larger projects like this one – you can go at your own pace and completely immerse yourself in the process. It's the perfect project to work on while watching a movie or, in my case, listening to an audiobook. That way, you can keep your eyes on the project and indulge in your favourite book at the same time. 🙂
About the Stitch
The crochet stitch I used for this blanket pattern is called the Alpine stitch, and let me tell you, it's a real showstopper. This stitch creates a beautifully textured and eye-catching look that is truly mesmerizing. However, it's important to note that the Alpine stitch is not reversible. The stunning texture is only visible on one side of the blanket, so there's a definite right and wrong side.
If you're looking for a textured and reversible option, I suggest trying the Double Waffle crochet stitch. I actually used it for a baby blanket, but you can easily adjust the size to fit your preferences.
Difficulty
The skill level for this throw blanket is intermediate. You'll need to know how to work front post double crochet stitches. And in this pattern, they are worked two rows below the current rows.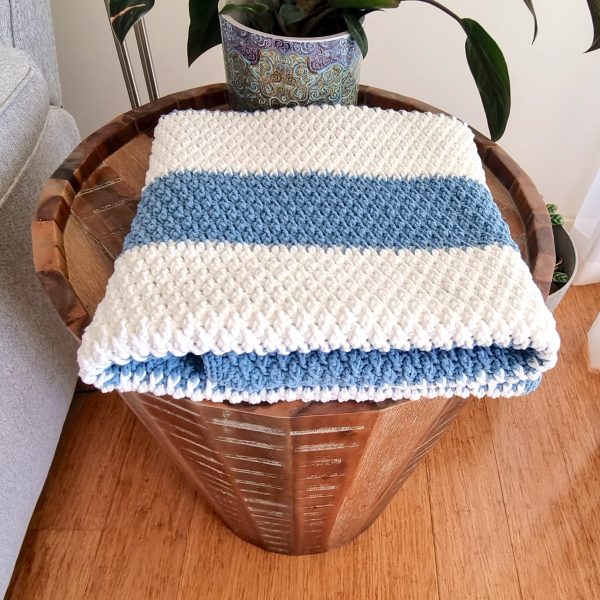 This pattern is a 4-row repeat, with two of the rows being regular single crochets and the other two rows being almost identical except for a slight change at the beginning of the row. This repeat is easy to memorize, and once you get the hang of it, you'll be able to crochet away without constantly checking the pattern.
Just a heads up, when working with the Alpine stitch, keep in mind that it requires a bit more yarn compared to using basic double crochet stitches. The reason behind this is that the technique of incorporating front post double crochets in this pattern creates an overlapping effect with neighbouring stitches, almost like adding an extra layer on top. While this gives the blanket its stunning texture, it also means that you'll need a bit more yarn than you would for a simpler stitch. But trust me, the end result is totally worth it!
So, make sure you have enough yarn on hand before you begin your project!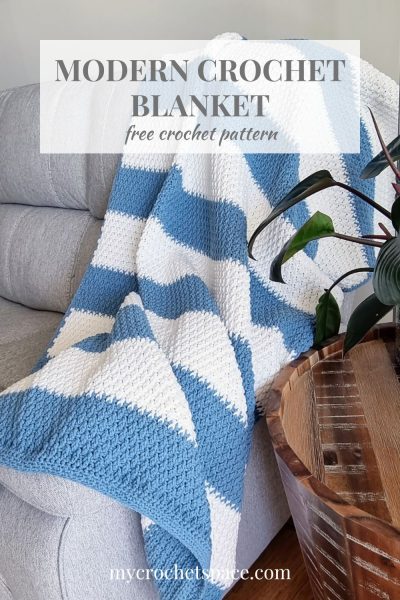 Pin this modern crochet blanket pattern to your Pinterest Crochet Board for later!
About the Yarn and Yardage
If you're wondering what type of yarn and how much of it you'll need for this size, here is the answer. I used Feels Like Butta by Lionbrand yarn for this modern crochet blanket. This is such a soft yarn and I absolutely loved working with it. It created a buttery soft fabric which is a dream.
I used six skeins of each colour (Dusty Blue and White), which amounted to a total of 2834 yards (2591m). Each skein is 218 yards (199m), so it took quite a bit of yarn to create this beautiful throw blanket.
When picking your yarn for the modern crochet blanket, remember that creating this much texture does use up a good amount of yarn. For my blanket, I went with a 5mm hook instead of the suggested 4mm hook, which made it a bit bigger and extra cozy.
I'm pretty happy with how my blanket turned out. But if I had to do it all over again, I might even go up one more hook size. You see, the Alpine stitch can be quite dense, so using a larger hook creates a more open and airy texture. That's perfect if you want a bigger blanket that feels super soft. Just remember, if you stick with a 4mm hook which is recommended on the label, your crochet fabric will end up pretty dense.
Sea Breeze Modern Crochet Blanket Free Pattern
Scroll down for the free modern crochet blanket pattern, or get the ad-free & print-friendly version from my Etsy or Ravelry stores.
Difficulty level
Intermediate
Finished Size
38″ x 56.5″ (97cm x 144cm)
Gauge
14 Sts x 12 rows = 4″ (10cm) in pattern
Materials
I used: 13 skeins of Feels like Butta in Dusty Blue (6 skeins, plus 1 skein for the border) and White (6 skeins).
You can use any worsted weight yarn #4 (Aran/10ply) in just one solid colour or use self-striping yarn for a beautiful & unique look. You'll need approx. 2834 yds (2591m) in total.
Crochet hook: 5mm (H)
Yarn needle, scissors
Abbreviations (US Terms)
Ch = chain
St = stitch
SC = single crochet
DC = double crochet
FPDC = front post double crochet
Stitch used in this pattern: Alpine Stitch.
Pattern Notes
You can use any worsted-weight yarn (#4) in your favourite colours for this crochet blanket.
Adjust your blanket size by chaining more or less (any even number) for the width and adjust the number of rows for your length.
You can make this blanket in just one solid colour or use a variegated or self-striping yarn if you don't want to change colours.
I used one skein of yarn for each of the stripes, always finishing with a single crochet row.
Ch 1 at the beginning of single crochet rows does not count as a stitch.
Ch 2 at the beginning of double crochet rows counts as the first DC stitch.
Modern Crochet Blanket Written Instructions
Ch 150 or any even number of chains until you reach your desired width.
Row 1: SC in second and every St across the row. (149 in every row)
Row 2: Ch 2 and turn. DC in next and each St across the row.
Row 3: Ch 1, turn. SC in first and each St across.
Row 4: Ch 2, turn. DC in next St, FPDC in next (around the DC two rows below), DC in next, alternate FPDC and DC across the row. DC in last St. (for visual guidance, you can watch this video on how to crochet the Alpine Stitch)
Row 5: repeat row 3.
Row 6: Ch 2, turn. FPDC in first St (around the DC two rows below), DC next, FPDC in next, repeat alternating DC and FPDC across the row. DC in last St.
Row 7: repeat rows 3-6 until you reach your desired length.
Colour changes: alternate one skein of each colour. Before joining a different colour, make sure to finish the stripe with the SC row. So, the new colour always starts with the DC and FPDC rows. This way the stitch pattern will look consistent.
Note: For some reason, the width of my stripes turned out slightly different. The blue stripes had 9 double crochet (DC) rows, while the white stripes had 10 DC rows. When I attempted to add a 10th row with the blue yarn, I ran out of yarn before I could complete the single crochet (SC) row. Although the label indicated that the lengths should be the same, it seemed like the blue skein of yarn had less yarn than the white one. Unless my tension was slightly different, I can not explain this. This was just my experience, so I'm not sure if it was specific to a particular batch of yarn.
When you are happy with the size, fasten off. If you're planning to make a border, then go to the border instructions below. Otherwise, weave in all ends on the wrong side of the blanket, and your blanket is done!
Blanket Border
I don't always make borders, but in this case, I decided to make one to just keep the blanket in shape and prevent it from stretching out too much in one direction. I simply made three rounds of Moss stitch around the throw.
Instructions: Chain 1 and turn, so you work on the right side of the blanket. Work a SC in the same St, *Ch 1, skip 1 stitch, work a SC in the next St. Repeat from * until you reach the end of the row.
In each of the blanket's corners, place: SC, Ch 1, SC – all in the same corner stitch. Work SC, Ch 1 in each of the rows on the sides of the blanket. Make three rounds around the blanket (or more rounds if a wider border is desired).
I hope you like this crochet throw pattern!
Pin the Modern Crochet Blanket – Sea Breeze Throw pattern to your Pinterest Crochet Board for later!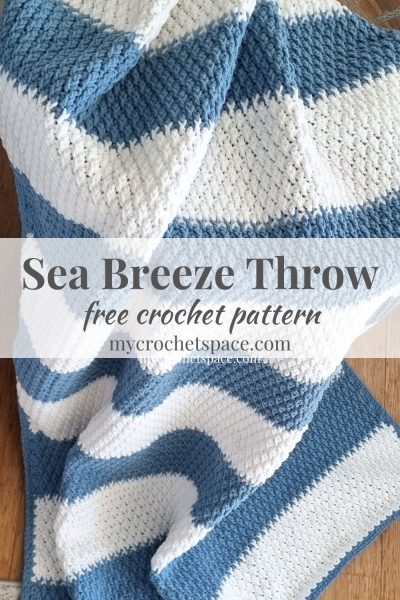 Free Blanket Crochet Patterns
More Crochet Patterns