If you're new to crochet and looking for a quick and easy project to practice your skills, then you've come to the right place. This beginner double crochet dishcloth pattern is super easy and quick to work up.
Dishcloths are a fantastic way to get started with crochet since they're small projects and practical items for your home, and you can never have too many! Plus, with the double crochet stitch, you'll be able to create a lovely, textured fabric that adds a touch of charm to your kitchen or bathroom. So grab your hook and let's get started on this fun double crochet dishcloth!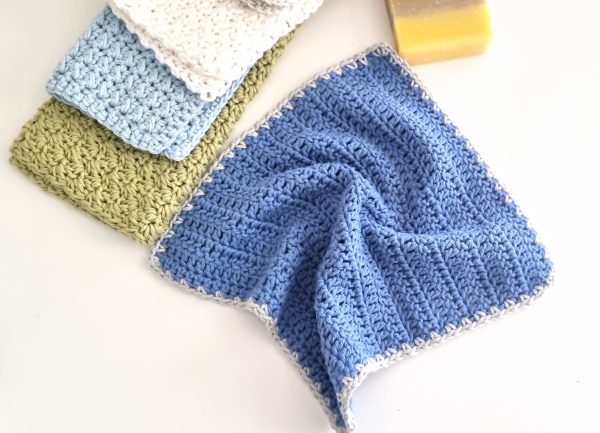 About the yarn
For this double crochet dishcloth, I used 100% cotton yarn, which is a great choice for a few reasons. Firstly, cotton yarn is incredibly absorbent, making it the ideal material for tackling spills and messes in the kitchen. You won't have to worry about your dishcloth leaving any residue behind as it effectively cleans surfaces with ease.
Additionally, cotton yarn is easy to care for, making it a practical choice for busy households. Simply toss it in the washing machine with your regular laundry and it will come out looking clean and new again. Unlike other materials, cotton doesn't tend to shrink much or lose its shape, so you can trust that your dishcloth will maintain its quality even after multiple washes.
Also, cotton is durable, so your dishcloth will last you a long time. You won't have to worry about it fraying or falling apart after just a few uses. This means that your dishcloth will not only be practical and easy to care for but also a cost-effective addition to your household essentials.
New to crochet? Start with this Step-by-Step crochet tutorial with photos and a video demonstration!
Should you make a border around your double crochet dishcloth?
The choice is yours when it comes to adding a border to your crochet washcloth or dishcloth. Leaving it without a border will still result in a beautiful look. However, if you're up for a challenge and want to practice your border-making skills, it's a great opportunity to do so.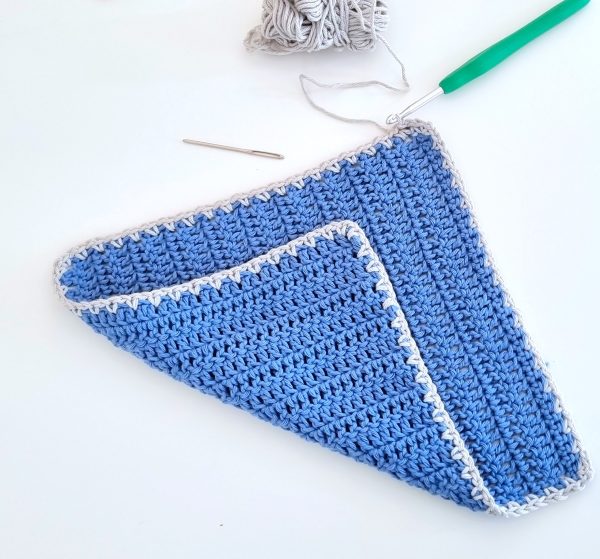 Keep in mind that if you're new to crochet, borders can be a bit tricky initially. Especially when working along the sides to evenly distribute the stitches. Therefore, it's a good idea to practice on your washcloth before moving on to larger crochet projects.
Double Crochet Dishcloth Pattern
Pin this crochet dishcloth pattern to your Pinterest Crochet Board for later!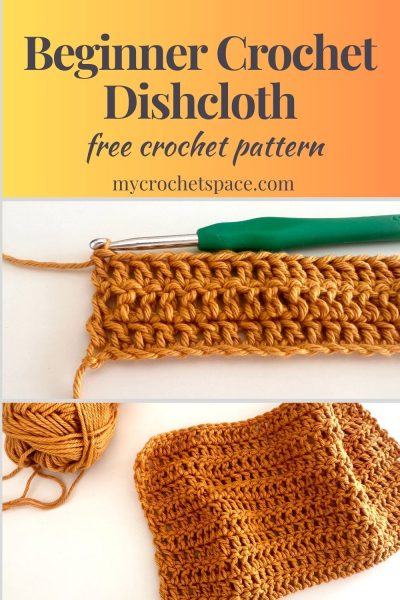 Difficulty level
Easy / Beginner
Finished Size
8″ x 8″ (20cm x 20cm)
Gauge
17 stitches x 9rows = 4 inches (10cm)
Materials
Any light worsted weight cotton yarn #3 (DK/8ply) approx. 100yds/90m.
Crochet hook: 4.5mm (7)
Yarn needle, scissors
Abbreviations (US Terms)
Ch = chain
St = stitch
SC = single crochet
DC = double crochet
Stitch used in this pattern: Double Crochet Stitch and Single Crochet for the border. (If you are an absolute beginner and new to crochet, please check these detailed tutorials with photos and a video demonstrations: How to Crochet (single crochet stitch) and how to make the Double Crochet.
Pattern Notes
This dishcloth can be made in any size. Chain any number of chains to make your dishcloth bigger or smaller, and adjust the number of rows until you have a square.
You can use a slightly larger size hook (5mm) for the foundation chain to make the bottom edge less tight.
Ch 2 at the beginning of the row counts as the first stitch.
Work the number or rows until you have a square washcloth.
Double Crochet Dishcloth Written Instructions
Ch 36 (or any number for your desired size).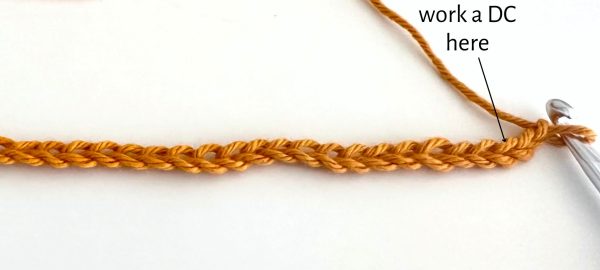 Row 1: DC in the 3d Ch and each Ch across the row. (total 34 DC stitches) Ch 2 and turn.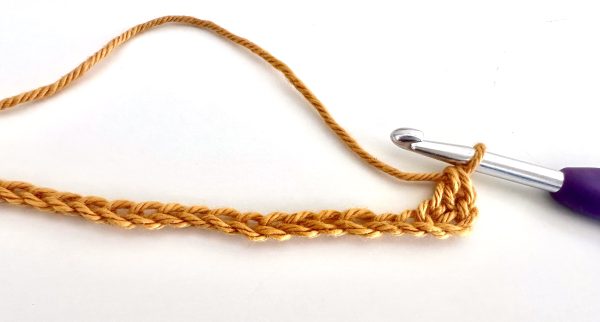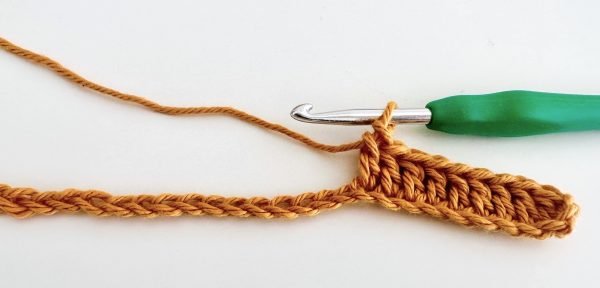 Row 2-18: DC in next St and across the row. (34) Ch 2 and turn.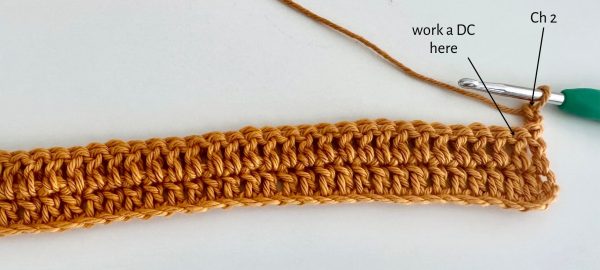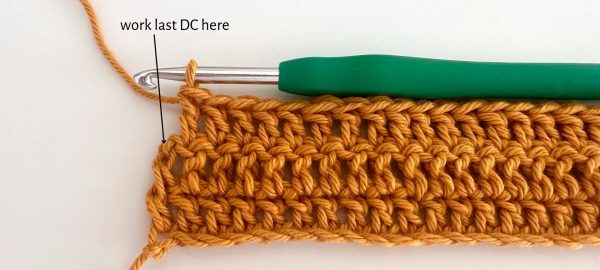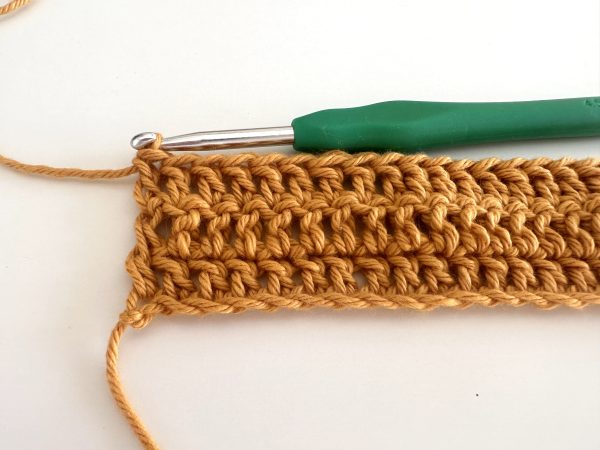 Border (optional)
You can make your border in a different colour to make it stand out more or continue with the same colour.
Once you've completed your final row, turn your work and make a single crochet stitch in the same stitch. Chain 1, then skip 2 double crochet stitches and make a single crochet in the gap between the second and third double crochet stitches. Repeat this pattern of chaining 1, skipping 2 double crochet stitches, and making a single crochet in the gap between stitches until you reach the corner. (18 SC)
In the corner, make a single crochet, chain 1, and then another single crochet, all in the same stitch. Turn your work and continue working SC plus Ch 1 in each row as you work around the dishcloth.
To summarise the border: distribute 18 Sc on each side of the dishcloth as shown below. In each of the corners, place SC + Ch1 + SC in the same stitch.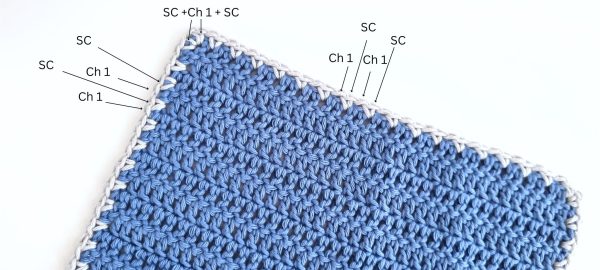 At the end, slip stitch to first stitch and fasten off. Weave in all ends.
I hope you like this simple double crochet dishcloth pattern! If you have made this and found this easy, you might want to try something using the stitches you already know in a different way. This easy crochet washcloth uses single and double crochet stitches in a particular order that creates a lovely texture! Have fun! 🙂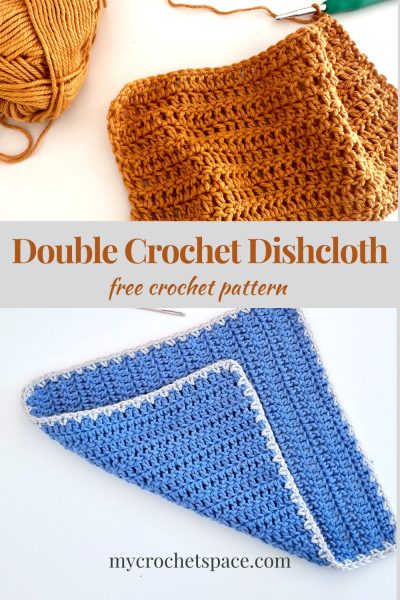 More Free Washcloths / Dishcloth Crochet Patterns
More Crochet Patterns