This Moss Stitch Crochet Blanket Square is a fun and easy crochet project! I had some leftover yarn from previous projects in beautiful Mustard colour and White. It's a medium worsted weight yarn and 100% acrylic.
You can use any type/colour yarn you like, just pick at least two of your favourite colours that go well together to get some contrast. If you have plenty of leftover yarn then this could be a good way to use it all up. You can pick as many colours you like – just make sure it's the same type/thickness of yarn.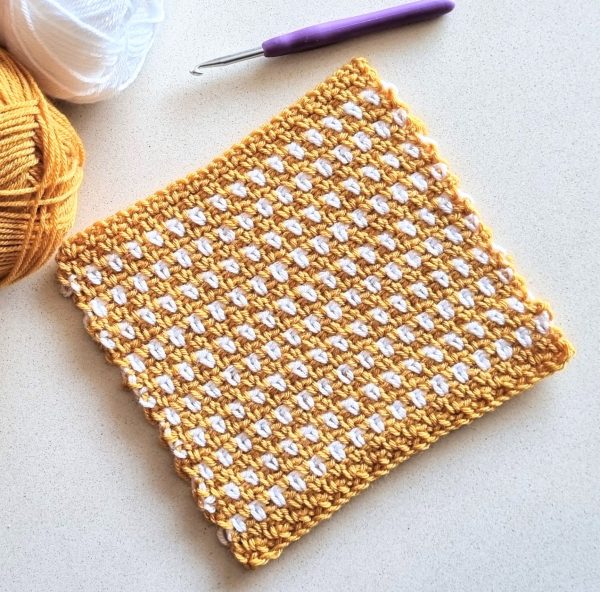 About the Stitch
For this crochet blanket square, I used one of my favourite crochet stitches – the Moss Stitch. This stitch is super easy and versatile! Using the same stitch, you can create many different looks by just alternating contrasting colours in a variety of ways.
In this pattern, I alternated 2 rows in Mustard and 1 row in White. If you're curious to see what other different looks you can create with colour using the Moss Stitch, take a look at the Crochet Tea Towel, where I alternated colours every 2 rows. And in the Cool Ombre Men's Scarf, I was using a variegated yarn that changed colours on its own. You see, you can get as creative as you like!
The Moss Stitch creates a soft and cozy feel which is what you'd want in a crochet blanket. It's not too thick or heavy, with a little bit of a stretch.
Charity Cozy Fall Make Along
This crochet Moss Stitch Blanket Square was part of Charity Cozy Fall Make Along. You can find more details about the Charity Cozy Fall Make Along here.
Moss Stitch Blanket Square Pattern
It's easy to customize this crochet pattern. You can make your blanket as big as you like by chaining any even number for the desired width of your blanket and adding more rows for the length!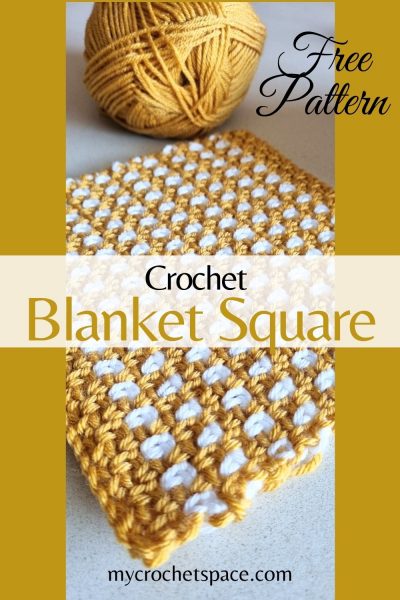 Please scroll down for the free pattern or get the ad-free & print-friendly version with step-by-step photo and written instructions for a small fee from my Etsy store.

Difficulty
Easy
Dimensions
8″ x 8″ (20cm x 20cm)
Gauge
16 st x 17 rows = 4″ (10cm).
Special Stitches
Moss Stitch = a sequence of 1 single crochet followed by 1 chain stitch. (Here is a video demonstration of the Moss Stitch)
Materials
Yarn: any medium worsted weight #4/Aran/10ply in 2 contrasting colours
I used 100% acrylic in Mustard (54yds/50m) and White (21yds/20m)
Crochet hook: 5mm (H-8)
Yarn needle, scissors
Blanket Square Pattern Notes
Pattern written in US terms
Chain a multiple of 2 (or any even number)
Always change colour in the last SC of a row.
Colour changes: First and last 3 rows in Mustard. From row 4 alternate 1 row in White and 2 rows in Mustard.
When working with White, carry Mustard colour across the row. That way you won't have lose ends on each side to weave in. And you'll get much cleaner and neater edges and no lose ends to weave in!
Alternatively, you can cut the Mustard colour yarn at the end of a row and rejoin after the White coloured row. But you will have a lot of loose ends to weave in. You can make a border around and hide them all in or they can be incorporated to make a fringe.
If you decide to carry yarn, it will take a little more yarn to complete the blanket. You'll need to also make sure that the carried yarn inside the rows is not too loose and not too tight as this will affect how much the blanket stretches. Simply pull on both sides of the blanket before starting the next row to make sure the carried yarn is laying loosely.
Abbreviations:
St = Stitch
Ch = Chain
SC = Single Crochet
Sk = skip
Ch-1-space = chain 1 space
With Mustard, Ch 34 or any even number until your foundation chain measures 8.5″ (it should decrease in length after a couple of rows).
Row 1: SC in 4th Ch from hook, *Ch 1, sk 1 Ch, SC in next Ch**, repeat from * to ** to end of row. The very last stitch should be a SC. Ch 2 and turn.
Row 2: SC in first Ch-1-space (between the SC stitches from the previous row), *Ch 1, Sk 1 St, SC in next Ch-1-space**. Repeat from * to ** to end of row. The very last SC should be worked into the space between the turning chain (Ch 2) and the SC from the previous row. Change to White in the last St.
Ch 2 with White and turn. Place Mustard on top of the row and work over it, carrying Mustard inside the stitches across the row.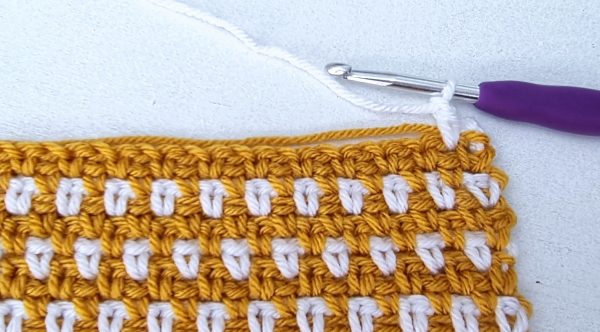 Row 3-34: Repeat row 2 until your square measures 8″ in height.
Colour changes:
First and last 3 rows in Mustard. Rows 4-31: alternate 1 row in White and 2 rows in Mustard.
Always change colour at the end of the row in the last stitch.
Remember when working with White, you need to carry Mustard for one row as you will need it in the next row.
White does not need to be carried across the row. Simply leave it hanging on the side until you need it again.
Fasten off and weave in ends.
Hope you enjoyed making your blanket square!
More Crochet Blanket Free Patterns