I don't know why it took me so long to design another crochet kitchen towel after creating the Crochet Tea Towel a couple of years ago, but better late than never! If you're a crocheting enthusiast and want to add a touch of homemade charm to your kitchen, consider whipping up some crochet kitchen towels. They're not only cute and one-of-a-kind, but they're also super practical for all sorts of kitchen tasks, like drying dishes and wiping down counters. So let's get started on your own crochet kitchen towel with the free pattern below!
This post may include affiliate links, view my disclosure policy for details.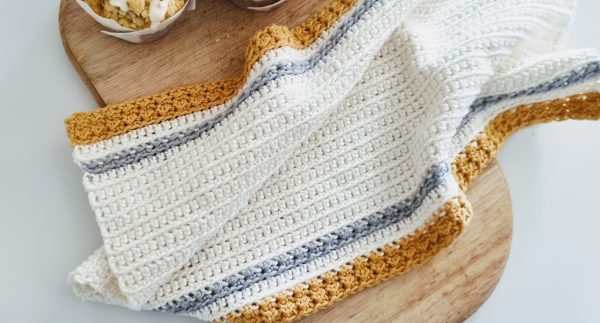 One of the things I love about making my own crochet kitchen towels is that they are completely customizable. You can use any colour yarn you like, and you can even add embellishments, such as crocheted flowers if that's what you like. You can also adjust the size of your towel to fit your needs.
Another great thing about crochet hand towels is that they're smaller and less complicated than things like blankets or garments, so they're usually pretty quick to make. A hand towel is basically a simple rectangle that you crochet in rows, so it's a great chance to get creative with colours and crochet stitches. It's a fun and easy project that you can finish in no time!
Whether you are a beginner or an experienced crocheter, you will find something to love about crocheting dish towels. For beginners, it is an easy project that allows you to practice new stitches, while experienced crocheters will find it fun, rewarding, and relaxing.
Crocheted kitchen towels can be a stylish and decorative way to spruce up any kitchen. Plus, they can be made in a ton of different colours and patterns to match your kitchen's decor. They're also great for holidays like Christmas or Easter or as a thoughtful housewarming gift. So give crocheting kitchen towels a try and see for yourself! Your kitchen (and its lucky new owners) will love them! 🙂
For this kitchen towel, I used a light worsted cotton and cotton blend yarn in three contrasting colours. But you can use any colours and type of yarn you like – just keep in mind that cotton yarn is a good choice for kitchen towels because it's absorbent and easy to care for.
Choosing Colours for Your Hand Towel
When it comes to choosing the right colour for your crochet kitchen towel, go with something that makes you happy! I personally love bright, light colours and try to combine them in a way that brings me joy. Of course, this is all a matter of personal preference – what makes me happy might not have the same effect on you.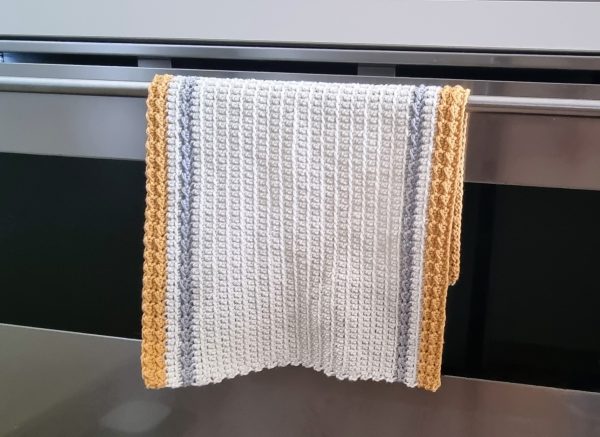 On the practical side of things, keep in mind that these towels will be used in the kitchen, and they might get stained from things like tea or coffee. So while I love using white, more practical choices for a kitchen towel might be cream, yellow, beige, brown, or off-white.
I have to confess… When I made this kitchen towel, I couldn't bring myself to actually use it in the kitchen! I was just too afraid of staining it. I know, I know – that's what towels are made for, but I just couldn't bring myself to potentially ruin its pretty looks. Plus, even if you throw them in the wash, some stains can be super stubborn and just won't budge. But hey, eventually, I'll work up the courage to use this towel for its intended purpose. Until then, I'll just admire its beauty and find other ways to show it off! Crocheting dish towels may be practical, but they're also very pretty!
I've decided that my next crocheted kitchen towel will still have some white, but it won't be the main colour. I'm thinking about going with grey or mustard as the main colour and using white as an accent on the edges. It's all about finding the right balance between practicality and style, right? That being said, I will still use my towel happily and if I do happen to get a stain on it, I'll just have to figure out how to get it out later! 🙂
What is the difference between a dish towel and a kitchen towel?
This crochet pattern is for a towel that you can use in the kitchen in a variety of ways – as a dish towel, a hand towel, or a kitchen towel. The difference between a dish towel and a kitchen towel isn't the towel itself, it's how you choose to use it. A dish towel is like a superhero with a single mission: drying dishes and utensils. On the other hand, a kitchen towel is a multitasking superhero that can tackle any task you throw its way in the kitchen. And a hand towel, well… it's for drying your hands.
It's a good idea to use each type of towel for its intended purpose to keep your towels in good condition. For instance, don't use the towel that you were using to dry your hands to dry your clean dishes or vice versa. By following this simple rule, you'll be able to enjoy your beautifully crocheted towels for longer. 🙂
What is the best material for a kitchen towel?
Cotton is generally considered the best material for kitchen towels because it is highly absorbent and durable. For this reason, I prefer using 100% cotton yarn for my kitchen towels.
Are crocheted towels absorbent?
Crocheted towels can be absorbent, but the absorbency can vary depending on the type of yarn and the tightness of the crochet stitches. Cotton yarn and tightly crocheted towels tend to be more absorbent than towels made with acrylic or synthetic fibres.
Scroll down for the free kitchen towel pattern or get the ad-free & print-friendly version with step-by-step photos and written instructions from my Etsy or Ravelry stores.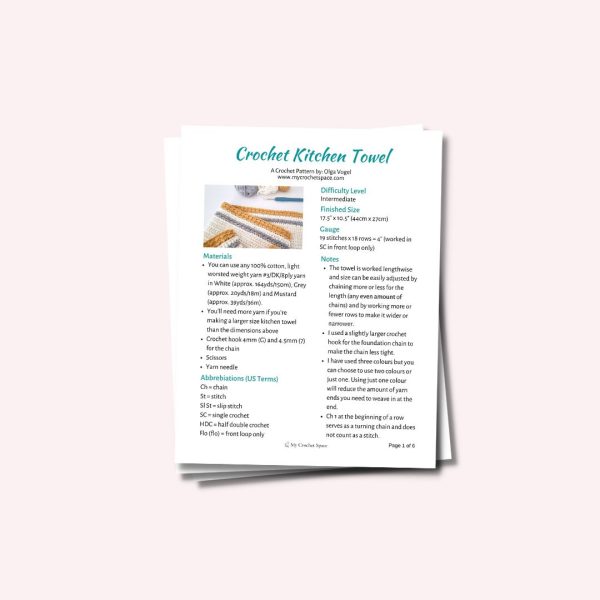 Kitchen Towel Crochet Pattern PDF
Or pin this to your Pinterest Crochet Board for later!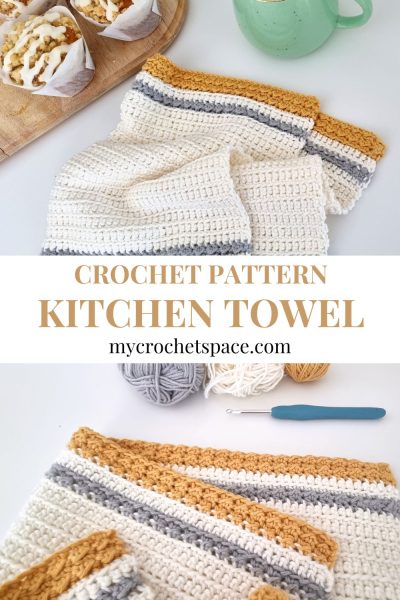 Crochet Kitchen Towel Pattern
Skill: Intermediate.
Towel Dimensions
17.5″ x 10.5″ (44cm x 27cm)
Gauge
19 stitches x 18 rows = 4″ (worked in SC in front loop only)
Abbreviations (US Terms)
Ch = chain
St = stitch
Sl St = slip stitch
SC = single crochet
HDC = half double crochet
Flo = front loop only
Special Stitches
Single crochet in front loop only (SC flo): insert hook in front loop only of next stitch and work a single crochet.
Materials
You can use any 100% cotton, light worsted weight yarn #3/DK/8ply yarn in White (approx. 164yds/150m), Grey (approx. 20yds/18m) and Mustard (approx. 39yds/36m)
You'll need more yarn if you're making a larger size kitchen towel than the dimensions above
Crochet hook 4mm (G) and 4.5mm (7) for the chain
Scissors
Yarn needle
Crochet Kitchen Towel Pattern Notes
This crochet hand towel measures 10.5 inches wide and 17.5 inches long. The towel is worked lengthwise and size can be easily adjusted by chaining more or less for the length (any even amount of chains) and by working more or fewer rows to make it wider or narrower.
I you want to make your towel wider, you can add more rows in the middle section (white).
I used a slightly larger crochet hook for the foundation chain to make the chain less tight.
I have used three colours but you can choose to use two colours or just one colour. Using just one colour will reduce the amount of yarn ends you need to weave in at the end. You'll still see the different textures in your kitchen towel made by the use of different crochet stitches. But it'll just be more subtle.
Ch 1 at the beginning of a row serves as a turning chain and does not count as a stitch.
Crochet Kitchen Towel Instructions
With 4.5mm hook, Ch 80 (or any even number for your desired length of the kitchen towel). Change to 4mm crochet hook.
Row 1: With Mustard, work a Sl St in the second Ch from hook, then a HDC in the next chain. Alternate Sl St and HDC across the row. Work a Sl St in the last Ch. Ch 1 and turn. (you should have 79 Sts in every row)
Row 2-4: Work a Sl St in the first St (which is a Sl St in the previous row), then a HDC in the next stitch (which is a HDC in the previous row). Continue alternating Sl Sts and HDC across the row. Work a Sl St in the last St. Fasten off and cut the yarn after row 4 is completed.
Row 5: Join White colour to first St. Work a SC flo into the first St (which is a Sl St in the precious row). Continue working SC flo into each St across the row. Ch 1 and turn.
Row 6: SC flo in first and every St across the row. Change colour to Grey in the middle of last St and carry White colour yarn up the row. (You can fasten off and cut the White colour yarn if you prefer but this will create more ends to weave in at the end. I prefer to carry the white colour up two rows as we will use it again.)
Row 7: With Grey, work a Sl St into the first front loop only, then a HDC in the second front loop only. Then continue alternating Sl Sts and HDC into front loops across the row. Ch 1 and turn.
Row 8: Repeat row 5, but instead of working into front loops only, work through both loops as normal. Fasten off and cut the yarn.
Row 9: Pick up White colour from row below. SC flo into the first and every stitch across the row. Ch 1 and turn.
Row 10 – 40 (or any even amount of rows for your desired width): Repeat row 9. Change to Grey colour in last row, last stitch and carry White yarn up the side as you did before.
Note: this is the section where you can add more rows to make your kitchen towel wider.
Row 41-42: With Grey, repeat rows 7-8.
Row 43: Pick up White colour from row below. SC flo into the first and every stitch across the row. Ch 1 and turn.
Row 44: Repeat row 43. Fasten off and cut the yarn.
Row 45-48: Repeat rows 2-4.
Weave in all ends. Your kitchen towel is done and ready for use! 🙂
I hope you like this crochet kitchen towel pattern. If you make anything from my patterns, share them on Instagram & tag me @my_crochet_space! I love to see your makes!
Enjoy and Happy Making! 🙂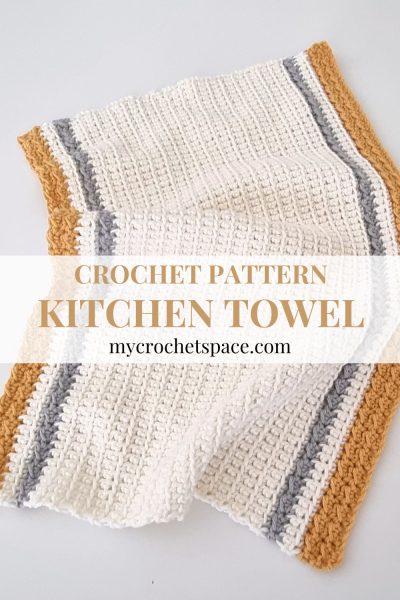 Free Crochet Patterns