In the video demonstration below I'm showing how to change colours and carry the non-working yarn up inside of the potholder so that you don't have to cut yarn and weave in dozens of ends.
This is specifically for Thermal stitch potholder patterns. Using this technique you can hide all the strings of yarn that you're not using inside the stitches. And I recommend using at least 10 ply /4 Medium size yarn.
Scroll down for the pattern & video demonstration!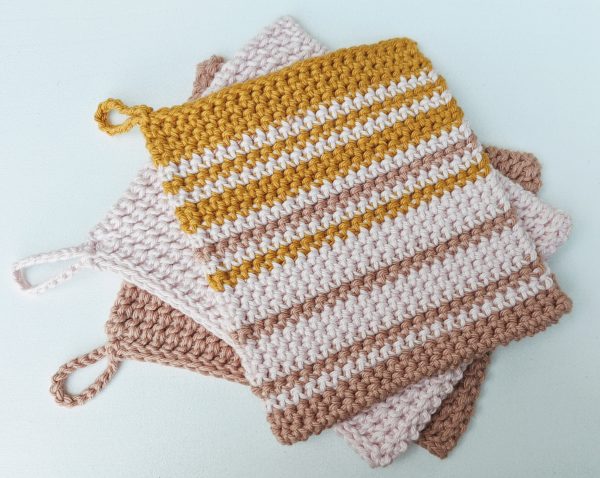 I have made quite a few potholders as I was experimenting with this stitch. And this pattern is using single crochet thermal stitch with stripes of different colours. Here I wanted to share with you how I changed colour and carried the non-working yarn up the rows without cutting it. It is a little different from the usual way of changing colour or carrying yarn as it's a double thick stitch. And the best thing about this is that you can hide the yarn you're not using inside the potholder very easily.
If you're not familiar with this stitch, please go to Crochet Thick Potholder – Single Crochet Thermal Stitch and watch the video demonstration. You'll see not just the Thermal stitch but also how to start and finish it in a project.
And if you are familiar with this stitch, then you probably also know that you can do much more than just single crochet. I LOVE the texture of half double crochet thermal stitch. It's a little more tricky as you have more loops on your hook to deal with, especially in the first couple of rows. But if you're like me – not in a hurry and just enjoying the process of crocheting one stitch at a time, you'll be rewarded with a rich texture and a deluxe crochet potholder!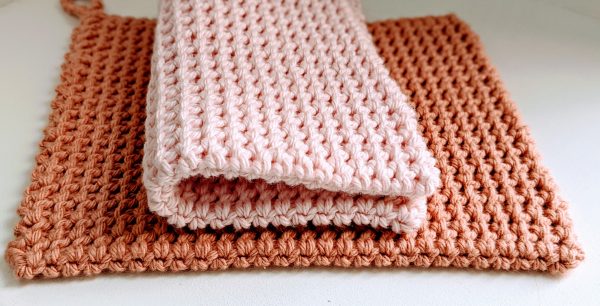 The single thermal crochet is much easier and quicker to work with in my opinion. The texture of this stitch is much smoother than the half double crochet. And, if you use multiple colours and get creative you can end up with something quite special. It would be a great idea as a housewarming gift or a Christmas gift – that's just around the corner 🙂 It's very quick to make and it's definitely unique and useful!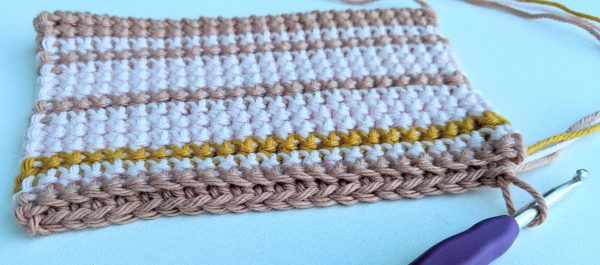 I have made this one below using the cool winter colours and the other one above in more earthy and cozy autumn colours.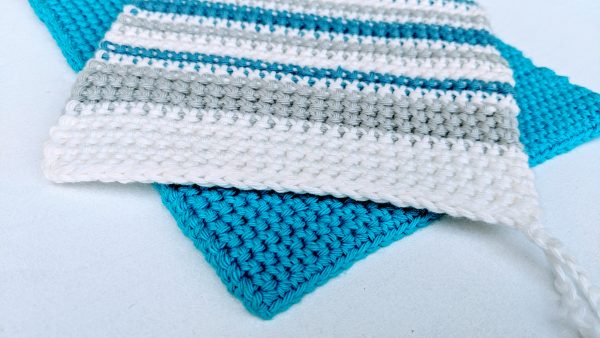 Note: I highly recommend using at least 10 ply or bulky cotton yarn (for potholders 100% cotton) for this technique, that way you can hide the other colours easily. I have tried this technique using 8 ply and you could still see little glimpses of the other colour through the stitches. Whereas with 10 ply they are completely hidden.
I changed colours randomly, with no particular order. I only planned to have the pink colour inbetween the other two as a contrasting colour. And as I was running out of both colours halfway through, I had to introduce another colour (gold) to make it a good size potholder. So I thought that starting with rose and slowly transition to gold would look quite interesting.
Note: if you're not familiar with Thermal stitches, I recommend you take a look at the Thermal Single Crochet post and video tutorial first and then come back here to see how to change colour in the video demonstration below.
Material:
Yarn: 100% Cotton 10 ply (Weight 4/Medium)
Hook: 5mm
Dimensions:
This potholder measures 17cmx17cm (6.5"x6.5")
Abbreviations:
Ch = chain
Sc = single crochet
St = stitch
Th st = Thermal stitch = insert your hook into the back loop and into the parallel back loop from the row below. (Refer to video demonstration of the stitch in my single crochet potholder pattern) 
Sl st = slip stitch
Pattern:
Starting with colour Rose
Ch 24
Row 1: SC in the second chain from the hook and across (23 total). Ch 1 and turn.
Row 2: Th St  into the first and every St across the row. Ch 1 and turn.
Row 3-46: repeat row 2.
Loop & last row (row 47): Ch 15 and insert your hook under the back & front loops of the first stitch and the parallel loop from the row below. Sl St across the row to finish off. (see the detailed demonstration of the last row + loop in the Thermal Single Crochet video).
The number of rows in each colour are at random. You can follow the guide for colour change below or feel free to change the number of rows and colours as you feel inspired to do so!
Scroll down to watch the short video demonstration on colour change and carrying yarn below.
Those are my colour changes for the pink/gold potholder:
Note: It's good to remember that the nature of this stitch is double sided. So, when you complete one row, it's not yet going to be visible from the other side. So you need to complete two rows in order to see the new colour from both sides. It's almost like you're working in a round. To make both sides look the same you'll need to always make sure that each colour has the same amount of rows on both sides.
Rose: rows 1-4, 7-8, 15-16, 27-28
Pink: rows 5-6, 9-14, 17-22, 25-26, 29-30, 35-36, 39-40
Gold: rows 23-24, 31-34, 37-38, 41-46 + final slip stitch row
Weave in the ends.
Done!
Hope you liked this stitch & pattern!