Do you love cats? Then this post and the crochet cat toy patterns below will be just what you need! You'll find fun crochet toy patterns for cats and also some cute crochet cat designs that you can make for your friends cat lovers, your kids and/or yourself!
Here are a couple of things you can crochet for your cat: a mouse, a fish or just crochet a string with some tassels attached. Cats love to chase and hunt anything that is small and resembles a mouse. And my foster cats, for some reason, rarely played with store-bought cat toys. But they would go nuts when I scrunch up a piece of paper and throw it on the floor. They would play with it for hours until they shred it in thousands little pieces.
So, it's easy to make cats happy! Simple cat toys are good enough for cats and in some cases even preferred. 🙂 The only thing I would be careful about when making a cat toy, is to not to attach any small parts such as buttons or similar, as they can be bitten off and accidentally swallowed by your cat. I would not attach anything like that to make it safe for your cat. And if the patterns calls for button eyes I would just make them out of yarn instead!
Whether you're looking for a toy for your cat or a crochet cat toy for your little ones to play with – one thing for sure it's going to be a lot of fun learning how to crochet a cat toy!
Crochet Cat Toy Patterns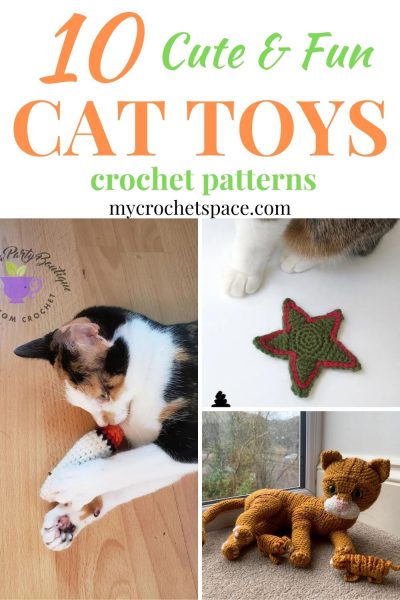 This post may include affiliate links, view my disclosure policy for details.
Crochet Cat Toy – Free Pattern
If you have little kittens, they will love this toy! In nature, kittens will find something to play with and bite into as they are teething. This will keep their teeth clean and in good health. But all cats are playful by nature, so it's good for older cats too! This cat toy is designed to be a bigger size so they can claw it if they want to or just hug it and sleep with it. Entertainment and play time for hours!
Crochet Pattern and Photo Credit: Meladora's Creations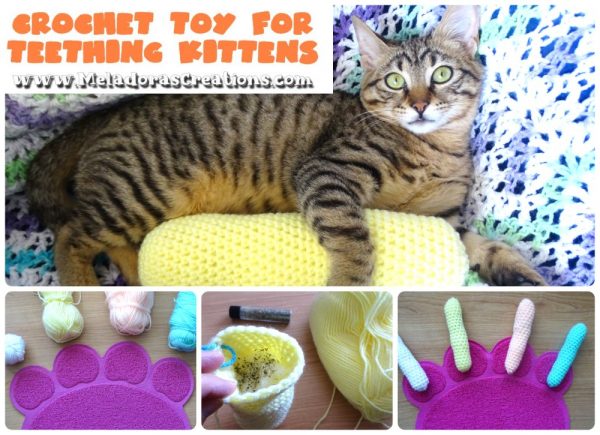 Star Cat Toy – Free Crochet Pattern
Cats are known for playing with random little things they can find laying around the house. And this crochet star can be just what your cat is looking for. You can slide it around on the floor to get your kitty's attention or attach the star to a string and drag it around – I can almost guarantee that your cat is going to get into the hunting position and pounce on it! This pattern is a quick crochet project and you can use any leftover yarn you have on hand.
Crochet Pattern and Photo Credit: Pine Tree Crochet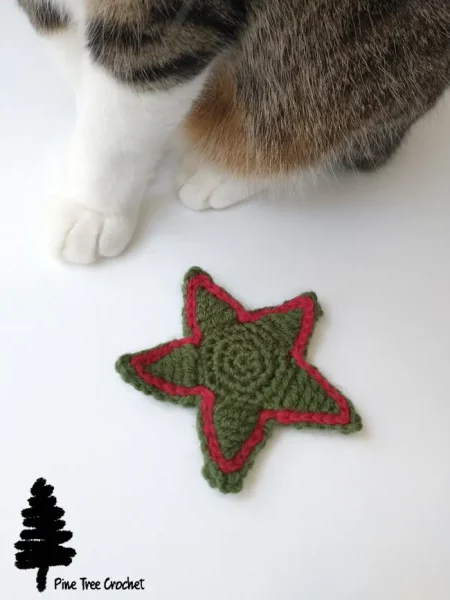 Crochet Catnip Doobie – Paid Pattern
This one is going to be a lot of fun for your kitty! Add a little catnip to the filling and entertainment is guaranteed 🙂 You could make this toy in different colours and use up your scrap yarn as this little cat toy won't take much of your yarn!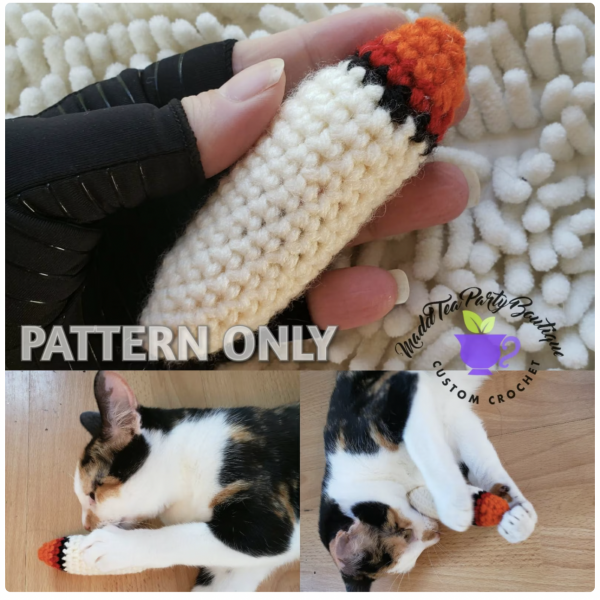 Or check out their Etsy shop!
Putting the Friend in Amigurumi – Free Pattern
A fun cat crochet pattern that's really not as hard as it looks! The use of velvet yarn makes this cat toy super soft and squishy that you'll want to cuddle forever! Give it a try!
Crochet Pattern and Photo Credit: Divine Debris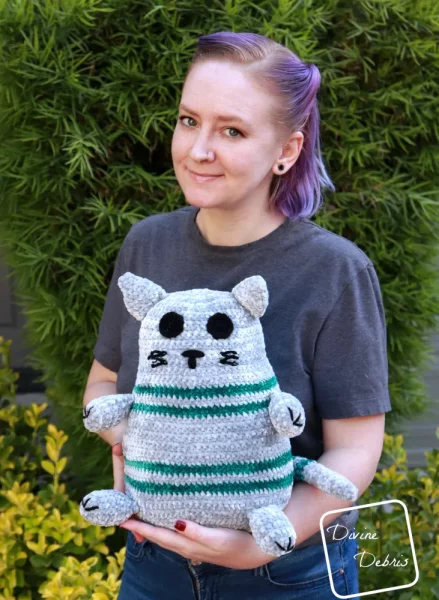 Simple Free Crochet Cat Toy – Free Pattern
These little kitties are super cute and quick to work up! This kitty measures 11cm (4.3 inches) but you can get creative and experiment with different yarn weight/type. You can change the size of your cat toy by simply using a thicker yarn and bigger crochet hook.
Crochet Pattern and Photo Credit: Hooked on Patterns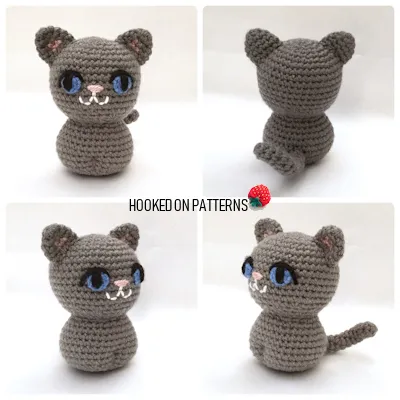 Amigurumi Jiji Black Cat – Free Pattern
This cute black cat toy is super soft and cuddly! The smart crochet design makes it possible for this cat not just to sit but also lay down. And the endearing big eyes reveal a glimpse of this adorable kitty's playful soul.
Crochet Pattern and Photo Credit: Once Upon a Cheerio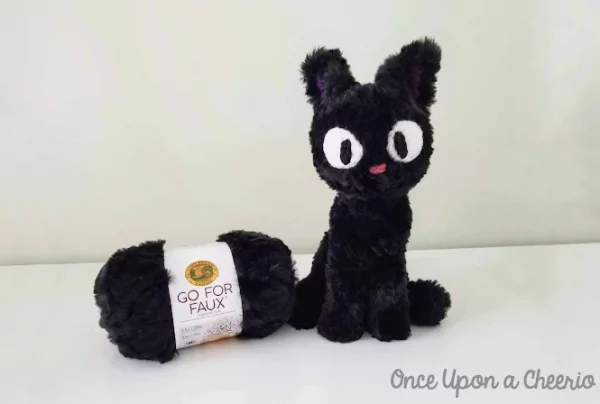 Pocket Hug Fat Cat – Paid Pattern
This is such a cute cat pattern that will bring a smile to any cat lovers. The crochet pattern is suitable for confident beginners and is available in both US and UK terms.
Crochet Pattern and Photo Credit: Flo's Crafty Crochet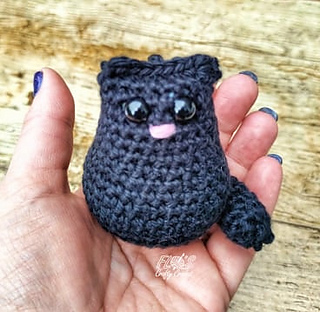 Cat with Kittens Crochet – Paid Pattern
This is a mommy cat with kittens! An interesting crochet design where the adult cat's body has an internal pocket which opens to reveal little baby kittens inside.
With this crochet pattern you'll get not just instructions how to make the adult cat but also the kittens. With detailed step by step photo and written instructions to guide you through the pattern.
Crochet Pattern and Photo Credit: LauLovesCrochet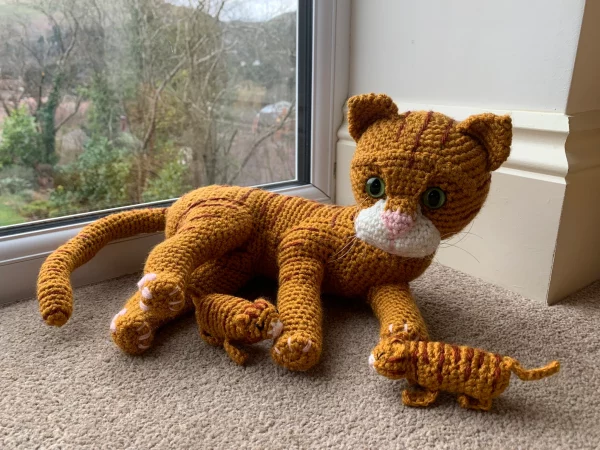 Or check out their Etsy Shop
Cat & Bed Playset Crochet – Paid Pattern
This is such a fun play-set for your little ones! With this crochet pattern you get 14 pages of detailed instructions on how to make the cat and the bed! With loads of photos to guide and help you step by step, this pattern sure is a lot of fun!
Crochet Pattern and Photo Credit: LauLovesCrochet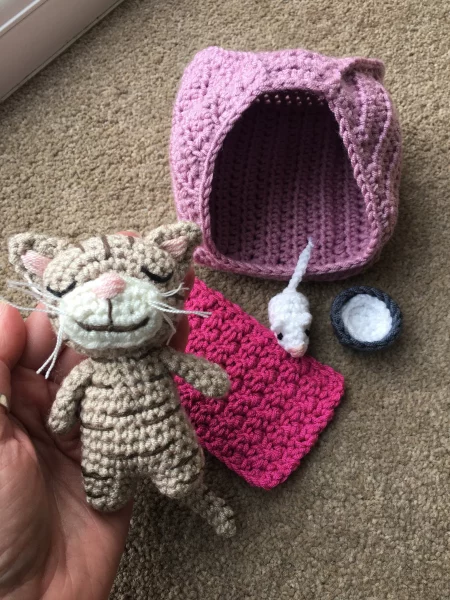 Or check out their Etsy Shop
More Free Crochet Patterns