If you're looking for a crochet triangle shawl that is simple and easy enough for beginners – then this one might be the one for you!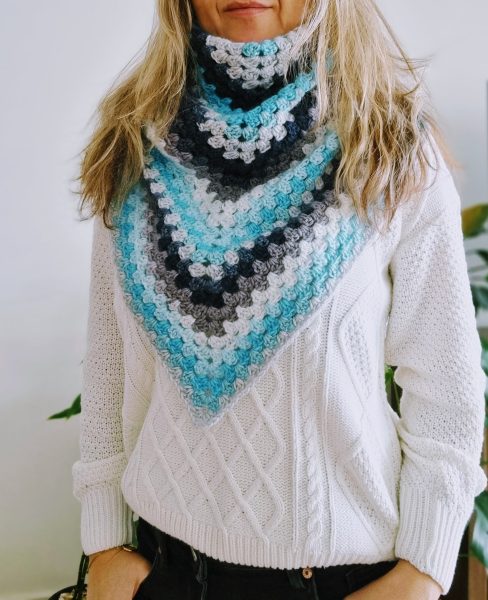 This post may include affiliate links, view my disclosure policy for details.
I'm excited to share with you this Crochet Triangle Shawl pattern! This shawl will keep your neck and shoulders warm in the cooler months of the year and it's super easy and fast to crochet. 🙂
When I saw this yarn (Caron Skinny Cakes) and the beautiful colour combination, I knew I had to make something that would show off the brightness of those sky blue tones. I also wanted to use a stitch that would make the stripes a little more exciting. And I'm happy how the pixelated look of the Granny stitch made this happen.
The pattern is easy to remember as it's a one-row-repeat and uses only basic stitches such as double crochet and chain stitches.
Honestly, it was fun to crochet and I love how it turned out.
This pattern is part of the Stitching With Granny Bundle. It's a collection of Granny Stitch patterns from selected crochet designers. This bundle includes 23 unique crochet patterns featuring the granny stitch and granny squares. You'll get the perfect combination from modern crochet wearables and accessories to vibrant and cozy home decor. Grab this bundle now for just $18 (that's less than a dollar per pattern!) and get started!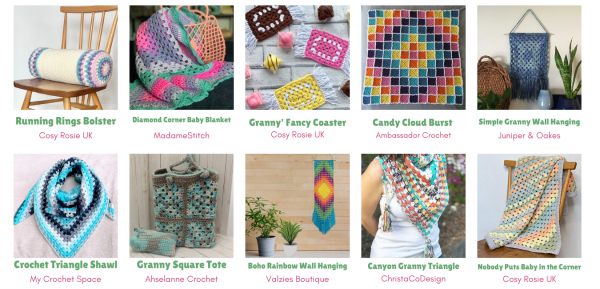 About the Yarn
I have used Caron Skinny Cakes (colour: Pop Rock) to make this crochet shawl. It's a soft and cosy light weight yarn, 100% Acrylic. I actually enjoyed working with this yarn. Even though there were a couple of small knots in the middle of it – but that didn't bother me much. They were small enough to be able to hide inside the stitches.
But I liked working with this yarn for two reasons. First, because it's a self striping yarn and colours just change on their own. It made it easy for me as I didn't have to worry about joining different colour yarn myself and dealing with lots of loose ends at the end.
And second, I love the colour palette in this one. All the colours are well coordinated and look beautiful together. Especially the bright sky blue shade. There was something joyous about that. At least to me. Hence, I named this shawl the Aquamarine Joy.
I don't know about you but there is something deeply satisfying about seeing a new colour magically appearing on your hook. How finally after a couple of rows the colour is changing from white to blue…. to grey…. Do you feel the same or is it just me? 😀
I only needed one ball of yarn for this triangle shawl and you can find the dimensions of the shawl below. It's a good size for me but if you like your shawl a little bigger you'll need to add a second ball of yarn. Also, if you're planning on adding tassels, fringe or border then you also will need more yarn for that.
I have used up the whole ball and only had a tiny little string of yarn left after I completed the last row. So, one ball of yarn will give you exactly what's on the picture provided you have the same gauge and use this pattern.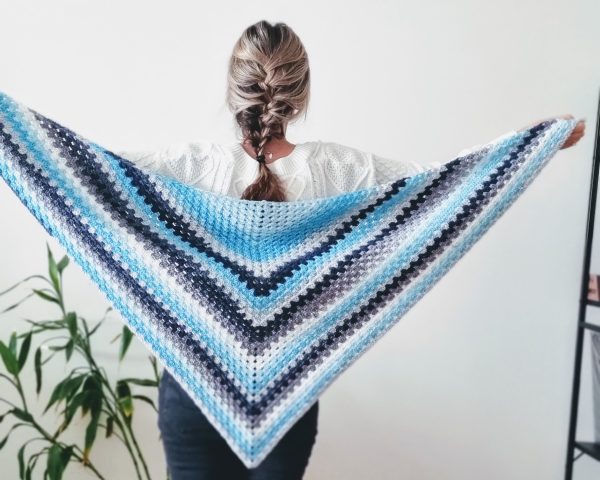 About the Stitch
The stitches used in this crochet shawl pattern are all basic stitches which makes it so easy to crochet. Those are chain stitches and double crochet stitches. It's also just a one-row-repeat. This makes it perfect for beginners as it's simple and easy to remember.
The double crochet stitches are grouped in clusters (one cluster = 3 double crochet stitches worked into one stitch) and worked into spaces between the clusters. This arrangement of stitches is also known as the Granny Stitch Crochet. Most commonly known are granny squares, where lots of little squares are made separately and then joined together. Crocheters have used this stitch for centuries to make blankets, clothing and home decor. But we are not making a granny square today, we are making a triangle!
So, how do you crochet a granny triangle shawl? See free pattern instructions or watch the video demonstration below.
Crochet Triangle Shawl – Free Pattern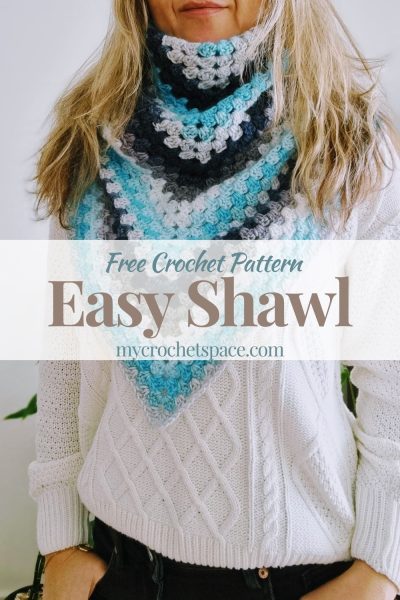 Please scroll down for the free pattern or get the ad-free & print-friendly version with step by step photo and written instructions for a small fee from my Etsy or Ravelry stores.


Or get this shawl & scarf bundle that includes the Aquamarine Triangle Shawl, the Ocean Breeze Scarf and the Primavera Rectangular Shawl! You can get it from Etsy here.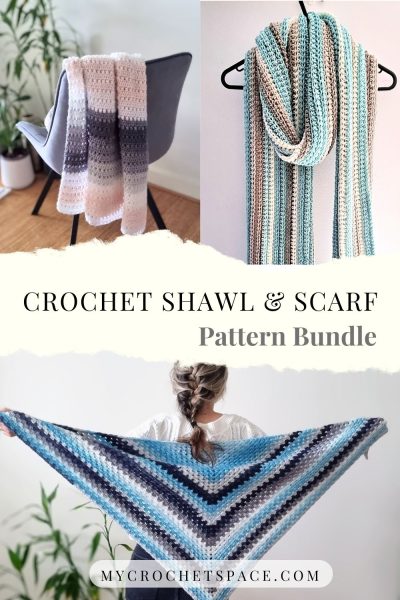 Skill level
Easy
Dimensions
55″ x 27″ (140cm x 69cm)
Gauge
15 DC stitches x 10 rows = 4″ (10cm)
Materials
Yarn: Caron Skinny Cakes by Yarnspirations (100% Acrylic, 8.8oz/250g, light weight #3), 1 ball (795 yards / 727 m)
Colour: Pop Rock
Crochet Hook: 4mm (G/6)
Yarn needle
Scissors
Abbreviations (US Terms)
Ch = chain
St(s) = stitch(es)
Sl St = slip stitch
DC = double crochet
Ch-3-Sp = chain-3-space
Special Stitches
Granny Stitch: multiple sets of double-crochet-clusters. Each cluster consists of 3 double crochets worked into the same stitch (or space).
Crochet Triangle Shawl Pattern Notes
Shawl is worked top down from the centre
Each row will increase in size by adding more stitches at the beginning and the end of each row
Each row will increase by 6 Sts
The left and right sides of the shawl should have the same amount of stitches
Chain 3 at the beginning of a row counts as the first DC stitch
You can adjust the size of your shawl by working less or more rows
There are 48 rows in this shawl. You may have a different amount of rows depending on your gauge
I have used up 1 ball of yarn for this shawl. If you want a bigger size you'll need a second ball of yarn
Crochet Triangle Shawl Instructions:
Ch 3, Sl St to 1st Ch to form a ring.
Row 1: Ch 3, make 2 DC into the ring, Ch 3, make 3 DC into the ring. (6 Sts)
Row 2: Ch 3 and turn. Work 2 DC in the first St. Then work (3 DC, Ch 3, 3 DC) into the Ch-3-Space. Work 3 DC stitches into the last St, the top of the turning chain. (12 Sts)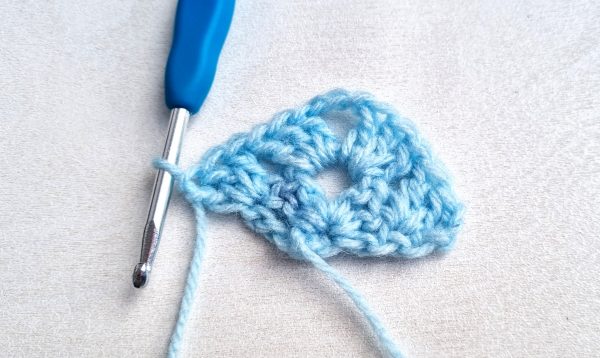 Row 3: Ch 3 and turn. Work 2 DC in the first St, 3 DC between DC clusters in the previous row. Next, work into the Ch-3-Sp: 3 DC, Ch 3, 3 DC.
Work 3 DC between the DC clusters, 3 DC into the last St. (18 Sts)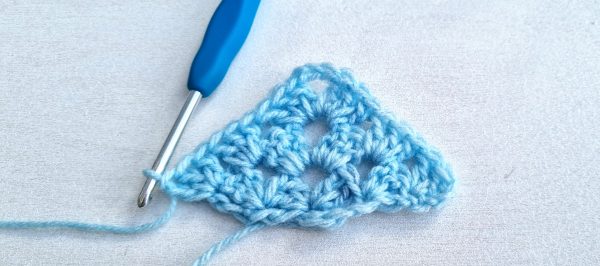 Row 4-48: Ch 3, 2 DC in 1st St, 3 DC between each DC cluster in the previous row until you reach the Ch-3-Sp. Work (3 DC, Ch 3, 3 DC) into Ch-3-Sp. Work 3 DC in each space between DC clusters and 3 DC in the last St.
Remember:
Always Ch 3 at the beginning of a new row.
Always work 2 DC in the first St.
Always work 3 DC between each DC cluster until you reach the Ch-3-Sp.
Always work 3 DC, Ch 3, 3 DC into the Ch-3-Sp.
Always work 3 DC in the last St.
Fasten off and weave in all ends with the yarn needle.
Hope you enjoyed making this crochet shawl!
Do you like this pattern? You can get the printable PDF version from my Etsy shop or on Ravelry for the price of a cup of coffee!
Or grab the Stitching with Granny Bundle for just $18 here!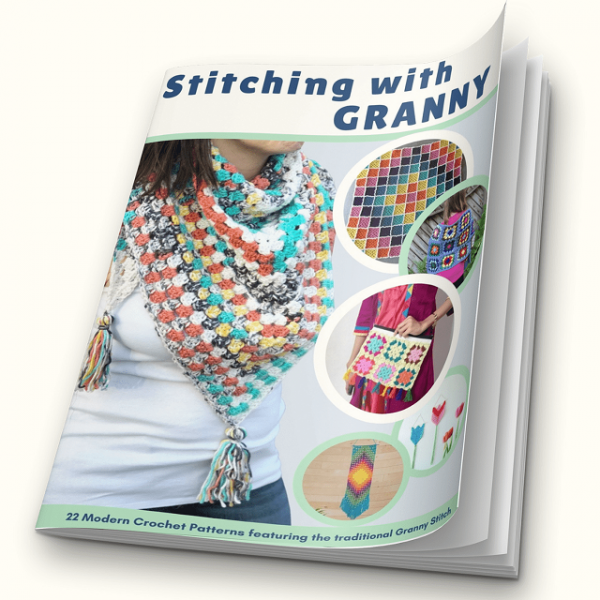 If you're looking for more crochet shawl patterns – here is another one of my own – Crochet Shawl Wrap. This shawl is rectangular and really straightforward to crochet!
Crochet Triangle Shawl Video Demonstration
More Free Crochet Patterns