The waffle stitch is quite easy to crochet – much easier than it looks! The main stitch of the waffle stitch are the Double Crochet and Front Post Double Crochet stitches(which is a variation of double crochet). Double Crochet is one of the basic crochet stitches and are easy to learn.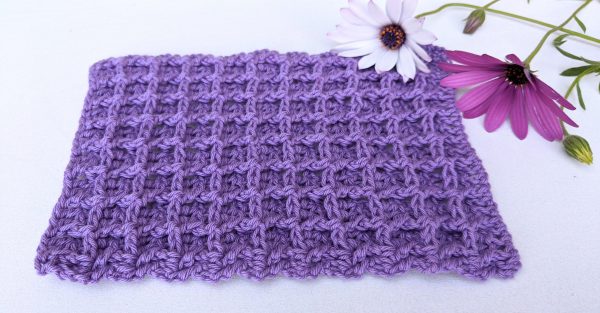 This washcloth pattern is also great for beginners. I made a short video demonstration of the waffle stitch so you don't have to guess anything and can easily follow along.
The washcloth works up pretty fast. It would make a perfect last minute gift! Depending on your current crochet skills, you could potentially make a couple of those in under an hour.
But even if you're an absolute beginner, this pattern could be a really good project for you to start and complete, all in one day! Making washcloths or dishcloths are a great way to practise new stitches while you're making something nice & practical for yourself or for your friends & family!
I made those washcloths using 100% cotton, light worsted #3 weight yarn (8ply/DK). I find cotton works best for washcloths as it absorbs water really well and just feels nice and natural on skin.
Scroll down for the written pattern! You can find a quick 10 min video tutorial on how to crochet the waffle stitch at the bottom of the page!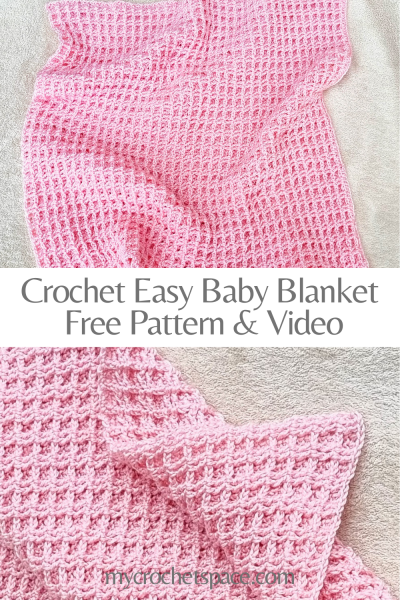 Waffle Stitch Crochet Use Ideas
Washcloths, Dishcloths
Blankets (Double Waffle Crochet Baby Blanket)
Kitchen Tea Towels
Scarves and Shawls
Headbands and Ear warmers
Anything where you'd like to have extra texture and squishiness! Great for winter makes!
Material
Yarn: 100% Cotton, light worsted #3/DK/8ply
Hook: 3.5mm (E-4)
Dimensions
This washcloth measures 5.5" x 7" (14cm x 18cm)
Pattern Notes
This pattern is for a small washcloth (see dimensions). You can easily make a bigger size by chaining more for your foundation chain (a multiple of 3 plus 2) and adding more rows.
You can use any type of yarn you like but you'll need to adjust the size of your hook accordingly (check yarn label).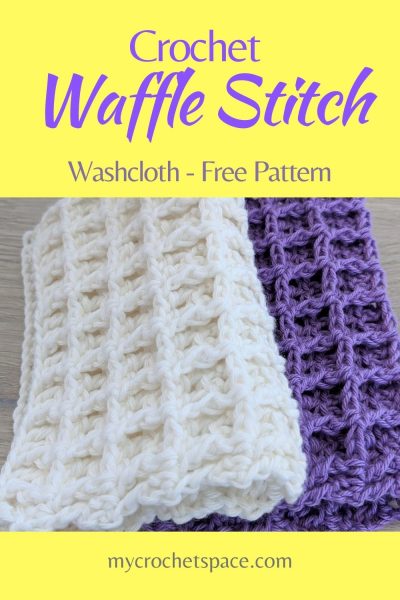 Abbreviations (US Terms)
Ch = chain
St = stitch
DC = double crochet
FPDC = front post double crochet
Crochet Waffle Stitch Washcloth Free Pattern
Ch 29. If you like to make it larger or smaller, chain a multiple of 3 plus 2 (Multiple of 3 means any number that can be devided by 3, e.g. 3, 6, 9, 12 etc. Then add 2 to that number. I have chained 27 plus 2, total 29 chains.)
Row 1: DC in third chain from hook and across, turn (total 27)
Row 2: Ch 2, DC in first stitch, FPDC in next, *DC in next two stitches, FPDC in next**, repeat from * to ** to end of row. DC in last St, turn.
Row 3: Ch 2, DC in first St, DC in next, *FPDC in next two Sts, DC in next** repeat from * to ** to end of row. DC in last St, turn.
Row 4-22: repeat rows 2 and 3 until you reach your desired size.
Fasten off and weave in the ends.
Crochet Waffle Stitch Washcloth – Video Demonstration
Done!
Enjoy your new washcloth 🙂