The waffle stitch is quite easy to crochet – much easier than it looks! And as it's main stitch is double crochets and front post double crochets (which is a variation of double crochet) all the way through the pattern it's pretty fast to make.
This waffle washcloth can be done in under an hour or even sooner if you already know how to crochet. But even if you're an absolute beginner, this can be a really good project to start (and finish!) and it's a great way to practise new stitches while you're making something beautiful for yourself!
And if you're just starting out on your crocheting journey, you probably want to make something that you could use for yourself of give away as a gift. And these washcloths (if you choose the right colour) can look very pretty as a gift!
I have made those washcloths using 100% cotton yarn. I find cotton works best for washcloths as it absorbs watter really well, it is natural and just feels so good on the skin.
Scroll down for the written pattern! I also have a quick 10min video tutorial below.
This post may contain affiliate links. For more information please see my disclosure page.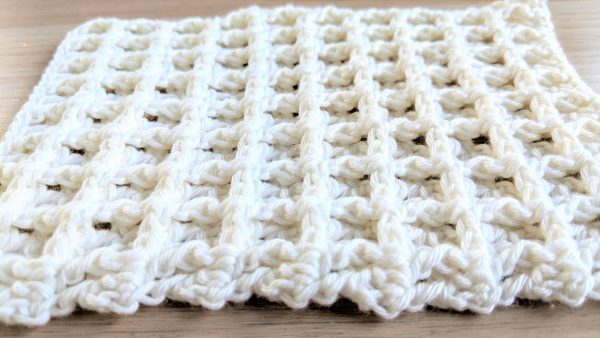 Material
Yarn: 100% Cotton.
Hook: 3.5mm or E-4 (I'm using this set of hooks with comfortable handles )
Dimensions
This washcloth is on the smaller side and measures 5.5" x 7" (14cm x 18cm)
You can easily adjust the size by chaining more. (This pattern requires a chain in multiples of 3 plus 2)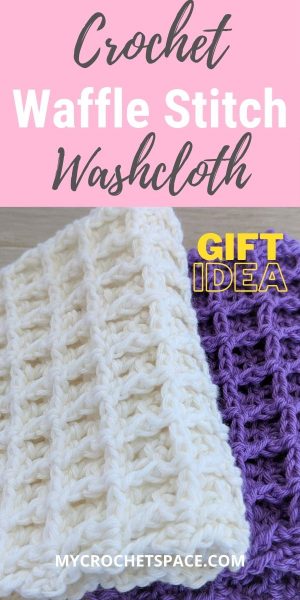 Abbreviations
Ch = chain
St = stitch
DC = double crochet
FPDC = front post double crochet
Waffle Stitch Washcloth Free Pattern
Ch 29. If you like to make it larger or smaller, chain a multiple of 3 plus 2 (Multiple of 3 means any number that can be devided by 3, e.g. 3, 6, 9, 12 etc. Then add 2 to that number. I have chained 27 plus 2, total 29 chains.)
Row 1: DC in third chain from hook and across, turn (total 27)
Row 2: Ch 2, DC in first stitch, FPDC in next, *DC in next two stitches, FPDC in next**, repeat from * to ** until the end of the row. DC in last St, turn.
Row 3: Ch 2, DC in first St, DC in next, *FPDC in next two Sts, DC in next** repeat from * to ** until the end of the row. DC in last St, turn.
Row 4-22: repeat rows 2 and 3 until you reach the desired size.
Waffle Stitch Washcloth – Video Demonstration
Done!
Enjoy your new washcloth 🙂