Double Crochet stitch (DC) is another basic crochet stitch that you will encounter in many crochet patterns. It is a taller stitch with visible gaps between the stitches.
And this is what a Double Crochet Stitch looks like!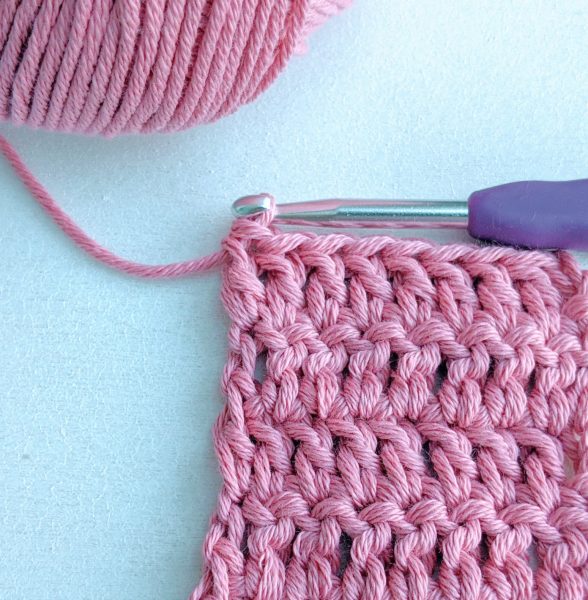 This post may include affiliate links, view my disclosure policy for details.
Double Crochet Stitch Uses
Blankets / Baby blankets / Afghans / Throws
Washcloths / Dishcloths
Bags / Market bags / Tote bags
Scarves / Cowls / Infinity Scarves
Shawls / Wraps
Follow the written instructions below or scroll down to watch a video tutorial.
Abbreviations (US terms):
Ch = chain
YO = yarn over
St = stitch
DC = double crochet
Materials
Double Crochet Short Instructions
Yarn over (YO) and insert your hook into the specified stitch. YO and pull the yarn through that stitch. You should have three loops on your hook now. YO and pull through two loops on hook. YO again and pull through the last two loops on hook. That's one double crochet stitch.
How to make a Double Crochet Stitch – Detailed Photo Tutorial
Chain any amount of chains. For the purpose of learning and practising this stitch – chain 10. (If you are an absolute beginner, you can learn how to make a foundation chain and the first basic stitch Single Crochet in this post here)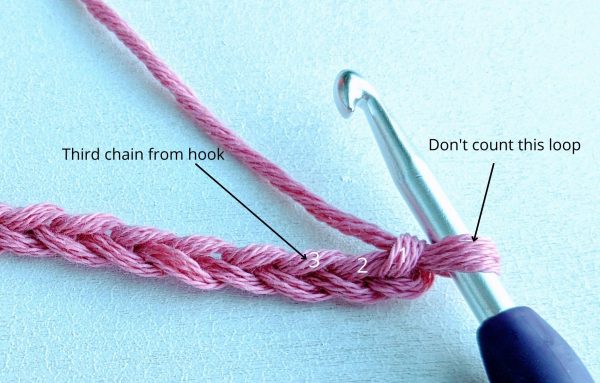 2. Yarn over (YO) and insert your hook into the 3d chain from your hook.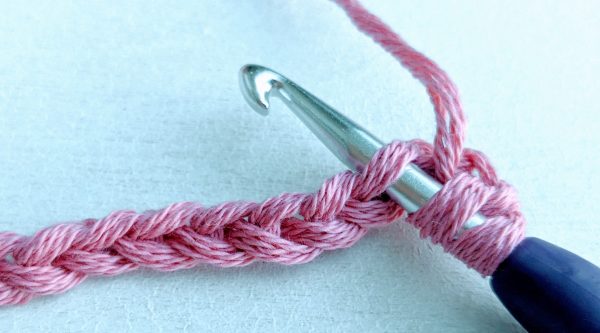 3. YO again and pull through the stitch. You will have 3 loops on your hook now.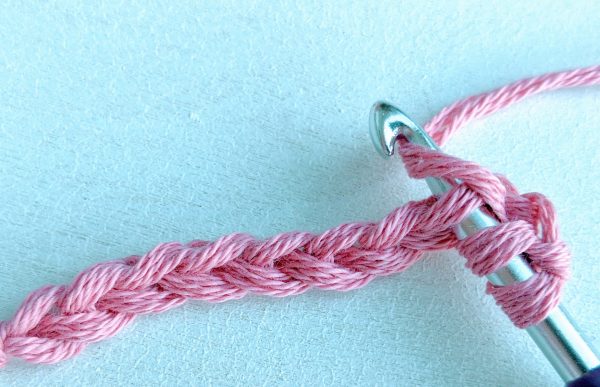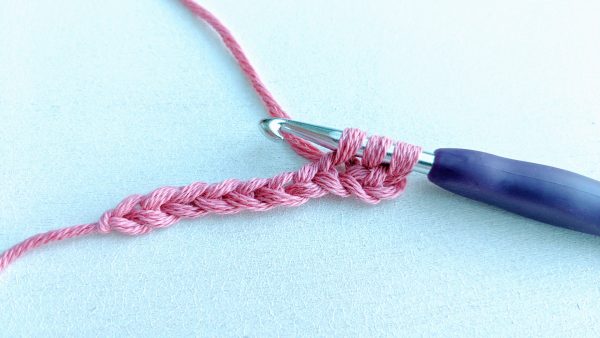 4. YO again and pull through the first two loops on the hook. You'll have two loops on the hook left.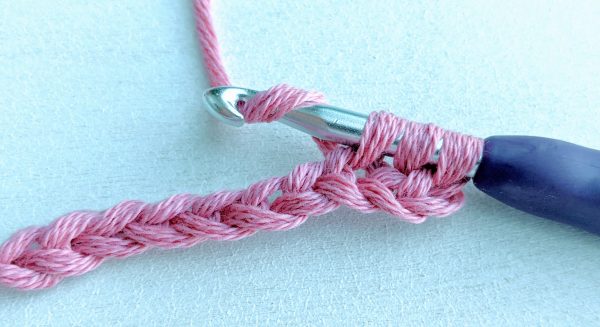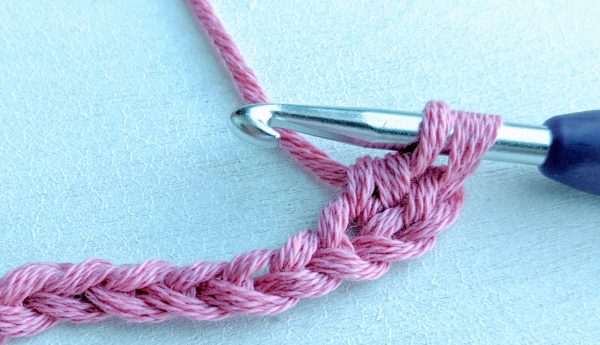 5. YO and pull through the last two loops on your hook.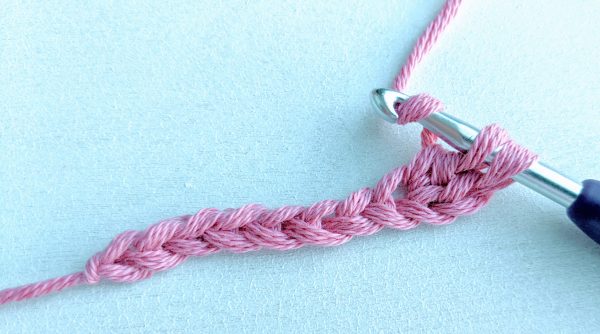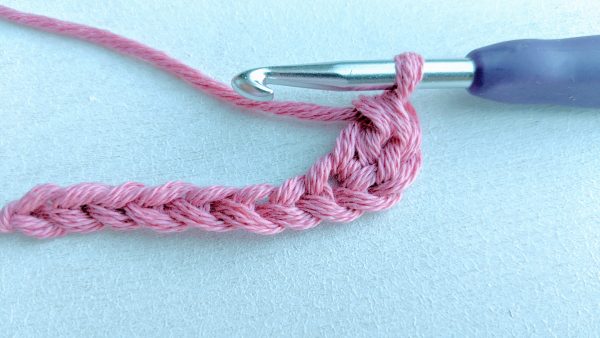 This is one Double Crochet stitch (DC).
Continue working double crochets in every stitch until the end of the chain. You should have 8 double crochet stitches plus the turning chain, counts as one DC stitch.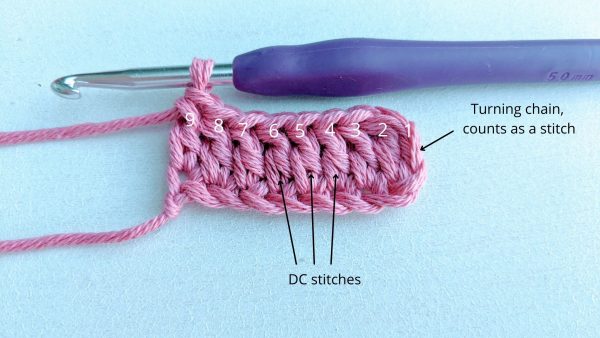 Chain two (Ch2) and turn.
Note: Don't get confused if you see a pattern requiring you to chain 3 in the beginning of a row. Chaining 3 in the beginning of a row will create a taller first stitch and therefore create a bigger gap between the first and second stitches.
I mostly chain 2 if I work in straight rows, such as scarves, blankets, anything that is a rectangle or a square. There is no right or wrong, it will depend on the pattern you're following. Feel free to experiment and see what works better for you! 🙂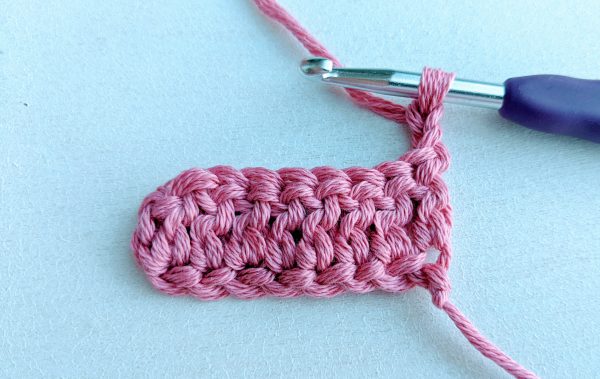 The Ch2 counts as your first DC. Continue with DC from the next stitch until the end of the row.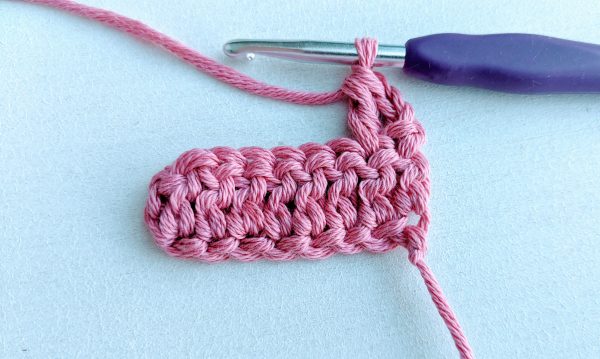 The last DC goes into the top loop of turning chain in the previous row.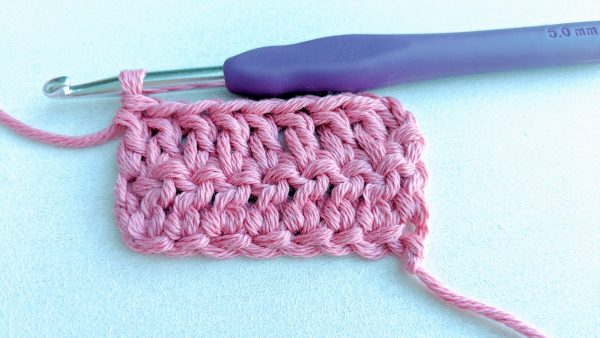 You should have the same amount of stitches in every row. In this case, it's 9 stitches.
Note: Always chain 2 in the beginning of a new row. This counts as the first stitch.
Fastening off
If you want to make a sample of that stitch to keep, you'll need to cut the yarn at some point. When you have made approx. 10 rows – or whatever size sample you'd like to make for yourself – after the last double crochet stitch, chain one and cut the yarn 6 inches away from hook. Now draw the hook straight up making a super big loop until the cut end of yarn comes out of the stitch. This will make a knot and secure your work from unravelling.
Weaving in ends
It's not necessary for you to weave in ends on your sample but if you want to practise then this might be a good opportunity! 🙂
I like to use a yarn needle for this purpose, but it's also possible with a crochet hook. In fact, I had used my crochet hook to weave in the ends for a long time as I didn't even know about yarn needles! 😀 If you choose to use your hook, pick a smaller size as it's easier to get into the stitches and it won't leave big holes behind.
Luckily, I found out about the yarn needles (or tapestry needles) and I prefer using them instead of the crochet hook. They glide much easier and I find it makes if faster with a better result.
The purpose of weaving the ends into the fabric is to hide them and to secure the last stitch so it stays put. We don't want our work to get undone, so weaving in the ends is important!
To weave in the ends, thread your yarn needle and insert it close to where you finished and go inside of the fabric without piercing all the way through to the other side. Try to stay inside the stitches so the yarn will stay hidden inside of stitches. You can even go through the fibres of the yarn. Go back and forth for approx. one inch (a couple of cm) in different directions a couple of times and then cut the rest of the yarn.
So in short, the goal is to hide the end of the yarn and to secure the knot of your finished project!
Double Crochet Stitch Video Demonstration
Easy Free Patterns for Beginners
Here are some easy patterns where you can practise double crochet and single crochet stitches:
More Easy Stitch Tutorials