As someone who loves to crochet, I'm always on the lookout for new and exciting patterns to try out. One of my favourite things to make is crochet potholders. They're quick, easy, and practical, making them the perfect project for both beginners and experienced crocheters alike. So, I've put together a list of free crochet potholder patterns for you try out!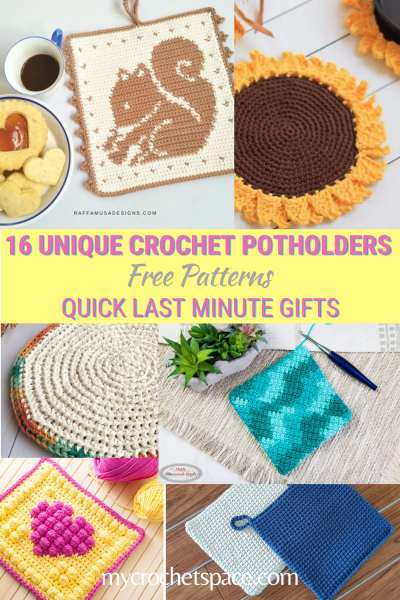 This post may include affiliate links, view my disclosure policy for details.
Whether you're looking to spruce up your own kitchen or create a thoughtful homemade gift for a friend or loved one, these free crochet potholder patterns have something for everyone. From classic and traditional designs to more modern and unique styles, you're sure to find a pattern that suits your tastes and skill level.
All you need is some yarn, a crochet hook, and a bit of patience, and you'll be on your way to creating beautiful and functional potholders that will be a staple in any kitchen.
What is the Best Yarn for Crochet Potholders?
In my opinion, the best type of yarn to use for potholders is 100% cotton yarn. Why? Because it can handle the heat of a hot pan and won't melt or burn like acrylic yarn. Cotton yarn is also pretty durable that can last you a long time! It can be washed in the washing machine, so it's easy maintenance.
Wool is another option for crochet potholders. Wool is known for its heat-resistant properties, which makes it ideal for handling hot pots and pans. However, it does require a bit more care compared to cotton potholders. Washing wool can be a bit tricky, as it has the tendency to shrink in size if not appropriately handled. If you prefer easy maintenance, I recommend going with cotton potholders that can be tossed into the washing machine.
Acrylic yarn, on the other hand, is not a good choice for potholders. It can melt or burn when exposed to high heat, which can be dangerous when you're working with hot pots and pans.
When it comes to thickness, one of the most common yarn options is the worsted weight (#4) yarn. It's the go-to choice for many crocheters because it's thick enough to make a nice thick potholder, and it's also easy to work with.
Worsted weight yarn is readily available in a wide range of colours, so you can easily get one that matches your kitchen decor or one that makes you happy. Some popular brands of cotton yarn for potholders include Lily Sugar 'n Cream, Peaches & Creme, and Bernat Handicrafter.
Free Crochet Potholder Patterns
All these patterns below are available for free on the designer's blog. But if you're looking for a more convenient option, you can grab an ad-free PDF version for a small fee, if available. It's totally worth it because you won't have to deal with annoying ads while you crochet, and the PDF is print-friendly and easy to use. Plus, you can keep all your favourite patterns in one neat place without relying on the internet every time you start a new project.
I hope you find a couple of crochet potholders you will love. Enjoy!
Bobble Heart Crochet Potholder
Brighten up your kitchen and your mood in no time with this lively bobble heart potholder! The pattern features a variety of vibrant colours and plenty of texture to make it both playful and practical.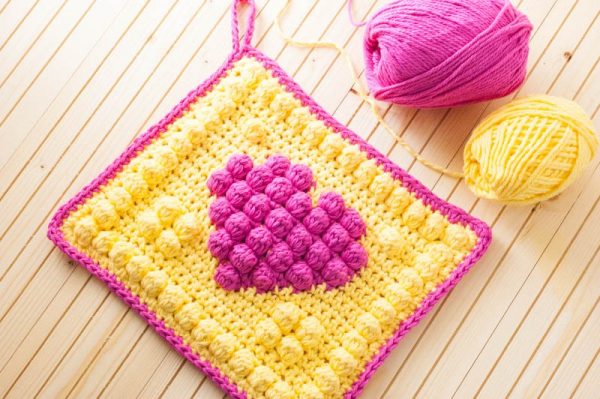 Pattern by You Should Craft
Amazing Crochet Potholder
This potholder pattern showcases the linked stitches technique! If you haven't tried this stitch yet, you should definitely check it out. It'll take your skills to the next level.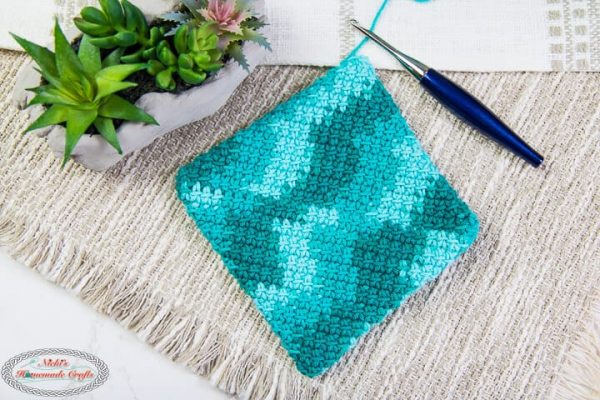 Pattern by Nicki's Homemade Crafts
Tapestry Crochet Squirrel Potholder
Prepare yourself for the absolute cuteness overload with this free crochet potholder pattern – it's one of my personal favourites! If you're interested in trying out tapestry crochet, there's a whole Farmhouse Collection available on the designer's blog that you should definitely explore!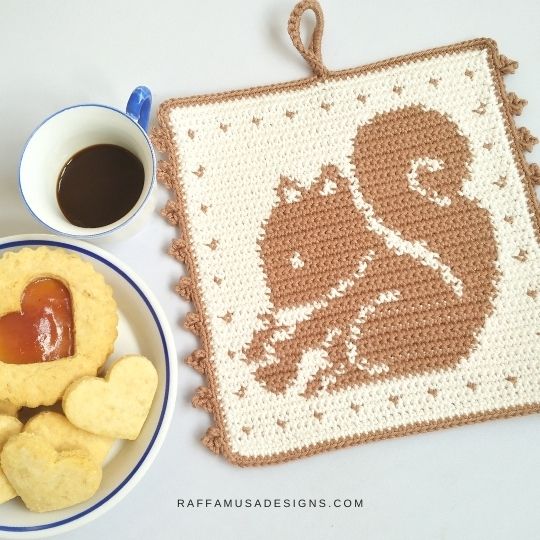 Pattern by Raffamusa Designs
Oven Mitt Crochet Pattern
Doesn't this potholder just make you crave some delicious baked treats? The best part is you can practise the Waffle stitch with this easy and quick crochet pattern!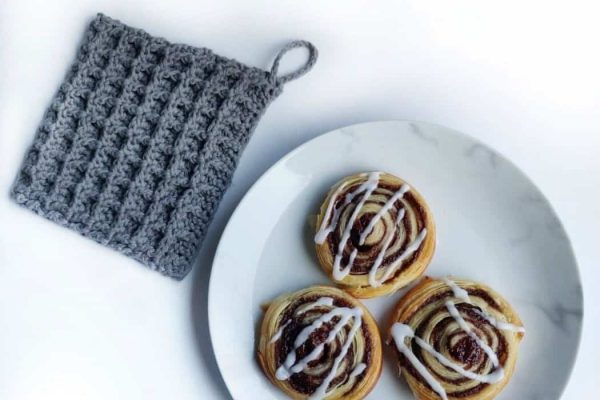 Pattern by Burgundy & Blush
Extra Thick Crochet Potholder (Thermal Stitch)
I love using Thermal Stitches for extra thickness! This free crochet potholder pattern uses thermal stitches – Half Double Crochets with a slight modification for extra rich texture! This pattern is best suited for crocheters with intermediate skills and might be a bit challenging for beginners.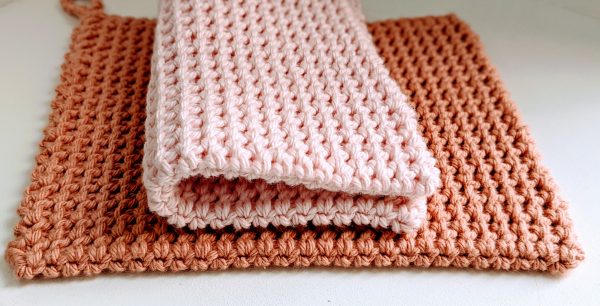 Pattern by My Crochet Space
Tapestry Crochet Bee Potholder
Here's another adorable potholder featuring tapestry crochet! You can customize it by choosing your favourite colours for this busy bee design. It's so adorable!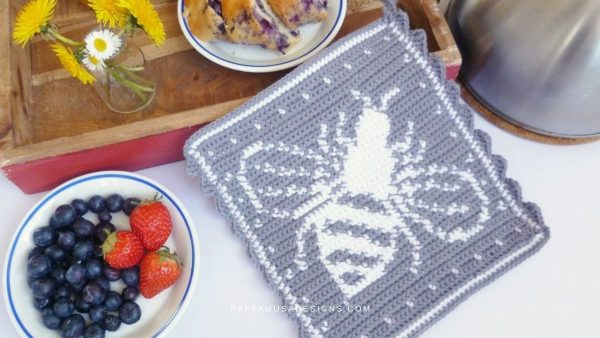 Pattern by Raffamusa Designs
Crochet Potholder (Thermal Stitch)
Take a look at this crochet potholder pattern that uses thermal stitches (Single Crochets). Thermal stitches are perfect for potholders because this stitch creates double thickness!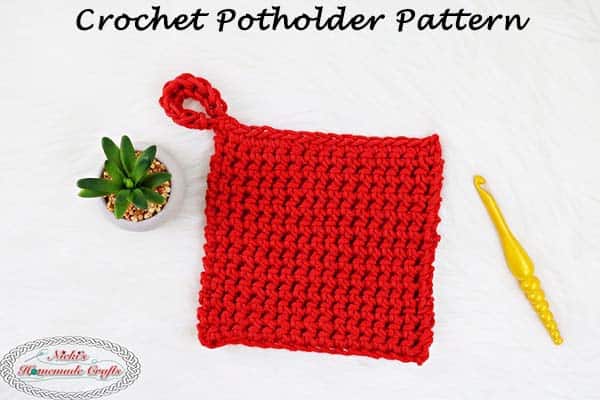 Pattern by Nicki's Homemade Crafts
Crochet Cross Stitch Potholder Pattern
For this cross-stitch potholder, it's essential to work it in the round to get those cross-stitches to show. Don't worry, it's a simple pattern that creates a thick, double-layered hot pad, perfect for handling hot items, and it can also serve as a trivet. I'm sure you'll find this pattern super easy!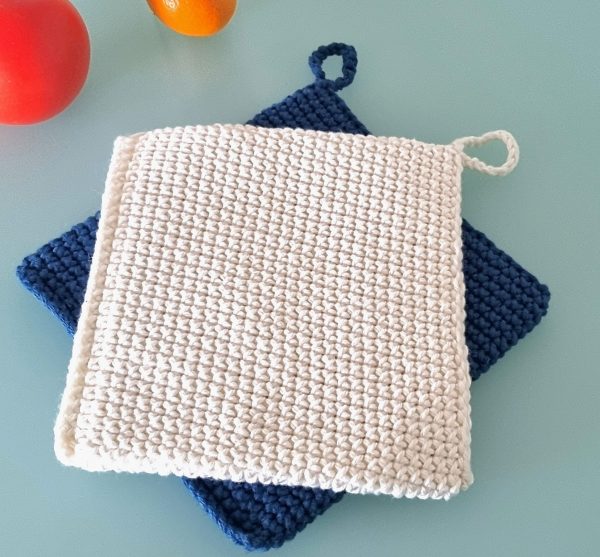 Pattern by My Crochet Space
Christmas Tree Pot Holder
Introducing a cute Christmas Tree potholder that adds a touch of holiday magic to your kitchen! It's a handy potholder and also a lovely handmade Christmas decoration!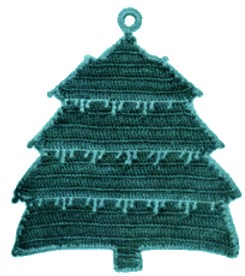 Pattern by CraftBits
Crochet Thermal Stripes Potholder
This crochet potholder is also using Thermal Stitches – Single Crochets! And, with a few contrasting colours, you can make it as colourful as you like! Find the potholder pattern and video tutorial on how to swap between colours without cutting yarn. This free crochet potholder pattern is intermediate level.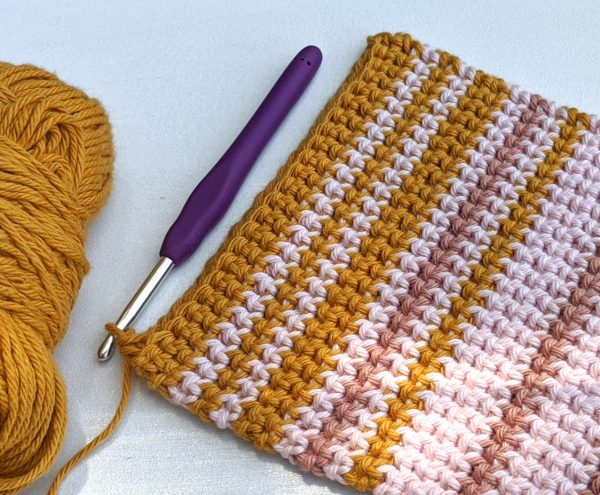 Pattern by My Crochet Space
Sunflower Potholder Crochet Pattern
These vibrant and joyful sunflower potholders will instantly brighten up your kitchen and uplift your mood! You can let your creativity shine by experimenting with different colours to create your own unique and stunning sunflower designs.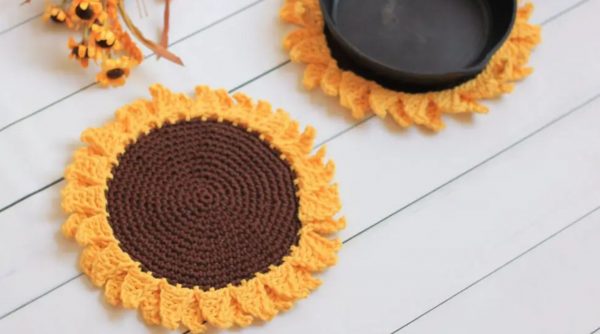 Pattern by Nana's Crafty Home
Crochet Potholder With Lace Trim
This textured crochet potholder features lovely crochet lace and charming ribbon trim, making it a stylish potholder for your kitchen.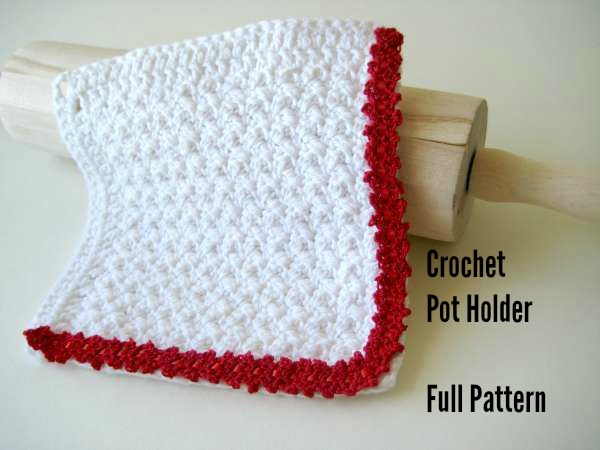 Pattern by CraftBits
Crochet Christmas Tree Potholder
This Christmas Potholder is using basic stitches with two contrasting colours. The carrying of yarn is used in a way that you can use both sides as the right side. You can make two in same colour and stitch them together for double thickness or just use a bulkier yarn and only make one, they are reversible!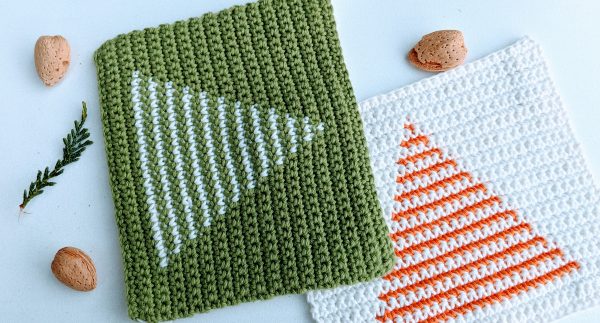 Pattern by My Crochet Space
Festive Holiday Tree Crochet Hot Pad
A very clever choice of crochet stitch to make this Christmas Tree and a festive design! The chosen stitch resembles the needles of a Christmas tree, adding an extra touch of holiday magic to the overall look. This pattern is suitable for crocheters with intermediate skills, allowing you to challenge yourself and create something special.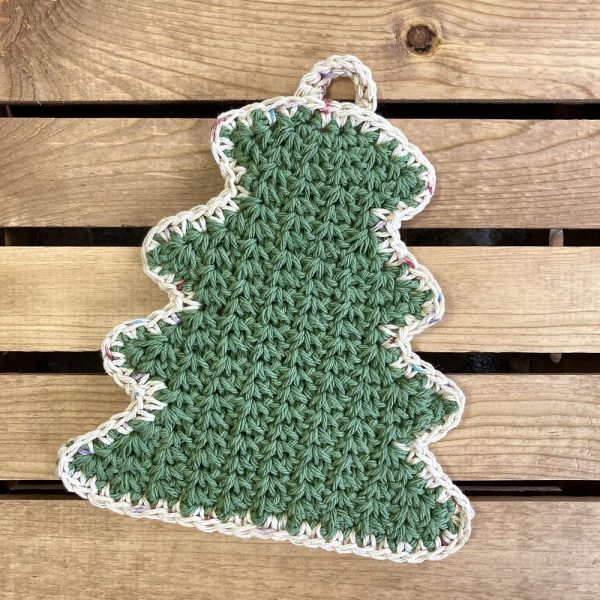 Pattern by Simply Hooked by Janet
Wagon Wheel Potholder
Choose any two contrasting colours and make your own farmhouse-style potholder! This crochet pattern is double-sided, and the pattern includes a step-by-step photo tutorial.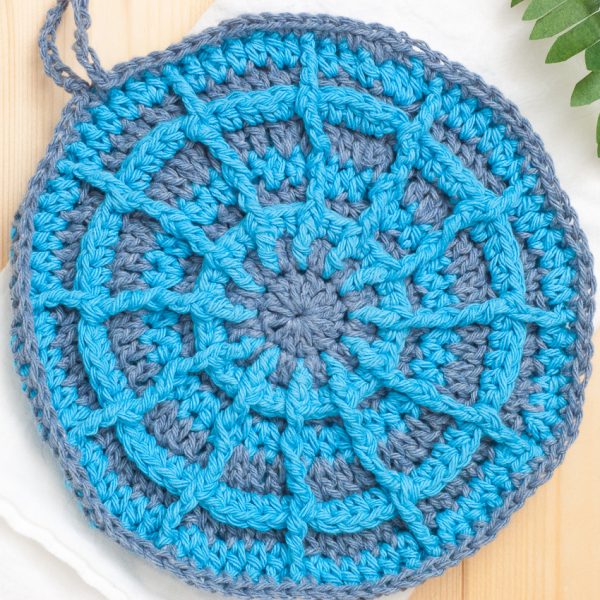 Pattern by You Should Craft
Crochet Circle Hot Pad
This large round double layered potholder will give your hands and your table extra protection from hot dishes! You can also learn how to crochet a perfectly round circle.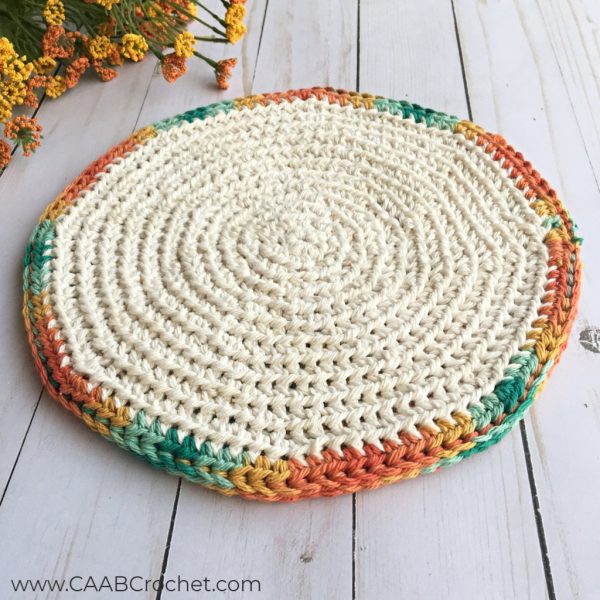 Pattern by Cute as a Button Crochet
I hope you liked these unique free crochet potholder patterns! If you would like to get some more ideas and inspiration, take a look at more crochet patterns below.
More Free Patterns