How do you crochet step by step? And how do you make the very first stitch?
If you never tried to crochet before or you tried a long time ago and would like to refresh your memory, then this tutorial is for you.
In this video demonstration (see below) I will show you:
how to attach the yarn to the hook and make a slip knot
how to make the first chain
how to make the first stitch – single crochet
and how to turn around for the second row
By the end of the video, if you follow along, you'll be able to crochet something like this in the picture below!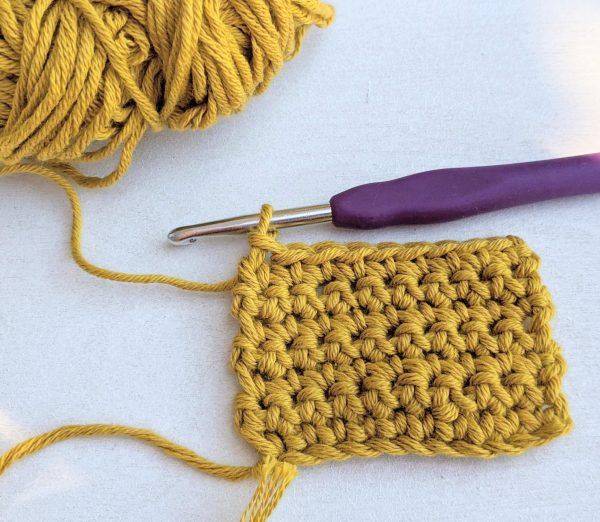 Let's get a hook & some yarn, make yourself comfortable and let's make a few crochet stitches together!
You'll need a hook and some yarn to start with. I have a 3mm (D-3) size hook in this video but you can use any type/size of hook you have currently available and any type of yarn. Just a tip, bulkier yarn and a bigger size hook might be more comfortable to work with in the beginning. For the purpose of practise, you can take a 5mm (H-8) crochet hook and worsted /medium weight yarn.
You can watch the video below or scroll down to see the step-by-step photo guide.
How to Crochet Step by Step – Video Tutorial for Absolute Beginners
As with everything, the more you practise the better you'll get at it. Don't expect your very first stitches to look perfect. Nobody ever made their very first crochet stitches perfectly.
Just have fun with it! And if you don't expect a great outcome and just enjoy the process, then you'll come back to it more and more often and that's what will make a difference!
The only rule here is to enjoy the process and have fun 🙂
How to Crochet Step by Step Photo Tutorial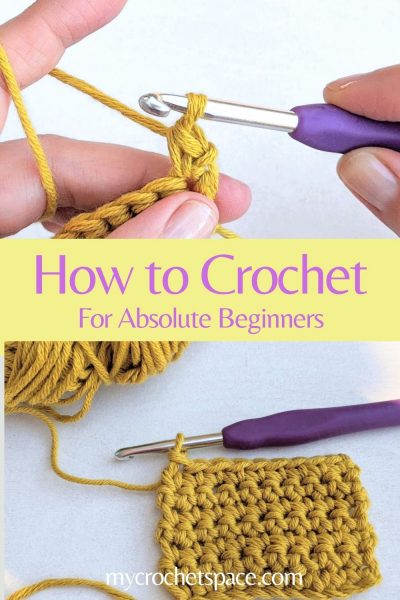 Slip Knot
Make a loop by placing the tail of the yarn on top of the working yarn. Take yarn from the long end and pass through the loop. Pull on one end of yarn to tighten the loop.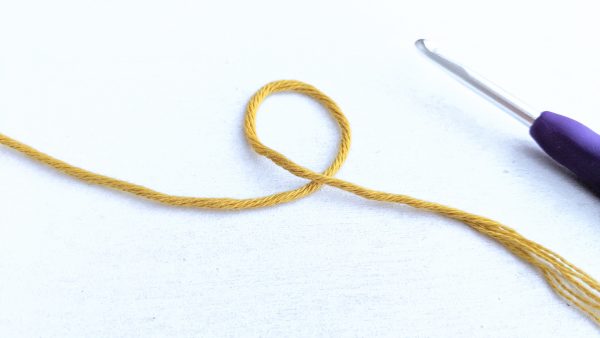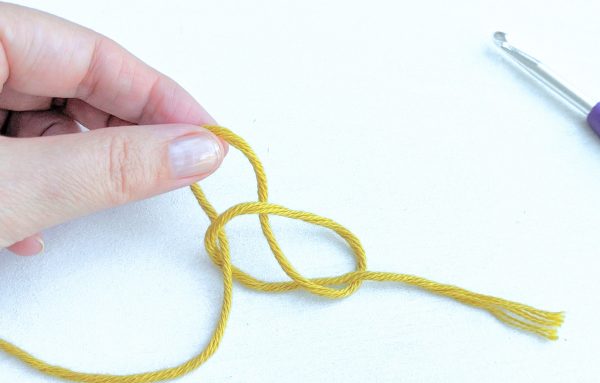 Insert your hook in the loop and pull one side of the yarn to tighten the knot around the hook (don't pull too tight though as it will be harder to chain!)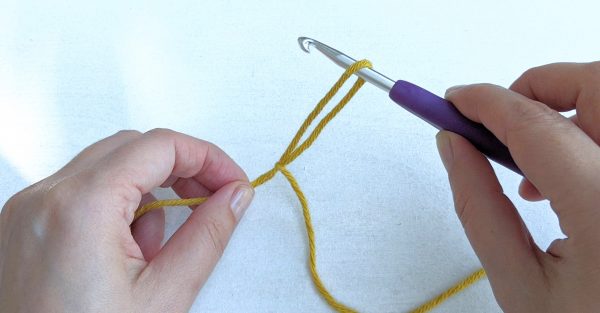 Hands Position
Loosely wrap the working yarn around your little finger and your index finger. This will create some tension for the yarn to pass through your fingers. You still need to regulate the tension a little but don't worry too much about this in the beginning.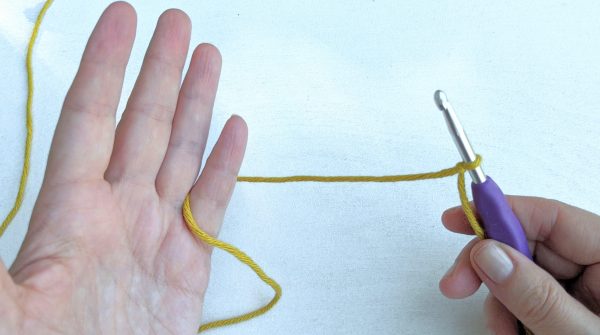 Chain
Yarn over hook and pull through the loop (chain). Chain 11 (or any amount).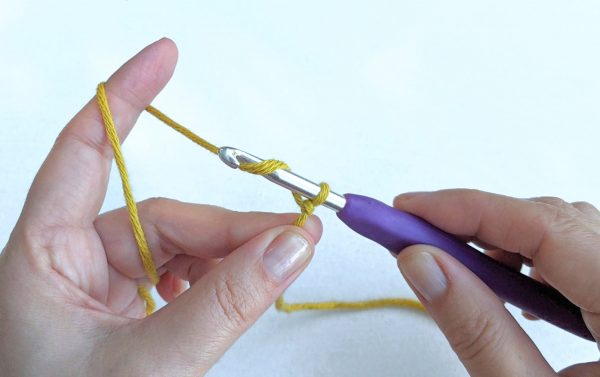 Single Crochet Stitch
Insert your hook in the second chain from the hook, yarn over and pull through the chain.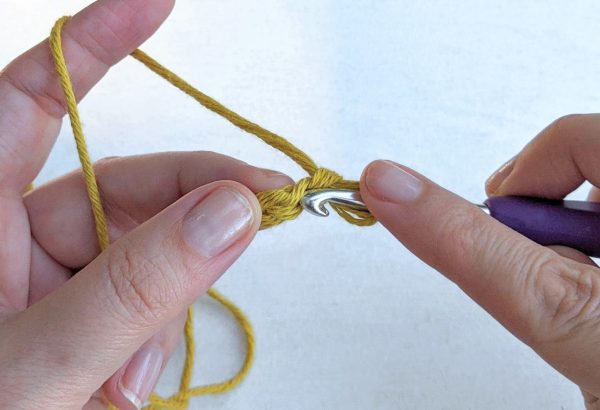 Yarn over again and pull through two loops. That's one single crochet stitch.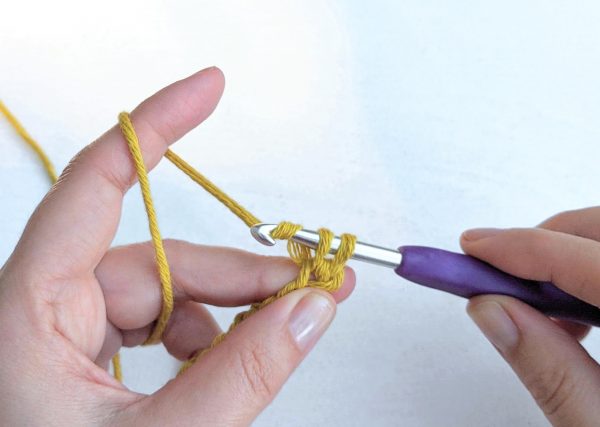 Work single crochet stitches into every chain stitch until the end of the row. Chain 1 and turn at the end of the row.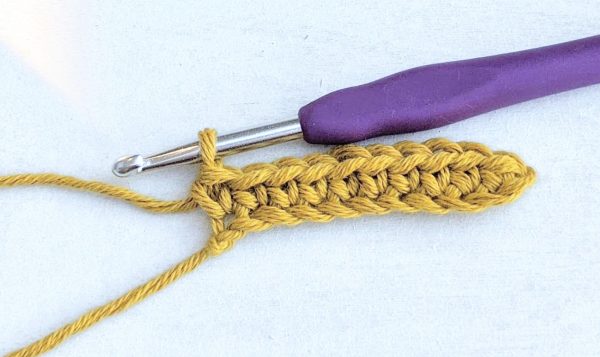 Second Row. Work a single crochet in the very first stitch.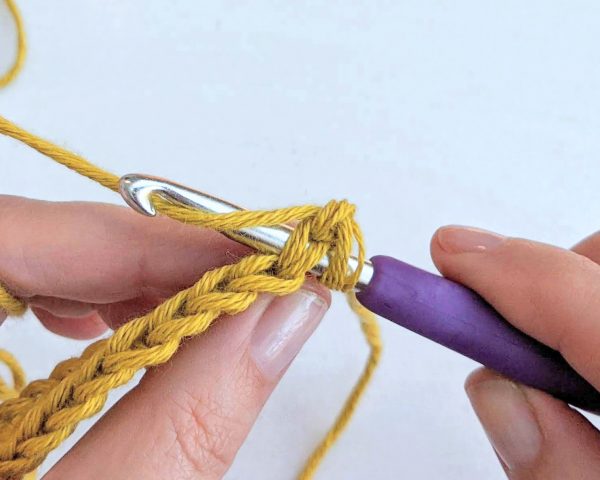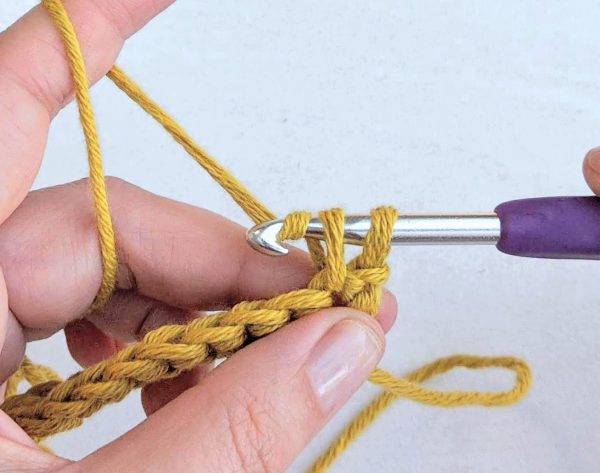 Continue working single crochets into every stitch to the end of the row.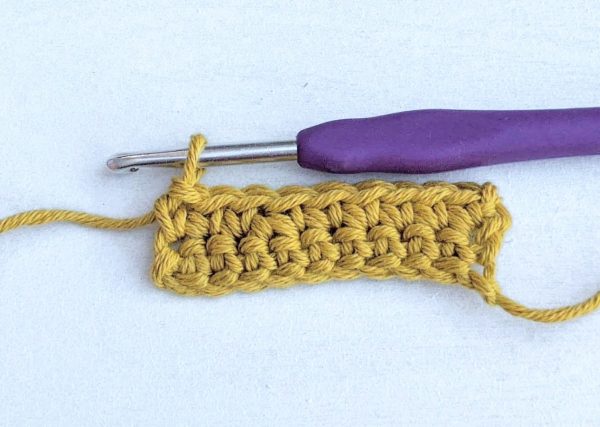 What can I crochet as a beginner?
Now that you know how to crochet one of the basic stitches – single crochet, you might ask yourself, what can I crochet as a beginner? What is the easiest thing to crochet?
Well, there are many things you can already choose from to attempt as a beginner! Scarves are probably one of the easiest to make. You can start with this simple and easy to make Crochet Scarf Cool Ombre. It's a scarf I originally designed for men but it really is for anyone you'd like it to be. Depending on the colours you choose for your scarf it can be for a toddler, kid, teenager, man or woman!
This particular scarf is using a different stitch which is a combination of chain stitches and single crochets – which you already know how to do. It has a beautiful woven look and if you choose a yarn that changes colour on it's own you'll get a very unique look. Video demonstration is also provided!
And if you feel like you're ready to learn the next stitch – here is the Double Crochet Stitch Tutorial!
And if you're still reading this, let me know in the comments section below if you enjoyed learning to crochet! After all, learning a new skill and being creative should be fun! And when we enjoy the process, that in itself is beneficial for our mental and physical health. There are many creative handcrafts you can still explore and find the one you like the most and makes you happy! 🙂
Beginner Friendly Crochet Patterns