How do you start to crochet? And how do you make the very first stitch?
If you never tried to crochet before or you tried a long time ago and would like to refresh your memory, then this tutorial is for you.
In this video demonstration (see below) I will show you how to attach the yarn to the hook and make the first loop, the first chain and the first stitch. By the end of the video, if you follow along, you'll be able to crochet something like this in the picture below!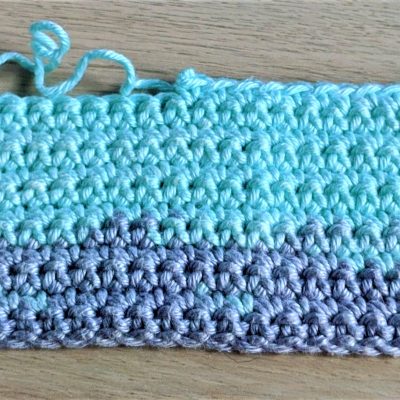 Let's get a hook & some yarn, make yourself comfortable and let's make a few crochet stitches together!
You'll need a hook and some yarn to start with. I have 3mm size hook in this video but you can use any type/size of hook you have currently available and any type of yarn. Just a tip, bulkier yarn and a bigger size hook might be more comfortable to work with in the beginning.
As with everything, the more you practise the better you'll get at it. Don't expect your very first trials to look perfect. Nobody ever made their very first crochet stitches perfectly.
Just have fun with it! And if you don't expect a great outcome and just enjoy the process, then you'll come back to it more and more often and that's what will make a difference!
The only rule here is to enjoy the process and have fun!
WHAT'S NEXT?
After you've practised Single Crochet stitches you can start with this simple and easy to make Crochet Clutch where I share a free pattern! (see picture below). Make it for yourself or gift it to someone special!