This crochet cup cozy sleeve is an easy and quick project for beginners. You could finish it in an hour (or less) even if you're a beginner.
Scroll down to see the free crochet pattern.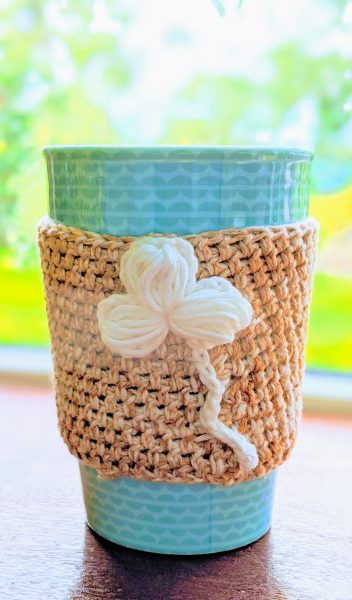 This post may contain affiliate links. For more information please see my disclosure page.
Material
Yarn: Any 100% Cotton yarn, 8ply (DK, light worsted) here is a nice selection of colours)
Hook: 3mm (I'm using this set of hooks here)
Yarn needle
Abbreviations:
Ch = chain
Hdc = half double crochet
Sl st= slip stitch
Note: This pattern is for a 8.5cm (3,5″) in diameter and 12.5cm (5″) tall cup. Adjust the initial number of chains to fit around your cup.
It's worked by crocheting in rounds and joining the rounds with a slip stitch. I made the flower mainly to conceal the seam that is normally slightly visible. If you don't want to have or make the flower then I suggest to crochet in spiral rounds (Crochet Simple Cup Cozy pattern) that won't have any visible seam.
Tea Cup Sleeve Pattern
Ch 40, join the chain with a slip stitch (adjust the number of chains to fit around your cup.
Tip: To chain the right amount of chains for your cup – stretch the chain and wrap around the base of your cup. The ends should just barely touch. As you start working on it it will stretch.
Row 1-16: Ch 1, Hdc in first stitch and across, sl st (total 40)
Note: Check the height of your cup sleeve and adjust the number of rows accordingly. It should not cover the whole cup, only the middle part. You may need less than 16 rows, it depends on the thickness of your yarn, the size of your hook and the tension.
Flower
You can make the flower in any colour you like, I made one in the same colour as the cup cozy and another one in white.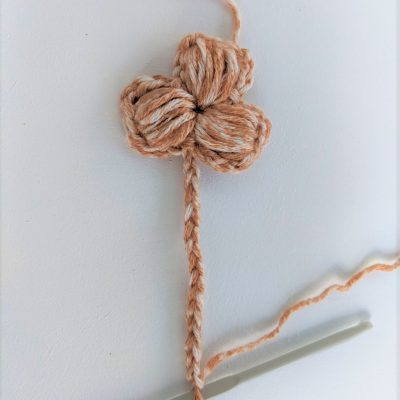 Chain 4, join in a circle.
Petal: chain 4, make a Puff stitch (yarn over, insert your hook into the space inside the circle and pull up a tall loop. Repeat 7 times. You'll have 15 loops on your hook. Yarn over and pull through all loops. Chain 1 to secure the Puff st). Chain 4, slip stitch to circle (refer to photos or watch the video below).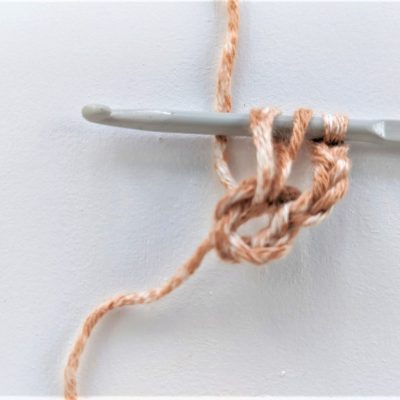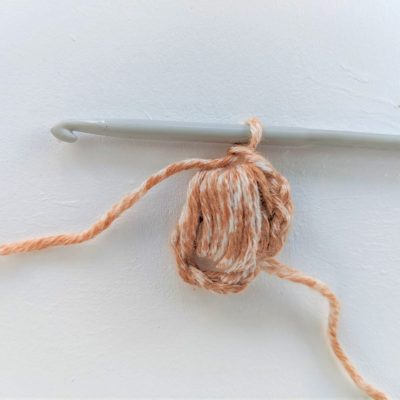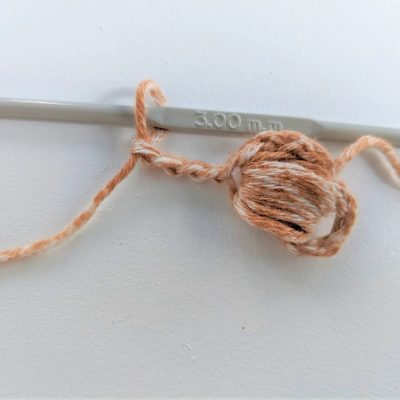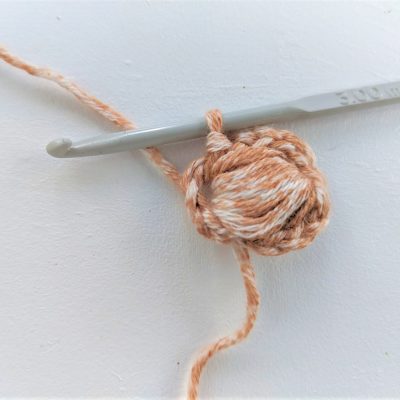 Repeat 3 times for each petal.
Chain 15 to make the stem.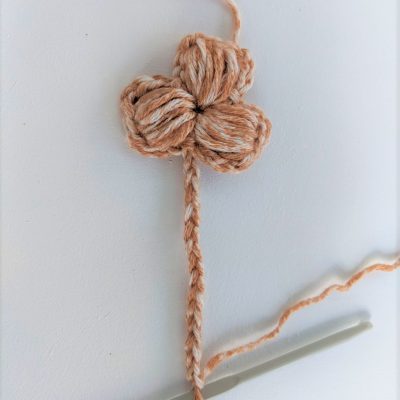 Attach the flower by sewing it on your cup cozy with the yarn needle. Make sure it's on the side where you joined the rounds on top of the seam.
Weave in ends.
Done!
Hope you enjoed it! 🙂