If you ask me, what's the best stitch to make a crochet potholder – I'll say defenitely it's the Thermal stitch. There are a few versions of that stitch that I have seen so far – using single, double and half double crochets. And there may be even more.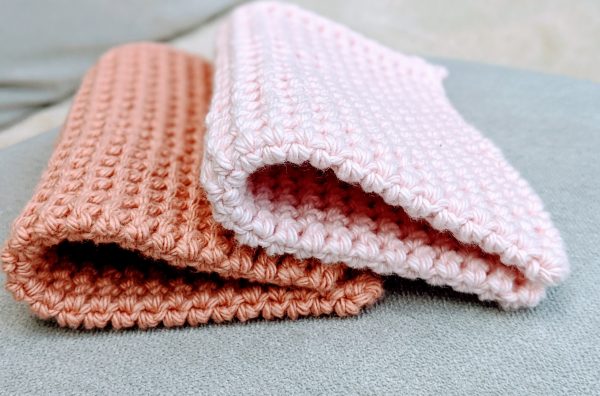 I've experimented with those and my favourites are the single and half double crochet. If you are a beginner, I would start with single crochet thermal stitch first just to get a feel for it as it's easier, in my opinion.
This pattern is using half double crochets, I have modified it a little and came up with my own version. There is another version of the same stitch with a slight difference that creates a different look.
I'm not sure if there is a more specific name for this stitch as I couldn't find the exact same stitch anywhere. But if you know it please share it in the comments below! I simply call it Half Double Crochet Thermal stitch – because that's what it is! 🙂
I've used Fiddlesticks Finch cotton yarn that I got from a local store but you can use any yarn you like. The main thing is it's 100% cotton and the 10 ply (worsted/medium weight #4) works great as it's going to create that extra thickness. 
I've used 8 ply (light worsted/weight #3) in my single crochet thermal stitch potholder and it works very well too. It will still be thick enough to serve as a potholder. But if you have a choice between the two I would recommend to choose the thicker yarn.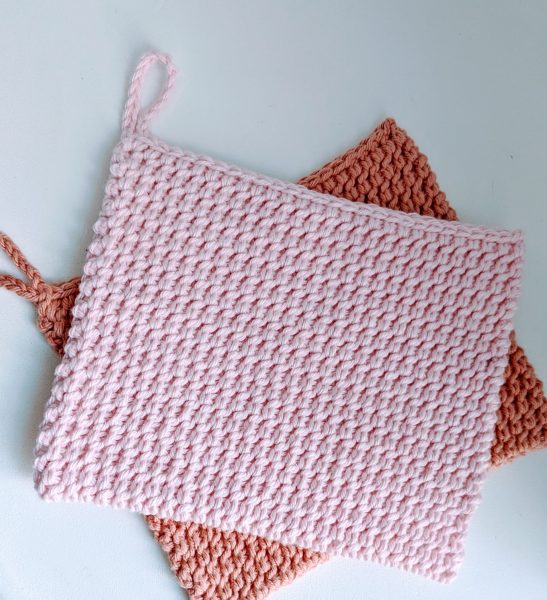 I'm also using half double crochets here and it seems that it creates even more thickness than the single crochet thermal stitch. But maybe it just feels chunkier because it creates a more textured surface as opposed to the single thermal crochet, which has a much smoother surface. Anyhow, you can try both versions for yourself and see which one you like better 🙂
Quick Crochet Gift Blog Hop
This pattern is part of the Quick Crochet Gift Blog Hop, hosted by E'Claire Makery. The event will run in November 2021, featuring one crochet pattern a day. There are 30 different crochet patterns, ranging from wearables to home decor. All of them are small crochet projects that can be worked up quickly, in a day or so.
All of the patterns will be available for free on their assigned featured day, for 24 hours. But if you miss a day or just don't want to wait and come back each day for a new pattern – you can get all of them for 90% off of their normal price at just $18. This bundle is only available until the end of November and will be gone forever after the event is over. So grab it now while you can! You'll be able to make such amazing gifts with these designs this holiday season!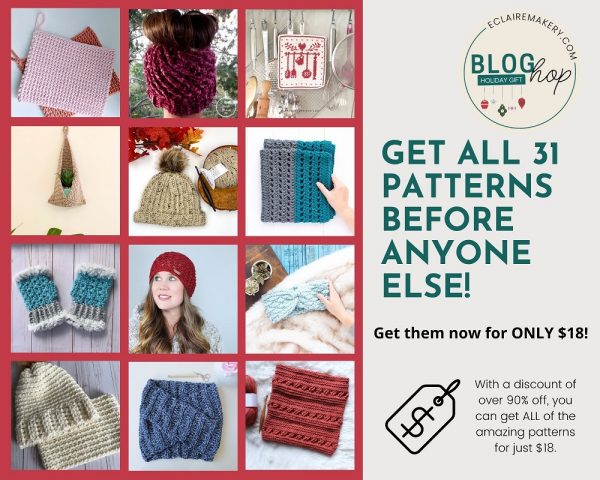 The Extra Thick Crochet Potholder PDF pattern will be featured in the last week of November. So, keep your eyes on your inbox as I will let you know on the day it's available. And if you haven't subscribed yet – you can subscribe now to get notified!
Follow the instruction on E'Claire Makery on how to get free PDF patterns and don't forget to get the coupon code. Then click on the button below that will take you to Ravelry.

I hope you enjoy this event and make lots of cute crochet gifts for yourself, your home, your family and friends! 🙂
Crochet Thick Potholder Pattern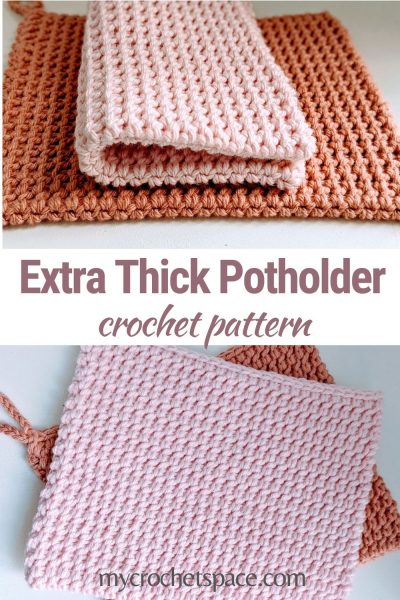 A printable PDF of this pattern is available on Etsy here and on Ravelry here.
Material
Yarn: Any 100% Cotton 10 ply/Worsted/Medium weight #4. (I'm using Fiddlesticks Finch 10ply in Pink and Rose, 1 skein each. In each skein: Length 109mts / 119yds and weight 71g / 2.5 oz)
Hook: 5mm (H-8)
Yarn needle (for weaving in ends)
Dimensions:
20cm x 16cm (8" x 6.5")
Gauge:
15 stitches x 22 rows in Thermal HDC = 10cm (4″)
Abbreviations:
Ch = chain
St = stitch
Sl St = slip stitch
HDC = half double crochet
Th HDC = Thermal half double crochet (yarn over, insert hook into the back loop and into the back loop stitches of the row below, yarn over pull through 3 loops on hook, yarn over pull through all loops on hook). You can find a more detailed explanation of this stitch in the video demonstration below.
Written Instructions
Ch 28 (or chain more or less if you like your potholder bigger/smaller)
Row 1: HDC into the second Ch from hook and across the row (total 27 throughout the pattern)
Row 2: Chain 2, Th HDC into the first st and across. (Th HDC = yarn over, insert your hook into the back loop only of the first stitch and into the first chain loop below. See picture or watch video demonstration below for more clarification.
Note: It's easier if you turn your work the way it's on the picture below, so that you can see parallel stitches. It's important to work into the right stitches so that it will match up at the end of the row.
It may seem that the stitches in the row below are slightly behind the current one. Best to double check by turning your work so that you can see them better. I frequently count the top and bottom stitches especially in the beginning to make sure they match up.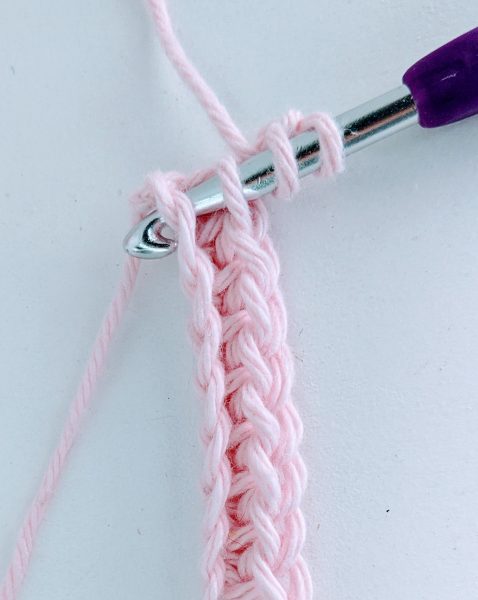 Row 3-35: Ch 2, Th HDC into the first stitch and across.
Note: From this row on – insert your hook into the back loop and the back loop + third loop of the row below as you see on the picture below. It looks like the letter V.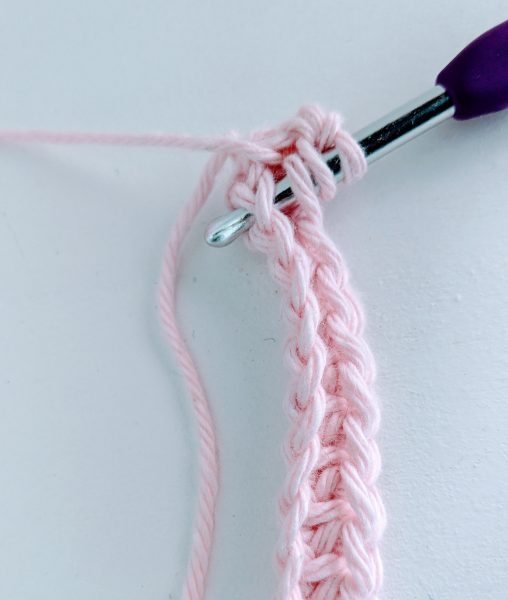 LOOP:
Ch 15 to make a loop and continue to LAST ROW.
LAST ROW:
After you've chained 15 for the loop, instead of working into the back loop only, insert your hook under the third loop (as on the picture below) and into the 'V' (back loops from the row below as you did all the previous rows). Slip stitch through all the loops and across the row.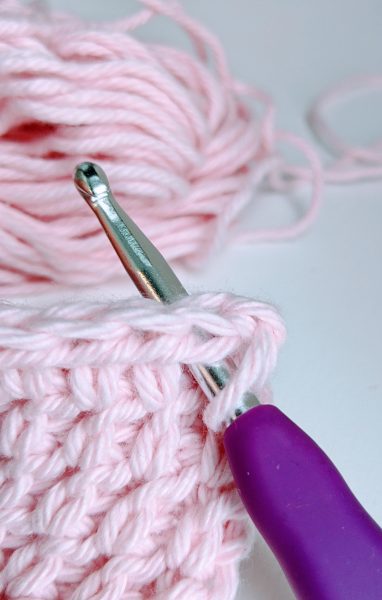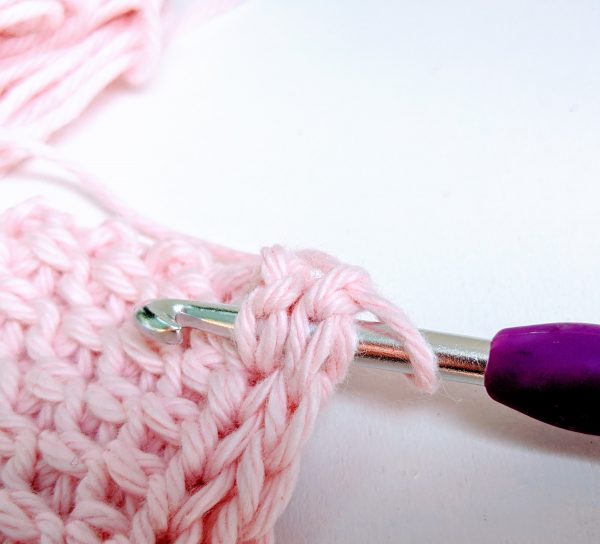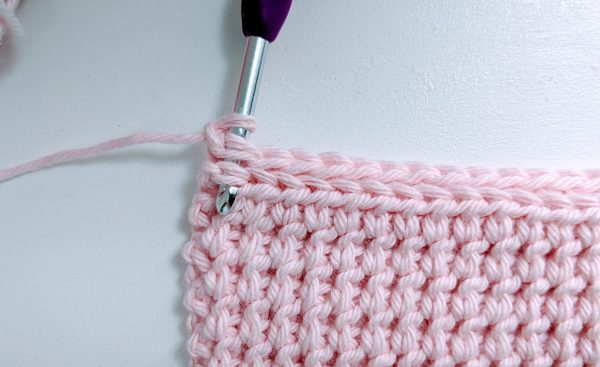 Finish off and weave in all ends.
Crochet Potholder Video Demonstration
If you like this pattern and would like to print it in a nice format or save it on your desktop for later use, you can get the printable PDF of this pattern here on Etsy. I have also put all three versions of the Thermal Stitch Potholder patterns in a bundle to make it easier for you, find it here.