If you ask me, what's the best stitch to make a crochet potholder – I'll say it's definitely the Thermal stitch. Thermal stitches create that beautiful thickness that potholders need in order to give you proper protection from heat.
There are a few versions of the thermal stitch that I know of, using single, double and half double crochets. And there may be even more.
This post may include affiliate links, view my disclosure policy for details.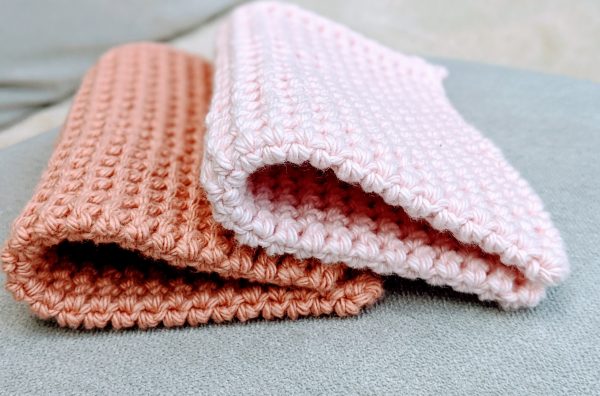 Difficulty
Thermal stitches are easy but you'll need to pay extra attention to the stitches you work into. It's easy to make mistakes in the beginning as you need to work into the stitches on the current row and on the row below at the same time. But once you know how to do that it's super easy.
If you are a beginner or trying thermal stitches for the first time, I would recommend starting with single crochet thermal stitch first, just to get a feel for it. The thermal single crochet is easier, in my opinion, as you have fewer loops on your hook to deal with.
The Extra Thick Crochet Potholder pattern is using thermal half double crochets. I have modified it a little and came up with my own version that creates a beautiful rich texture. I didn't invent this stitch as I'm sure it existed before I 'came up with it' 🙂 But I just haven't been able to find the exact version on the internet and not sure if there is a specific name for this stitch.
There is also a more common version of thermal half double crochet with a slight difference that creates a more ridged texture.
About the Yarn
I've used Fiddlesticks Finch cotton yarn that I got from a local store but you can use any yarn you like. The main thing is it's 100% cotton and the medium worsted (weight #4/10ply) works great as it's going to create that extra thickness.
I've also tried light worsted (weight #3/8ply) in my single crochet thermal stitch potholder and it works very well too. It will still be thick enough to serve as a potholder. But if you have a choice between the two I would recommend choosing the thicker yarn.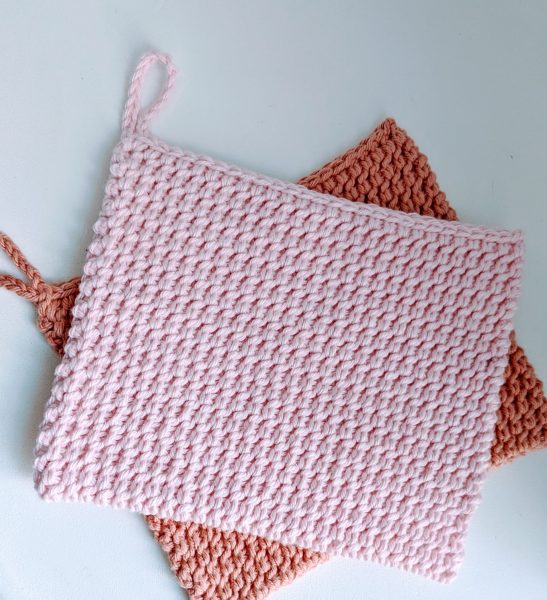 The thermal stitch in itself creates double thickness, plus using half double crochets here it seems that it creates even more thickness than the single crochet thermal stitch. Or maybe it just feels chunkier because it creates a more textured surface as opposed to the single thermal crochet, which has a much smoother surface. Anyhow, you can try both versions for yourself and see which one you like better 🙂
Crochet Thick Potholder Free Pattern
Please scroll down for the free pattern or get the ad-free & print-friendly version with step by step photo and written instructions for a small fee from my Etsy or Ravelry stores.


Or get the Thermal Crochet Potholder Bundle (includes three thermal stitches) on Etsy here.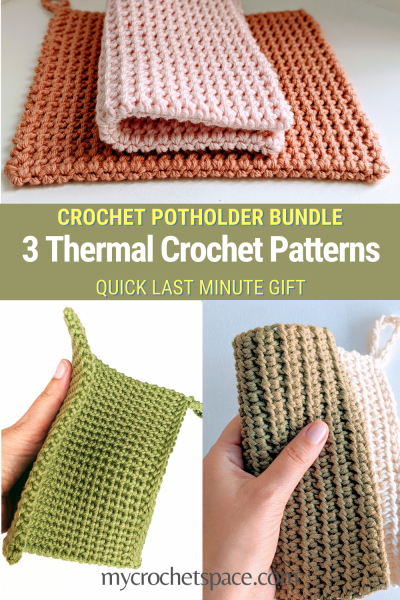 Material
Yarn: Any 100% Cotton medium worsted/weight #4/10ply. (I used Fiddlesticks Finch 100% cotton, 10ply, 119yds/109mts, 2.5 oz/71g. Colours Pink and Rose)
Alternative 100% cotton yarn options: Lion Brand Pima Cotton Yarn or 24/7 Cotton yarn.
Hook: 5mm (H-8)
Yarn needle (for weaving in ends)
Dimensions:
8" x 6.5" (20cm x 16cm)
Gauge:
15 stitches x 22 rows* in Thermal HDC = 4″ (10cm)
*Rows are counted as worked. Only 11 will be visible on one side as the other 11 will be on the other side of the potholder.
Abbreviations:
Ch = chain
St = stitch
Sl St = slip stitch
HDC = half double crochet
Th HDC = Thermal half double crochet. Yarn over, insert hook into the back loop plus into the back loop (unworked) stitches on the row below, yarn over pull through 3 loops on hook, yarn over pull through all loops on hook. You can find a more detailed explanation of this stitch in the video demonstration below.
Written Instructions
Ch 28 (or chain more or less if you like your potholder bigger/smaller)
Row 1: HDC into the second Ch from hook and across the row (total 27 throughout the pattern)
Row 2: Chain 2 and turn your work vertical as pictured below. Th HDC into the first st and across. (Th HDC = yarn over, insert your hook into the back loop only of the first stitch plus the first chain loop (or both unworked chain loops) below. See picture below or watch a video demonstration for more visual guidance.
Note: It's easier if you turn your work the way it's on the picture below, so that you can see the stitches better. It's important to work into the right stitches so that all stitches on both rows are matching up at the end of the row.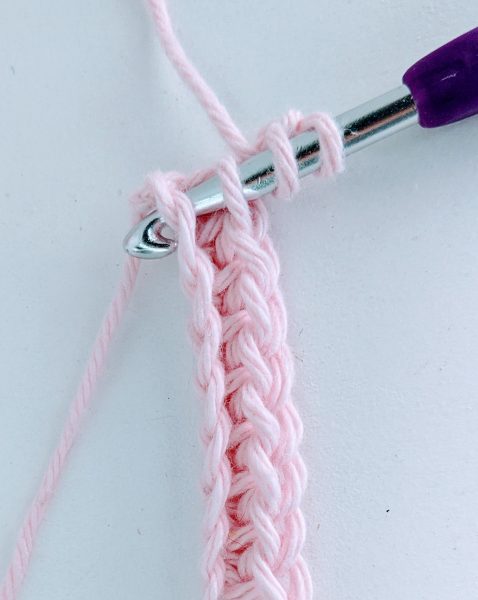 Row 3-35: Ch 2, Th HDC into the first stitch and across.
Note: From this row on – insert your hook into the back loop and the back loop + third loop of the row below as you see on the picture below. It looks like the letter V.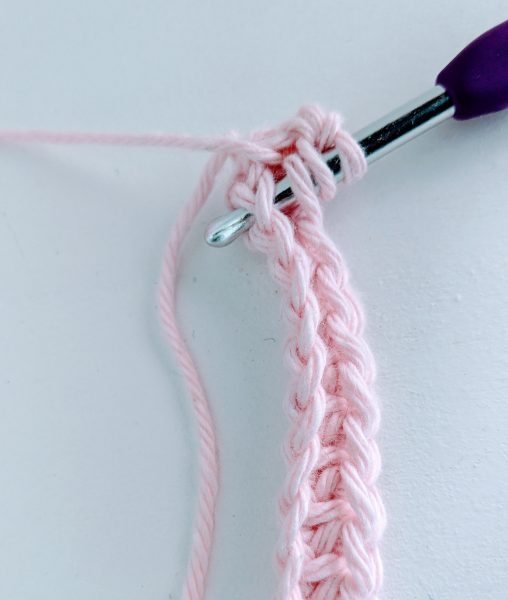 After making a few rows, the stitches on both rows will be much easier to see!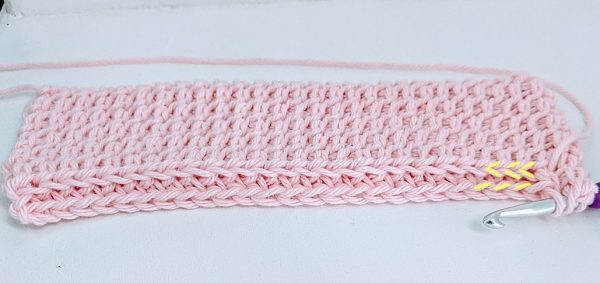 It may seem that the stitches in the row below are slightly behind the current one. Best to double check by turning your work so that you can see them better. I frequently count the top and bottom stitches especially in the beginning to make sure they match up.
LOOP (optional):
Ch 15 to make a loop and continue to LAST ROW.
LAST ROW:
After you've chained 15 for the loop, instead of working into the back loop only, insert your hook under the third loop (as on the picture below) and into the 'V' (back loops from the row below as you did all the previous rows). Slip stitch through all the loops and across the row.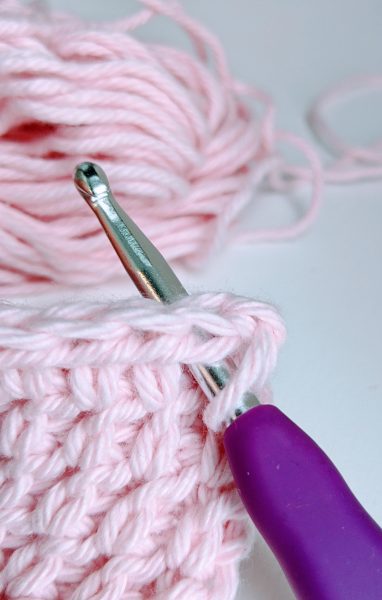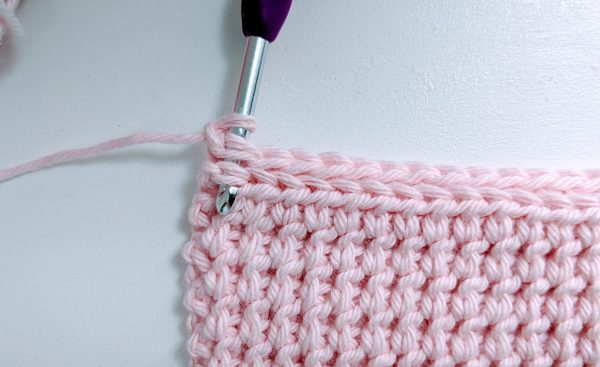 Finish off and weave in all ends.
Crochet Potholder Video Demonstration
If you like this pattern and would like to print it in a nice format or save it on your desktop for later use, you can get the printable PDF of this pattern here on Etsy. I have also put all three versions of the Thermal Stitch Potholder patterns in a bundle to make it easier for you, find it here.