Looking for a quick crochet gift? Here is a simple crochet coaster pattern that you will love! These are thicker than your normal crochet coasters, and look beautiful! Crochet coasters add some warmth and coziness to your home. Make them in different colours for each season so you can have a variety of crochet coasters to pick from. Choose your own favourite colours that make you smile and let's get started!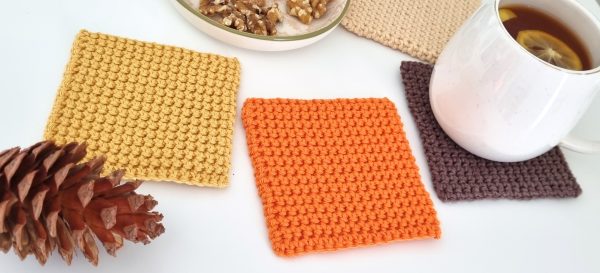 What I love about these coasters is that they are slightly thicker than the normal single crochet coasters. This means that they won't curl and don't need to be blocked like the thinner crochet coasters. This pattern uses the thermal single crochet stitch, which is my go-to for crochet potholders.
Even though the coasters look simple, this crochet pattern is intermediate-level. But, if you can crochet single crochet, you can totally manage this with just a little bit of attention! The challenging part with this stitch is that you need to know exactly where to insert your hook. You can learn how to crochet the thermal stitches in this tutorial or watch the video demonstration below.
Thick Crochet Coasters Pattern
Scroll down for the free crochet pattern or get the ad-free & premium PDF pattern with step-by-step photos and written instructions from my Etsy or Ravelry stores.


Or pin this crochet coaster pattern to your Pinterest Crochet Board for later!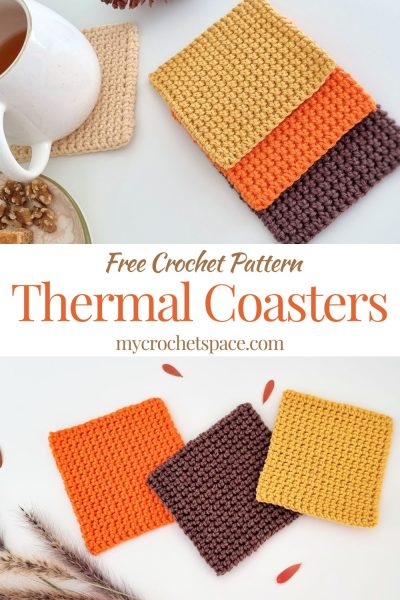 Dimensions
4″ x 4″ (10cm x 10cm)
Gauge
4 stitches x 4 rows (rows are counted on one side) in Thermal SC per inch
Abbreviations (US Terms)
Ch = chain
St = stitch
Sl St = slip stitch
SC = single crochet
Th SC = Thermal single crochet
Materials
You can use any 100% cotton, light worsted weight yarn #3/DK/8ply yarn (you can also use worsted weight yarn #4, the coaster will be slightly thicker and larger)
Yardage for one coaster approx: 45yds /41m
Crochet hook 4.5mm (7).
If you use worsted #4 yarn, use a 5mm crochet hook.
Scissors
Yarn needle
Crochet Coasters Pattern Notes
This crochet coaster measures 4 inches wide and 4 inches long. The size can be easily adjusted by chaining more or less for your foundation chain (any amount of chains) and by working more or fewer rows.
If you use a different yarn weight, you will need to adjust the number of chains in the pattern.
Ch 1 at the beginning of a row serves as a turning chain and does not count as a stitch.
Make sure to count after each row to make sure you haven't skipped any stitches and catch any mistakes early. It's easy to overlook the last stitch. 🙂
Special Stitches
Thermal Single Crochet = Insert hook into the back loop of the specified St PLUS the parallel loop from the row below. Work a SC as normal through both of these loops. For more visual guidance watch the video demonstration below. Watch the video demonstration below for more visual guidance.
Thermal Crochet Coasters Instructions
Ch 18
Row 1: Starting from the second Ch from your hook, work a SC into each St across the row. (17)
Row 2: Ch 1, turn. Work Th SC in the first St and into each St across the row. (17) Watch the video demonstration below for more guidance.
Row 3-30: Repeat row 2
Final row: Instead of the back loop only, insert your hook under both loops as you normally would work a SC, plus the loop on row below and work a SC. This will create a nice finish.
Fasten off and weave in all ends. Done!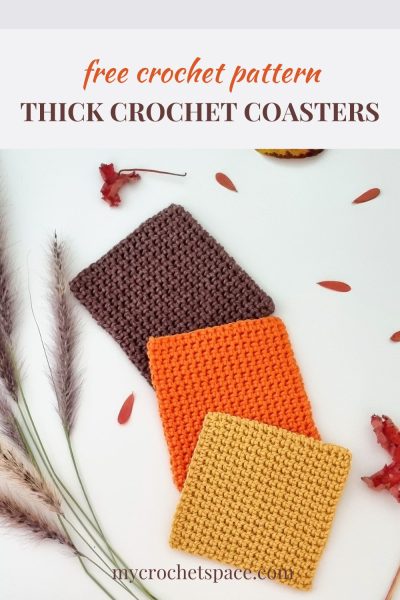 These coasters would look cute with stripes, you can learn how to change colour and carry yarn inside the thermal stitches in this post with a video demonstration.
Thermal Single Crochet Stitch Video Demonstration
All About Fall 2023
The Thermal Coasters pattern is featured in the All About Fall Blog Hop during September 2023. On September 9th, you can grab the premium PDF version for free, but only for 24 hours. Just visit the roundup page to get the coupon code and download the pattern using the button below!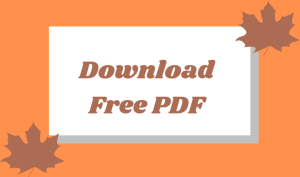 If you missed the date, you can get all 29 featured patterns for only $12.99 before the blog hop ends on September 29th. Check out the All About Fall Bundle below and get your patterns today.
Enjoy, and Happy Crocheting!
Free Patterns using the Thermal Stitch
More Free Crochet Coasters and Mug Rugs Patterns
Free Crochet Stitch Tutorials