This easy men's scarf crochet pattern is perfect for beginners, using only basic stitches to create a rustic and rugged look. And the tweed yarn adds an extra layer of warmth and comfort that will have the man in your life looking stylish and feeling cozy all season long. So, whether you're a crochet newbie or a seasoned pro, this crochet pattern is the perfect choice for your next scarf project.
This post may include affiliate links, view my disclosure policy for details.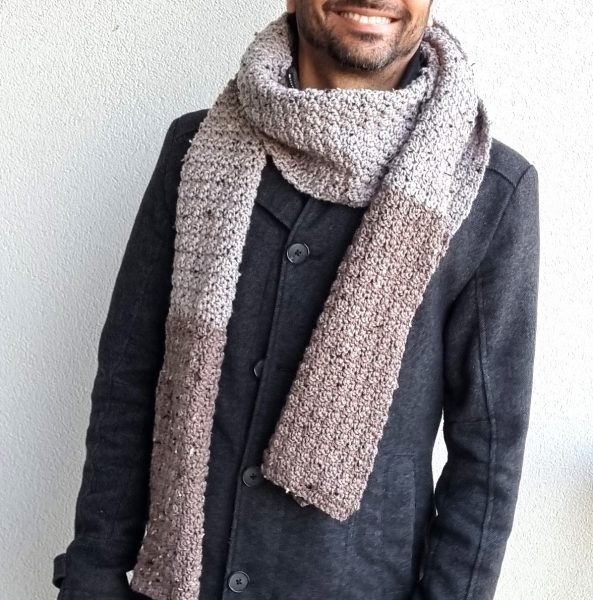 This crochet scarf pattern creates a scarf that's a bit longer than usual. But, if you're looking for a shorter scarf, it's easy to adjust! Simply work fewer rows.
For example, if you're using multiple colours like in this pattern, simply halve the number of rows for the first colour at the beginning and the end. You'll have slightly shorter different coloured ends. And of course, if you choose to use just one colour, you don't need to worry about this – just work until you're happy with the length!
About the Yarn
For this crochet scarf, I used Tweed Brava yarn in Mink and Stratus. I used two colours to make the scarf more interesting. You can also use just one colour if you prefer, in which case you'll need three skeins.
If you do decide to use two colours as I did, you can mix and match them however you like. I used it in this order: Mink 0,5 skein, Stratus 2 skeins, Mink 0,5 skein. Feel free to get creative and if you want to add even more colours – go for it! The possibilities are endless.
About Crochet Stitches
This crochet pattern is perfect for both beginners and experienced crocheters. It uses basic single and double crochet stitches and has a simple one-row repeat that is easy to remember and pick up after a break.
If you're new to crocheting, this is a great pattern to practice your skills. And if you're an experienced crocheter looking for a relaxing project, the repetitive pattern makes it perfect for winding down and letting your mind wander. Either way, you're sure to love this simple yet stylish crochet scarf pattern.
Tweed Men's Scarf Crochet Pattern
Scroll down for the free men's crochet scarf pattern, or get the ad-free & print-friendly version from my Etsy or Ravelry stores.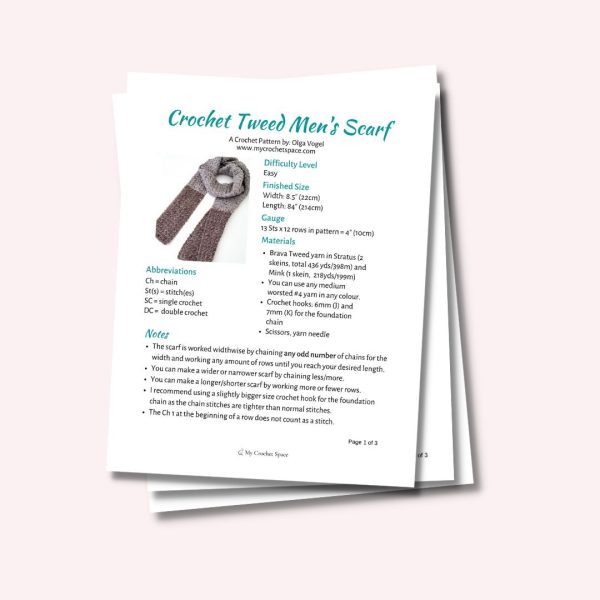 Tweed Men's Scarf Crochet Pattern PDF
Difficulty Level
Easy
Crochet Scarf Dimensions
Width: 8.5′′ (22cm)
Length: 84′′ (214cm)
Gauge
13 Sts x 12 rows in pattern = 4′′ (10cm)
Abbreviations (US Terms)
Ch = chain
St(s) = stitch(es)
SC = single crochet
DC = double crochet
Stitch used in this crochet pattern: Lemon Peel stitch.
Materials
Brava Tweed yarn: 2 skeins in Stratus and 1 skein in Mink
Alternatively, you can use any medium worsted #4 yarn in any colour.
Crochet hooks: 6mm (J) and 7mm (K) for the foundation chain
Scissors
Yarn needle
Crochet Tweed Scarf Pattern Notes
The scarf is worked widthwise by chaining any odd number of chains for the width and working any amount of rows until you reach your desired length.
You can make a wider or narrower scarf by chaining less/more.
You can make a longer/shorter scarf by working more or fewer rows.
I recommend using a slightly bigger size crochet hook for the foundation chain, as the chain stitches are tighter than regular stitches.
The Ch 1 at the beginning of a row does not count as a stitch.
Crochet Scarf Instructions
Starting with the Mink colour. We will need to use approx 0.5 skeins on each side of the scarf. If you're using the same yarn as in this pattern, you'll be able to make 36 rows on each side.

With the 7mm crochet hook, Ch 27 or any odd number.
Row 1: Switch to 6mm crochet hook. SC in second Ch from hook, *DC in next Ch, SC in next Ch, repeat from * across the row. You should finish with a DC in last Ch.
Row 2: Ch 1, turn. SC in first St (on top of DC in the previous row, as pictured below), DC in next (on top of SC in the previous row), *SC in next, DC in next, repeat from * across the row.
Note: It's a little tricky to count the rows in this stitch as they are not easily distinguishable, and it can be hard for beginners to keep track. My advice for newbies: use stitch markers every few rows to ensure that you reach a total of 36 rows. This will save you from the headache of counting rows.
Row 3-193 or your desired length: repeat row 2.
Colour changes:
Mink: the first and the last 36 rows. (use approx. o,5 skeins for each end of the scarf)
Stratus: rows 37-156 (use two full skeins in the middle section of the scarf)
Fasten off and weave in all ends.
I hope you like this easy men's crochet scarf pattern!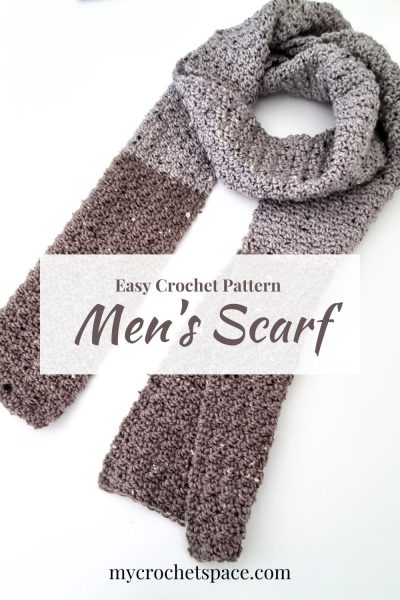 Free Crochet Patterns