The Lemon Peel Crochet Stitch is a beautifully textured stitch that is made by alternating Single Crochet and Double Crochet stitches. It's that combination of short and long crochet stitches that creates the lemon peel-like texture. And it does look even more like a lemon peel if you use a bright yellow colour 🙂 Learn how to crochet the Lemon Peel stitch by following the quick tutorial below.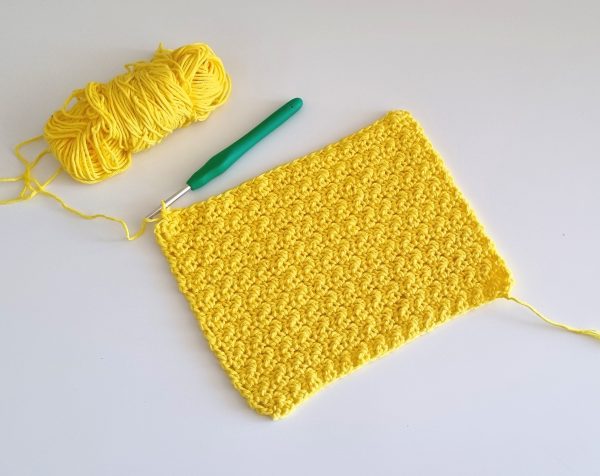 The Lemon Peel crochet stitch is an easy-to-learn stitch and is beginner friendly. This crochet stitch uses two of the basic stitches to create a textured fabric – single crochet and double crochet stitches. If you're a beginner and you know how to crochet those two stitches – you can crochet the Lemon Peel stitch.
Crochet Lemon Peel stitch has a few different names, it's also known as the Seed stitch and the Griddle stitch (not the Crumpled Griddle Stitch). And what is also interesting is that when you use two contrasting colours and alternate those colours every row, it creates a houndstooth pattern. So, it becomes the Houndstooth crochet stitch!
Lemon Peel Crochet Stitch Tutorial
Pin it to your Pinterest crochet board for later!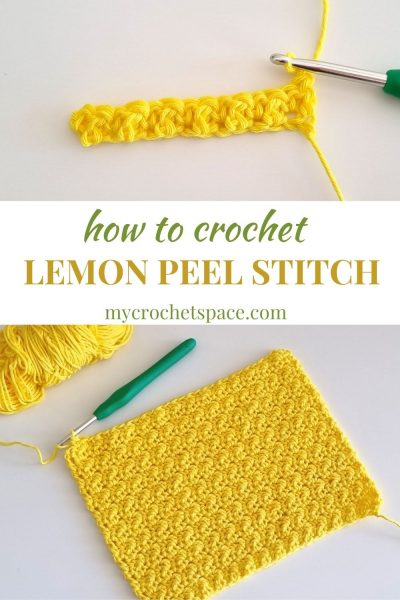 Difficulty
Easy / Beginner
Abbreviations (US Terms)
Ch = chain
St = stitch
SC = single crochet
DC = double crochet
Material
any type of yarn
matching crochet hook
Lemon Peel Stitch Pattern
Chain any odd number.
Row 1: SC in second St from hook, *DC in next, SC in next, repeat from * across the row. DC in last St.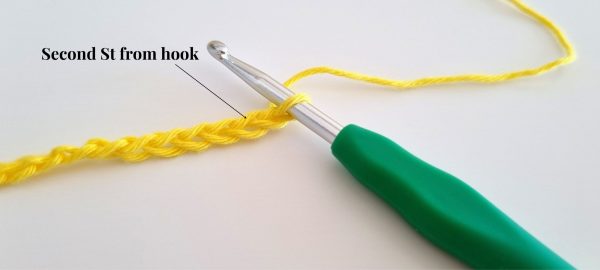 Row 2: Ch 1, turn. SC in first St (on top of DC in previous row, as pictured below), DC in next (on top of SC in previous row), *SC in next, DC in next, repeat from * across the row.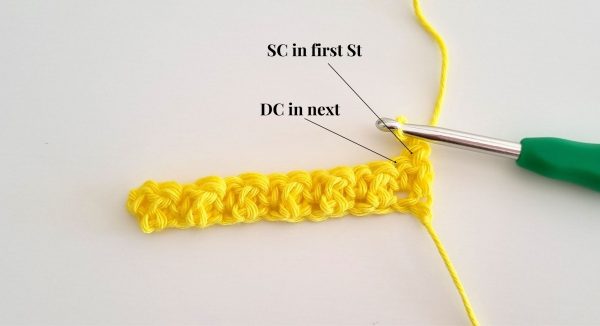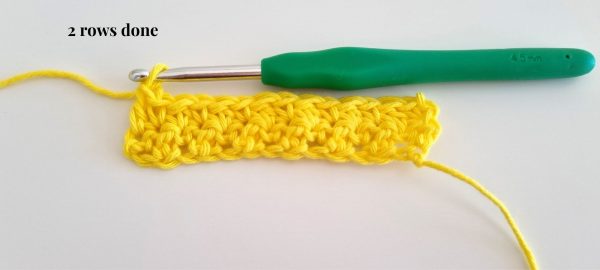 Row 3: repeat row 2 until you reach your desired size.
Note: Start every row with a SC and finish with a DC. You will have SC stitches on top of DC stitches in the previous row and vice versa.
I love the Lemon Peel stitch for a number of reasons. First of all, it has a really lovely texture and you can make a variety of crochet projects, such as baby blankets, scarves, and dishcloths. The second reason, it's super easy!
I hope you like the Lemon Peel stitch as much as I do! Let me know in the comments below if you have any questions, or just share what you would like to crochet using this stitch 🙂
Crochet Lemon Peel Stitch Uses
Baby Blankets, afghans, throws
Scarves, shawls
Washcloths, dishcloths
Kitchen dish towels, hand towels
More Crochet Tutorials
Free Crochet Patterns