Are you looking to make a crochet scarf with fringe? I love making scarves for winter, they are quick projects you can complete in a day! They also make excellent gifts for Christmas, Birthdays or any other occasion.
This crochet scarf is an easy make. It uses one type of stitch only, all the way through to the end. And, it's this stitch that creates such a soft, airy and squishy texture that you'd want to have in a scarf.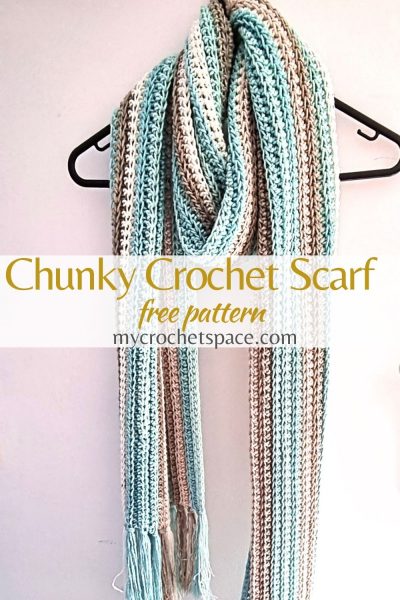 In general, crochet projects look quite different from knit projects. But there are a few stitches that can make it look similar to the knitted fabric.
This stitch is one of those stitches that creates that gorgeous knit-look, soft and squishy crochet fabric. This is one of the best stitches I know of for a crochet scarf!
About the Stitch
The stitch used here is a half double crochet in back loop only. If you are looking for a knit-look crochet scarf then this stitch is one of the best stitches for a scarf!
Half double crochet in back loop only: yarn over, insert hook in the back loop only of the next stitch, yarn over, pull through one loop, yarn over again and pull through all loops on hook.
I have used this stitch to make the Knit-Look Infinity Scarf and it has a video demonstration of the stitch.
Working in back loops only (instead of both, front and back loops) will create more elastic, stretchy, soft and squishy crochet fabric. This stitch is commonly used in scarves, beanies, hats, ear warmers, shawls, cowls and many more!
Difficulty level
It is an easy pattern. The only tricky part could be the foundation half double crochet – if you have never done it before.
Foundation half double crochet (FHDC) is used instead of a foundation chain. It's a way of making the foundation chain and the first row of half double crochets simultaneously. There is a great video demonstration of the foundation half double crochet stitch in this tutorial from Moogly. It has a detailed tutorial for left and right-handed crocheters.
I use foundation stitches when I want a little more flexibility and stretch from the very beginning of the project. Foundation chains don't stretch as much but you can still use them here!
Crochet Scarf with Fringe Pattern
Please scroll down for the free pattern or get the ad-free & print-friendly PDF version with step by step photo and written instructions for a small fee from my Etsy or Ravelry stores.


Or get this shawl & scarf bundle that includes the Aquamarine Triangle Shawl, Primavera Rectangular Shawl and the Ocean Breeze Scarf! You can get it from Etsy here.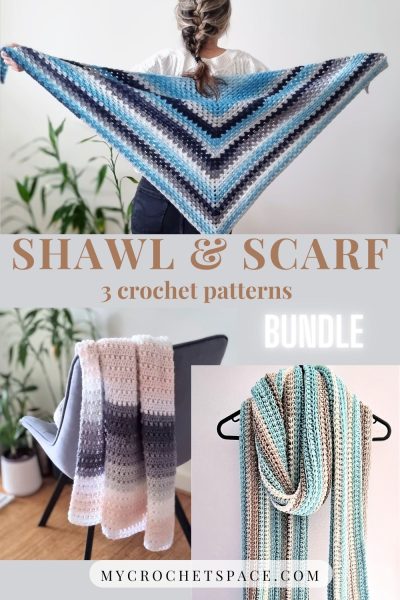 Skill level
Easy / Intermediate
Dimensions
Length, without the fringe: 75″ (190 cm)
Fringe: approx. 5″ (13cm)
Width: 8.5″ (22cm)
Gauge
12 Sts x 13 rows in pattern = 4″ (10cm)
Materials
Caron Cotton Cakes by Yarnspirations (medium weight #4, 60% Cotton, 40% Acrylic. 3.5oz/100g, 211 yds/193 m)
Colour: Beachglass
Skeins: 3 (use approx. 2.5 skeins for the scarf, and the rest for the fringe, if desired.)
Crochet hooks: 6mm (J-10) for the foundation chain (or foundation HDC) and 5mm (H-8) for the rest of the scarf.
Scissors.
Abbreviations
Ch = chain
St(s) = stitch(es)
HDC = half double crochet
BLO = back loop only
Pattern Notes
The scarf is worked lengthwise.
You can start with a foundation HDC or a foundation chain + first row.
The Ch 1 at the beginning of a row does not count as a stitch.
You can make a shorter/longer scarf by chaining less/more.
You can make a wider or narrower scarf by working more or less rows.
You can make a shorter/longer fringe or no fringe at all, as desired.
Crochet Scarf with Fringe Written Instruction
If starting with foundation half double crochet stitches:
With the 6mm crochet hook, make 217 foundation HDC stitches. Continue to Row 2.
If starting with a foundation chain:
With the 6mm crochet hook, chain 219. Work a HDC in the third Ch from hook and in every Ch to the end of row. (217)
Row 2 – 28 or until you reach your desired width. (If making a fringe, make sure you have approx. 0.5 skein of yarn left for the fringe)
Ch 1, turn. Work HDC in BLO of the first St, and every St across the row. Make sure not to skip the very last stitch! You should have the same amount of stitches in every row. (217)
When you reach the desired width of your scarf, fasten off and cut yarn leaving approx. 6″ long tail which can be incorporated inside the fringe.
If not having a fringe, weave in the end.
Adding a Fringe
Scarf has 14 tassels on each side, one for every 2 rows. If you have more or less rows, adjust the number of tassels to fit the width of your scarf.
I have chosen to match the colour of the tassels to the rows they are attached to. But it doesn't need to be! You can evenly distribute all the different colours in each tassel after you cut all the pieces.
Cut 4 pieces of yarn 12″ long for each tassel.
Fold the 4 strands of yarn in half to form a loop. Insert your hook into the spot where you'd like to add the tassel and pull all strands of yarn through.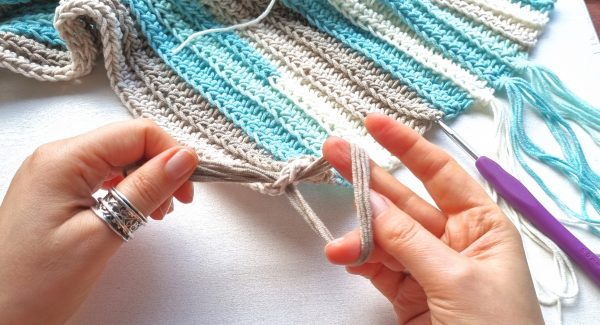 Take the end of the tassel and pull it through the loop. Pull tight to secure the knot.
Repeat with all tassels.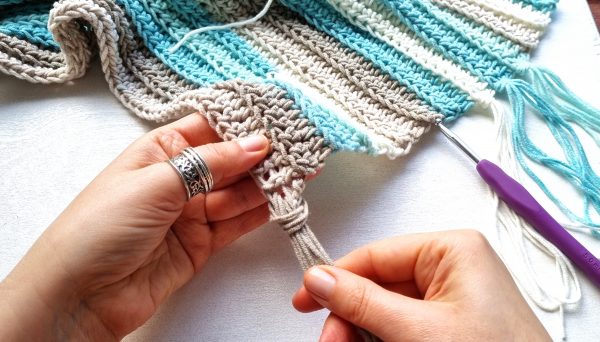 Fringe length is approx. 5″ long when attached to scarf.
When all tassels are attached, cut the fringe straight to your desired length.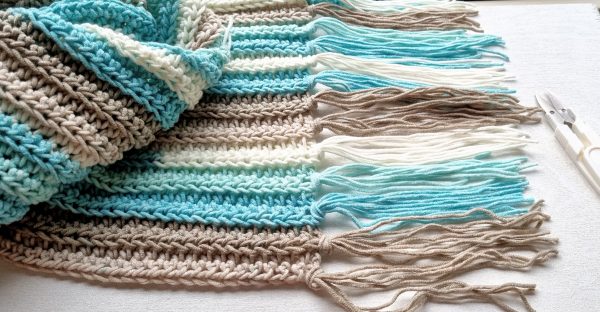 I hope you like this pattern and enjoy making your scarf! You can get a printable PDF version of this pattern from my Etsy store here or from Ravelry here. There is also a matching scarf & headband pattern set available!
If you make any of my patterns – I would love to see them! Share them on Instagram and tag me @my_crochet_space!
More Free Crochet Scarf Patterns