Here is another version of the crochet knit-look scarf! I really like infinity scarves and this one is designed to stretch in line of the stitches so it keeps the ribbed structure in shape 🙂
I've used the same type of yarn as in my Ribbed Scarf for two reasons. First, because I wanted to see how different the two scarves will look at the end just by using a different pattern. And second, because I loved working with this yarn so much and I happened to have enough of it for the second scarf.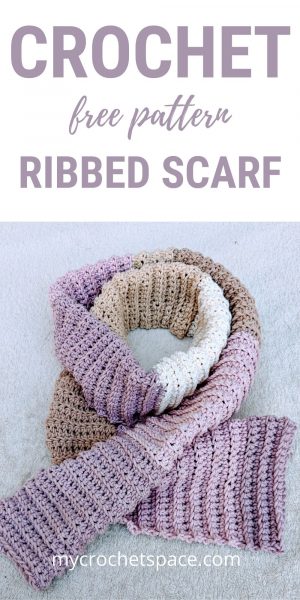 This yarn is velvety to the touch, really easy and fun to work with and I'm really happy with how the scarf turned out to be so soft and stretchy.
I have a short 4 min video demonstration below you can watch or scroll down for the written pattern.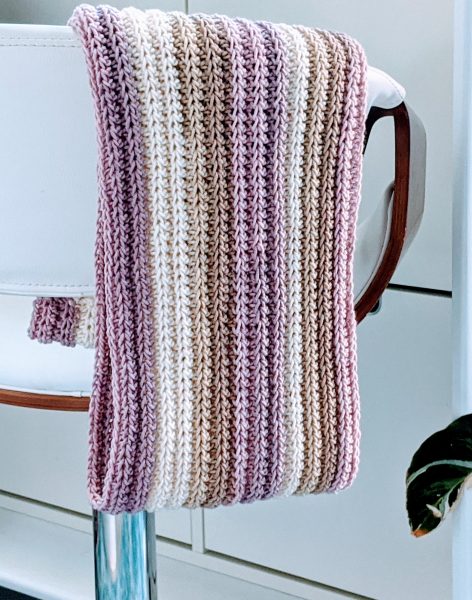 The scarf is worked in a round but if you are using a different type of yarn with just one colour then you could work in straight rows back and forth and then connect the two ends using a yarn needle.
In this case, because of the multi-coloured nature of the yarn, sewing the two ends together would leave a more visible seam. Here however it is still visible but it blends better in. If you know a way to make the seam even less visible using this stitch, would love to hear it in the comments below!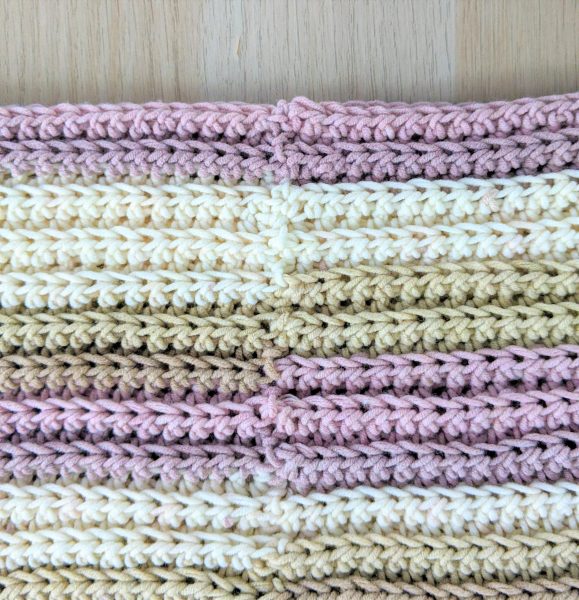 Material
Yarn: Caron Cotton Cakes – 2 skeins, colour Rose Whisper
Hook: 5mm and 6mm for the foundation chain (I'm using this set of hooks)
Note: I use a bigger size hook for the foundation chain as it will stretch better together with the rest of the scarf. Foundation chains tend to be slightly tighter than the rest of the project.
Dimensions:
19cm x full length 132cm (7.5" x 52")
Gauge:
13 stitches x 15 rows in HDC = 4″
Abbreviations:
Ch = chain
St = stitch
HDC = half double crochet
BL HDC = back loop half double crochet
Pattern:
Ch 180 using the 6mm hook.
Change to 5mm hook and connect the first and last chains with a slip stitch creating a circle. Straighten the chain before connecting it, so it's not twisted.
Note: I'm using the back loops of the chain (the bumpy side) in row 1, so I connected to the first bump in order to continue working on that side in row 1 (see video demonstration). It's absolutely fine to use the front side of the chain if you're more comfortable with that. I just think it creates a better looking edge when it's worked into the back loops of the chain.
Row 1: Ch 1 (counts as the first stitch), HDC in first back chain from hook (the first bump) and across. Turn. (total 180 stitches throughout the pattern)
Row 2: chain 1, BL HDC in the first st from hook and across. Turn
Row 3-30: repeat row 2.
You can do more than 30 rows if you want to make your scarf a little more chunky. Or if you're using a thicker yarn you may not need 30 rows. You can check the progress as you go and adjust the number of rows according to the yarn you're using.
Finish off and weave in all ends.
Would love to hear how you liked this stitch!