Are you looking for an easy crochet scarf pattern? This Crochet Moss Stitch Scarf is an easy and quick make! The moss stitch is a great crochet stitch for scarves. It's beginner friendly and works up pretty fast. I love how this moss stitch scarf looks. It's soft and cozy and it would make a perfect gift for both men and women! 🙂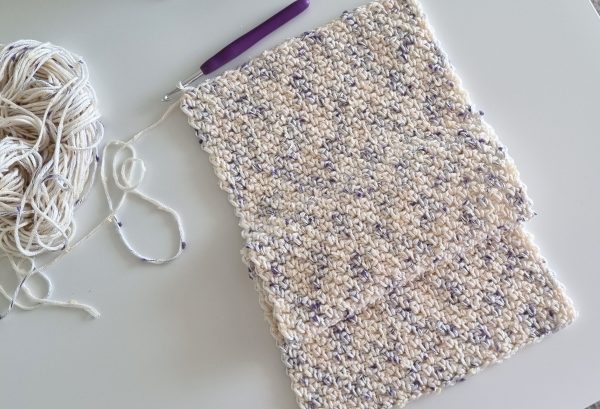 This crochet scarf pattern uses one of the easiest stitches you will find, the Moss stitch. Crochet Moss stitch is basically single crochet and chain stitches alternating in a particular order. And that makes this crochet scarf super easy and beginner friendly. If you know how to crochet those basic stitches, you'll find this crochet moss stitch scarf super easy!
The simplicity of the pattern and the moss stitch makes it suitable for both, men and women. Check out this version of a moss stitch scarf that I made for my husband. It's pretty easy and you only need one skein of yarn. The pattern is different as it's worked lengthwise.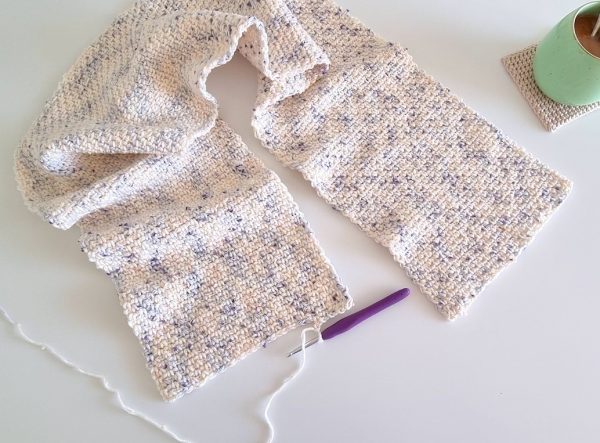 In this moss stitch scarf I used two skeins of yarn and made it a little longer and wider than my previous scarf. The width and length are up to your preference and you can make your scarf as wide and long as you like. Just adjust the number of chains and rows as I mention in the pattern below.
The moss stitch pattern is very versatile as you can easily change the look of your crochet moss stitch scarf by just adding more colours to it! For example, you can use two contrasting colours and alternate them every second row to get the pattern like in the photo below, right side. I made a tea towel using this variation 🙂
And if you choose to alternate both colours every row, you'll see vertical stripes of colour like you see in the image below, left side.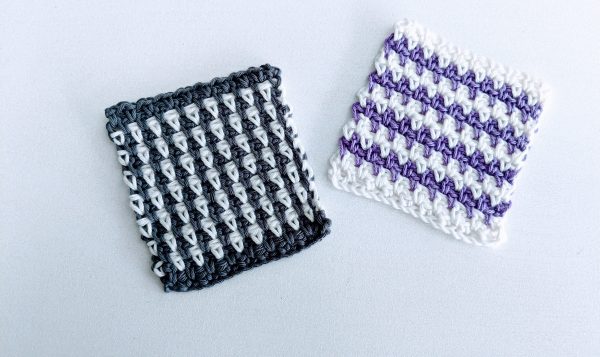 Another variation of the moss stitch pattern is where you change one colour every row and the contrasting colour every second row. That way you'll get the look of this blanket square.
So, by knowing the basics of this stitch, you can create your crochet moss stitch scarf in many different ways!
Crochet Moss Stitch Scarf Free Pattern
Scroll down for the free crochet pattern or get the ad-free & premium PDF pattern with step by step photo and written instructions from my Etsy or Ravelry stores.


Or pin this crochet moss stitch scarf pattern to your Pinterest Crochet Board for later!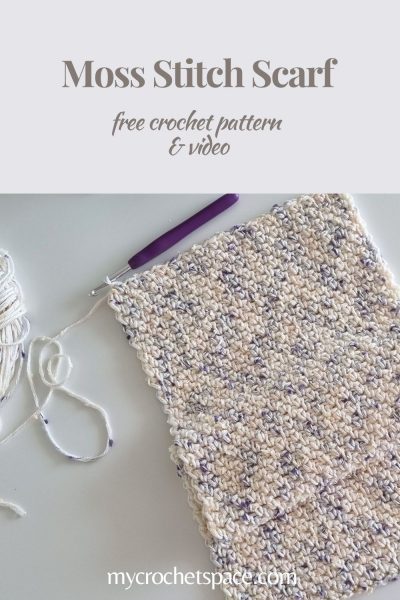 Crochet Moss Stitch Scarf Pattern Notes:
You start by chaining for the width of your scarf, any odd number.
You can make a longer or shorter scarf by working more or fewer rows.
If you're making a wider / longer crochet scarf you would need more yarn.
Ch 2 at the beginning of a row does not count as a stitch.
To make it easy to count the stitches in each row, I counted the SC stitches only (not the Ch stitches between stitches). So the total count at the end of the row is given for SC stitches.
Material
Yarn: You can use any worsted weight yarn #4 (10ply/Aran). I used Bella Baby Pebble, 2 skeins in White (Weight 4/worsted, 81%Acrylic 19% Polyester, 181yds/166m, 100g per skein of yarn). You'll need more yarn for a longer or wider crochet scarf.
Hook: 5mm
Yarn needle, scissors
Dimensions
Width: 8″ (20.5cm)
Length: 50″ (127cm)
Gauge
18 st x 18 rows in Moss stitch = 4″ (all stitches counted, the SC and the Ch stitches)
Gauge is not crucial as you can adjust the width and length of your scarf by adjusting the number of stitches & rows The gauge is only given as a general guide. If your gauge is different, simply chain until you reach your desired width and work until you reach your desired length.
Abbreviations
Ch = chain
St = stitch
SC = single crochet
Sk = skip
Ch-1 sp = chain 1 space (space between the stitches in the previous row)
Special Stitches
Moss stitch (also called Linen stitch) = a sequence of single crochet and chain 1 stitches.
Crochet Moss Stitch Scarf Pattern Instructions:
Ch 37 (or any odd number of chains until you reach your desired width)
Row 1: working on the back side of the chain, SC in third back bump from hook, *Ch 1, Sk 1 Ch, SC in next. Repeat from * across the row. (total 18 SC stitches).
Row 2: Turn, Ch 2. SC in the first Ch-1 space, *Ch 1, SC in next Ch-1 sp. Repeat from * across the row. The very last SC should be worked into the space between the Ch 2 turning chain and the first SC from the previous row. (18)
Rows 3 – until you reach your desired length: repeat row 2
Finish off and weave in all ends.
If you like to get an ad-free, print-friendly PDF version of this pattern you can get it from my Etsy or Ravelry stores.
Let me know in the comments below if you have any questions about the pattern. And if you use this pattern to make your own crochet moss stitch scarf share it on Instagram and tag me @my_crochet_space! I would love to see your finished makes!
Moss Stitch Scarf Video Demonstration
Hope you enjoyed making this moss stitch crochet scarf! For more inspiration check out the free crochet patterns below.
Free Crochet Scarf Patterns
More Free Crochet Patterns