This Thermal Stitch Crochet Potholder pattern is a variation of the stitch I used in my Extra Thick Potholder. It's also a Half Double Crochet Thermal but with a slight change which creates a different texture. You can see the lines between the rows are more prominent here whereas the Extra Thick Potholder has a different texture.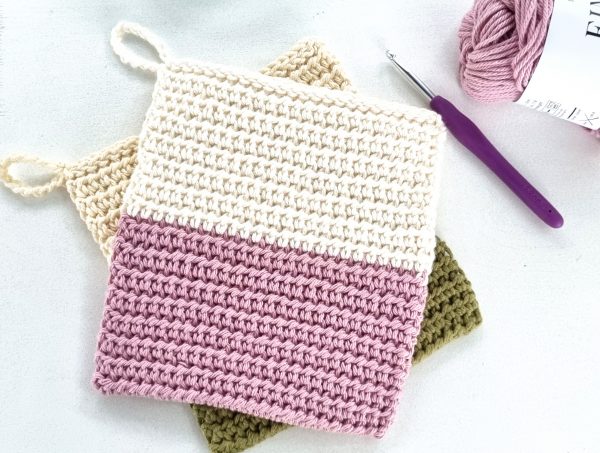 If you are already familiar with the Thermal stitch and have used it for some of your projects then you know that this is a very dense stitch. It's commonly used in crochet potholders or trivets. But it's also good for anything that will need that extra thickness and sturdiness such as bags or baskets.
If you never tried the Thermal stitch before – there are a few variations of this stitch that I know of. Thermal Single Crochet is the most common and the easiest to start with, Thermal Half Double Crochet (I have two variations of this stitch) and Thermal Double Crochet.
My personal favourites are the half double crochets but I find the Thermal Single crochet easiest. I recommend starting with the Thermal Single Crochet first just to get to know the stitch.
About Thermal Stitch
Thermal Stitches are worked into the stitches of the current row and the row below simultaneously. That's what creates the thickness. You can use single, double or half double crochets.
So in essence, this stitch is simple and quite easy but can take some practise!
I think there are 3 most important things to remember when working Thermal stitches:
Find the right first stitch on the row below.
Do not skip any stitches (can happen easily)
The very last stitch likes to hide under the turning chain, so don't miss it!
Make sure to count your stitches in every row so you catch any mistakes early.
Thermal Stitch Crochet Potholder Pattern
Please scroll down for the free pattern or get the ad-free & print-friendly version with step by step photo and written instructions for a small fee from my Etsy or Ravelry stores.


Save this pin to your Pinterest board so you can access this pattern easily whenever you need it!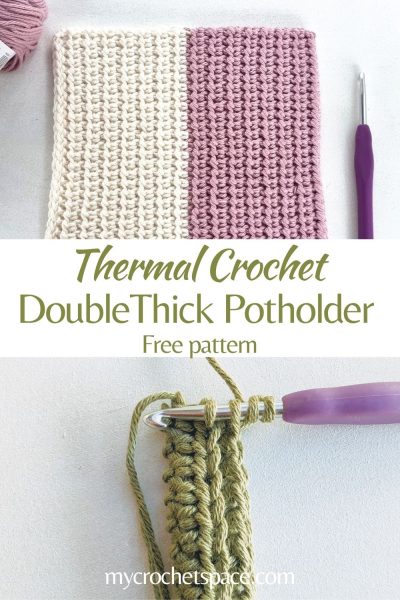 Difficulty
Easy / Intermediate level
Material
Yarn: any 100% Cotton, 10 ply / worsted weight #4
Hook: 5mm
Dimensions:
17cm x 18cm (6.5" x 7")
Gauge:
15 stitches x 18 rows in Thermal HDC = 4″
Abbreviations:
Ch = chain
St = stitch
Sl St = slip stitch
HDC = half double crochet
Th HDC = Thermal half double crochet
Written Instructions:
Ch 26 or until you reach the desired length of your potholder.
Row 1: HDC in the third Ch from hook and across the row (24). Ch 2
Row 2: Do not turn your work at the end of the row as you normally would. Just turn it vertical as pictured below, that way you will see the stitches better.
Yarn over and insert your hook in the back loop only of the first stitch and the unworked two chains stitches below. Yarn over pull through 3 loops on hook, yarn over pull through all loops on hook. Repeat this stitch (Th HDC) in every stitch across the row. Ch 2. (video demonstration available below)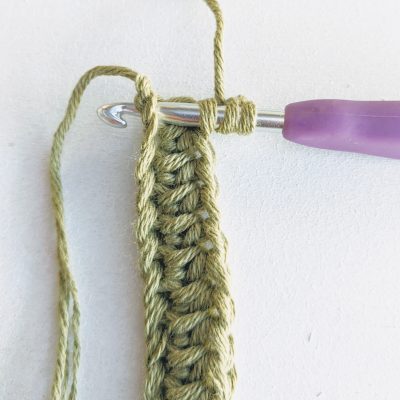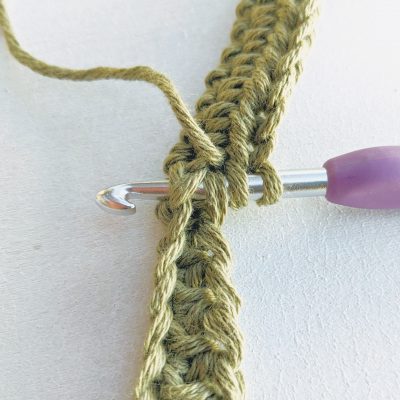 Note: when inserting your hook into the unworked chain stitches – you can work into one chain stitch only or both. I prefer to work into both stitches. Either way is OK.
Row 3: Again, turn your work vertical. Yarn over and insert your hook in the back loop only of the first stitch and the unworked loop from the row below. Yarn over pull through 2 loops on hook, yarn over pull through all loops on hook. Repeat Th HDC stitches in every stitch across the row (24). Ch 2.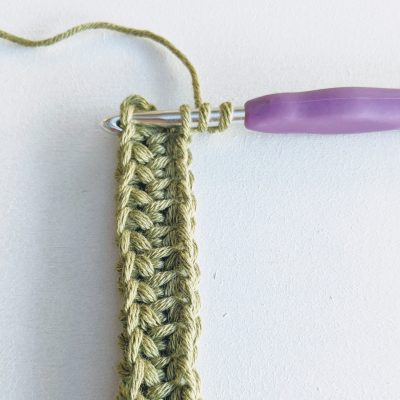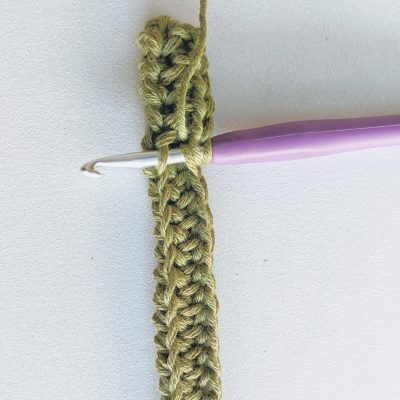 Repeat row 3 until you reach 7" or your desired size.
Note: I have switched to a different cotton yarn (also 100% cotton and similar weight) half way through. If you don't know how to switch yarn I have a video demonstration of that in my Crochet Thermal Stripes Potholder here.
LOOP: Ch 15 for the loop and continue to last row.
LAST ROW: Insert your hook under both loops (front and back loops, see picture below) and into the unworked loop from row below. Slip stitch through all the loops. You can watch the video below for visual guidance.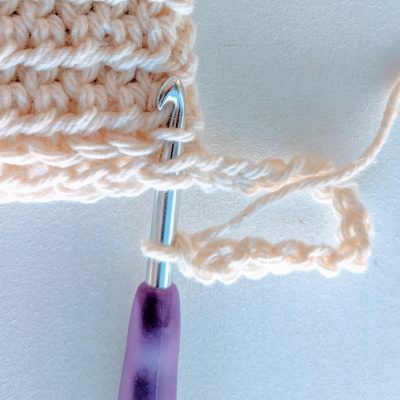 Fasten off and weave in all ends.
Would you like to get all three Thermal Stitch Potholder patterns in a PDF format as a bundle? Bundles are the perfect way to save money and keep your patterns all together in order. You can get all three versions of Thermal Stitch Potholder patterns here.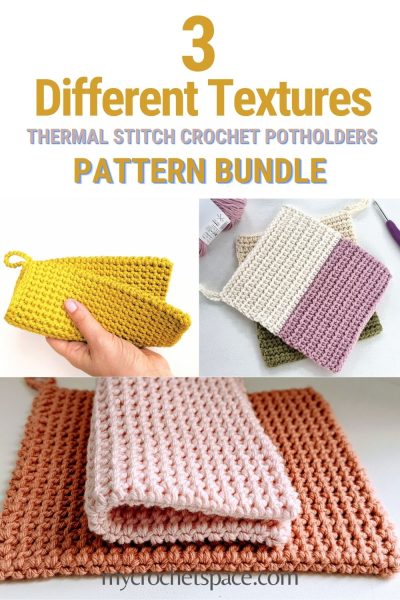 Or if you prefer just the one PDF pattern, you can get it from my Etsy or Ravelry shops 🙂
Thermal Half Double Crochet Potholder Video Tutorial
Check out more free patterns in my post 16 Crochet Potholders from selected crochet designers!