If you're looking for a quick and simple project, this crochet easy cowl is not just quick and easy to make but it's also warm and cozy! The free pattern is beginner friendly, scroll down to see the pattern.
This easy crochet cowl pattern is perfect for advanced beginners who already have basic crochet stitches skills. It's also a great project that can be done in front of the TV while watching your favourite program! 🙂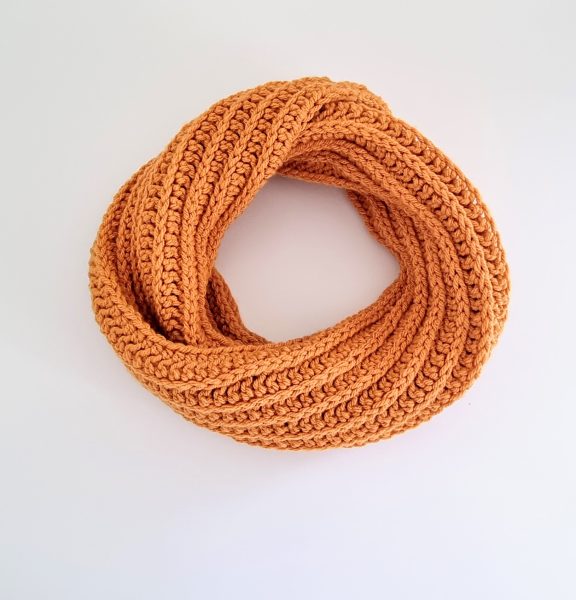 This crochet cowl is a quick make and can be done in about an hour, depending on your skills and experience. The pattern is worked flat in back-and-forth rows and uses a variation of Half Double Crochet stitches.
The cowl measures 28″ in circumference and 12.5″ wide but you can make it as long and as wide as you like. For a longer cowl, you'll need to make your foundation chain longer. And for a wider cowl, just add more rows.
I used medium worsted yarn (4 Seasons Spot Saver USA Style) and a size J (6mm) crochet hook. To me, this particular yarn feels thicker than some other worsted weight yarns I have worked with. It feels more dense, with a sponge-like texture.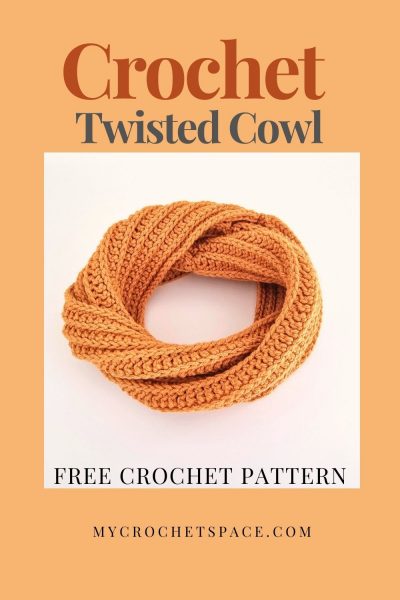 You can use any type & weight of yarn you like, you'll just need to adjust the size of your hook (check yarn label for hook sizes). I think this cowl would look great if you use bulky or super bulky yarn and you'll be able to finish it much quicker! If you use a different thickness of yarn, make sure to adjust the amount of foundation stitches to meet the gauge.
This crochet cowl is designed to be short, sitting just around your neck. If you like a longer version, take a look at the Knit-Look Infinity Scarf. It is longer and made to be wrapped a couple of times around the neck. The design is slightly different from this crochet cowl pattern as it's worked in a round, using a different variation of the half double crochet stitch.
If you don't like working in the round, you'll love this simple design! This cowl pattern is worked flat and the two ends are stitched together. Easy – peasy!
I have twisted the cowl a couple of times before I connected the sides. But you can connect it without a twist or with one twist only. I personally like it to be slightly twisted but it's up to your preference – make it your own! 🙂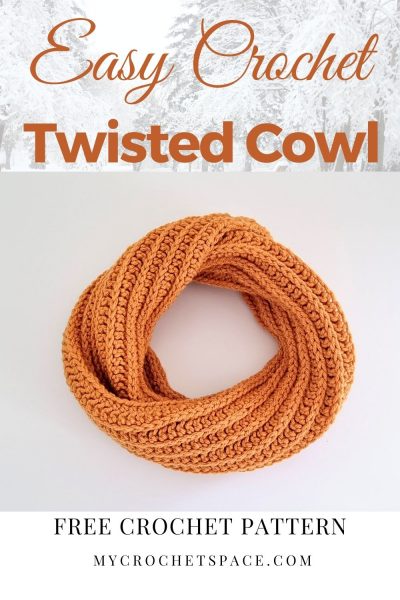 About the Stitch
In this easy cowl pattern I used half double crochet stitches worked in third loops. You probably are familiar with back loops and front loops. Third loops in half double crochet stitches are located just under the front loops, see pictures below.
Working into the third loop creates a lovely crochet stitch pattern with a beautiful texture and the pattern looks the same on both sides.
Difficulty level
Easy/Advanced Beginner
Crochet Cowl Free Pattern
Please scroll down for the free pattern! If you like to get notified about my new pattern releases, free pattern give-aways and special discounts – subscribe below!
Skill level
Easy
Dimensions
Width: 12.5″ (32cm)
Circumference: 28″ (71cm)
Gauge
12 Sts x 10 rows in pattern = 4″ (10cm)
Materials
4 Seasons Spot Saver USA Style (100% Acrylic, worsted medium weight #4 / Aran / 10 ply)
Colour: Pumpkin
Skeins: 1 (341 yds / 312 m, 200g)
Crochet hooks: 6mm (J) and 7mm for the foundation chain
Scissors, yarn needle
Abbreviations (US Terms)
Ch = chain
St(s) = stitch(es)
HDC = half double crochet
FHDC = foundation half double crochet stitches
Crochet Cowl Pattern Notes
The scarf is worked flat, lengthwise and then stitched together to form a circle. The cowl is connected with a double twist.
This pattern uses foundation half double crochet stitches instead of a foundation chain. This creates a more elastic edge.
You can also make a foundation chain but I recommend to use a bigger size crochet hook (7mm) for the chain. This is because foundation chains tend to be slightly tighter then the rest and don't stretch as much. If you use a slightly bigger size hook for the chain, this creates more space between the chains and therefore more elasticity. 🙂
The Ch 1 at the beginning of a row does not count as a stitch.
You can make a shorter/longer scarf by chaining less/more.
You can make a wider or narrower scarf by working more or less rows.
Crochet Cowl Pattern Written Instructions
If starting with foundation half double crochet stitches: With the 6mm (J) crochet hook, make 86 foundation HDC stitches or until you reach 28 inches. Continue to Row 2.
If starting with a foundation chain: With the 7mm crochet hook, chain 88 or until your chain measures 28 inches and switch to 6mm crochet hook. Working on the back side of your chain, insert your hook in the third Ch (bump) from hook and work a HDC. Continue until the end of row, working HDC in every Ch.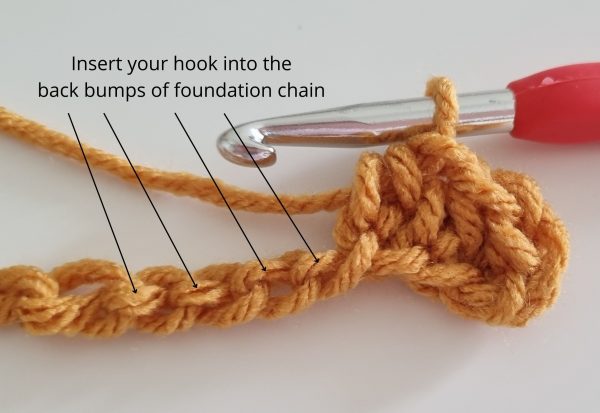 Row 2 – 33 (12.5 inches, or until you reach your desired width): Ch 1, turn. Work HDC in the third loop of the first St, and every St across the row. Make sure not to skip the very last stitch! You should have the same amount of stitches in every row.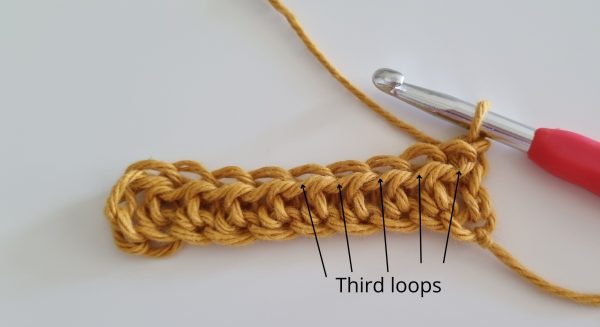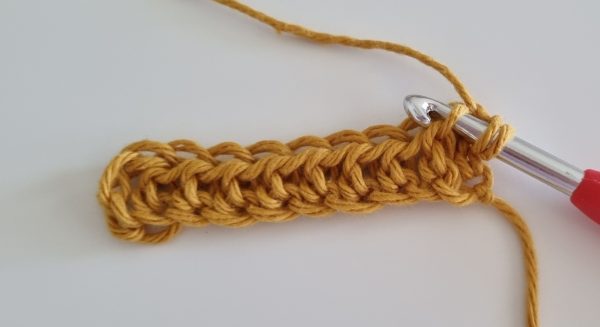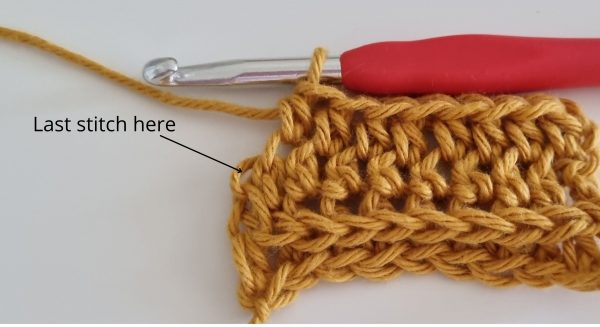 When you reach the desired width of your scarf, fasten off and cut yarn leaving approx. 35″ long tail for stitching the sides together.
Assembling the Cowl
When you have reached your desired width (33 rows in this cowl) lay it flat on the table and thread the yarn needle. Take one side of the cowl and twist it twice. Stitch the two sides together, making sure the rows on each side line up with each other.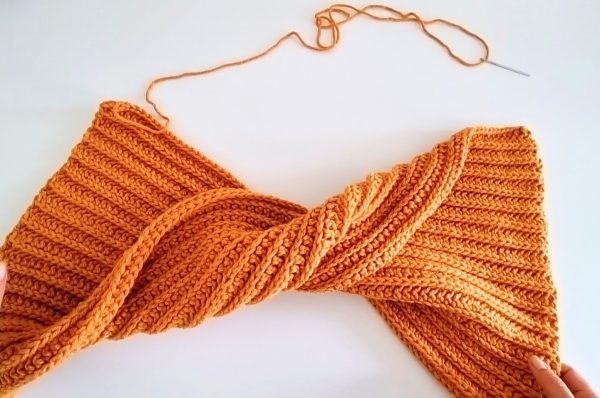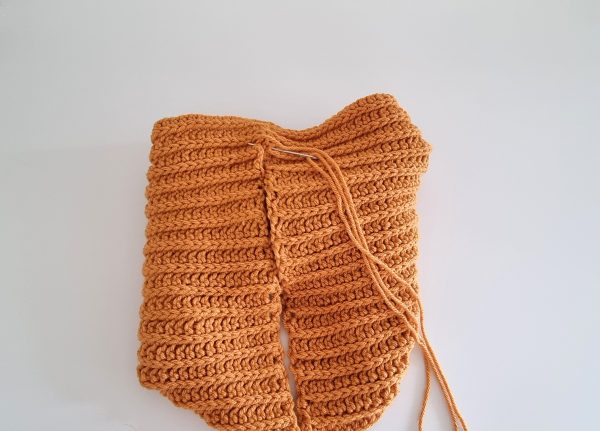 Weave in all ends and it's done!
I'm so happy to share this free crochet pattern with you today. I hope you enjoyed it! Here are some other scarf / shawl patterns you might like.
More Scarf / Shawl Crochet Patterns