Are you looking for some festive crochet patterns to decorate your home for Christmas? I have compiled a list of beautiful crochet Christmas coasters and mug rugs that will transform your table decor and add a little bit of fun! 🙂
Crochet coasters are perfect for gift giving and if you're looking for some ideas on what to make for your family and friends then you'll find something here! I like making coasters because they are such quick projects, and can be done literally last minute. You can also use up your yarn stash, as you usually need only a little bit of yarn to make one coaster. You can also experiment with different colours and use more than just one colour. And especially if you are making coasters for Christmas, the more bright and colourful they are the more fun you have!
The choice of yarn colour and type for your crochet Christmas coasters depends on the pattern you choose and you'll find all the necessary information about it in the pattern. But in general, I use either 100% cotton or a cotton blend for crochet coasters.
There are creative coaster patterns, with most of the patterns available for free to view on the designer's website. You can check the pattern and if you love it – you can get a printable PDF from the designer's pattern page so that you have it for future Christmas celebrations! That way you get a beautifully edited, ad-free printable PDF to keep and the designer is rewarded. It's a win-win for everyone if you ask me! 🙂
Crochet Christmas Coasters Patterns
Pin this to your Crochet board for later, so you'll find this post whenever you need it!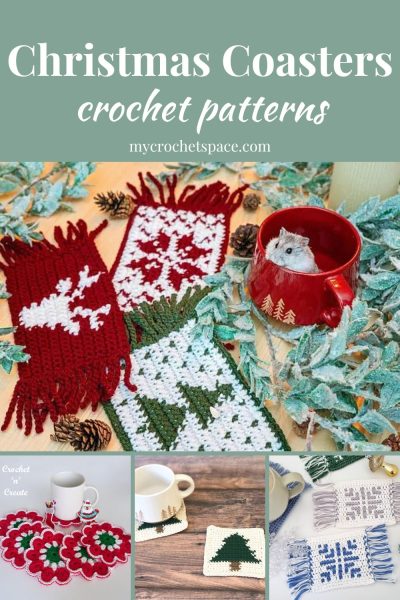 Christmas Tree Coasters Crochet Pattern – free pattern
There is no Christmas without a Christmas tree! Create a warm and comforting setting with these rustic crochet coasters. You can use worsted weight #4 or a lighter, DK weight yarn. Check out more details about this pattern on designer's blog page.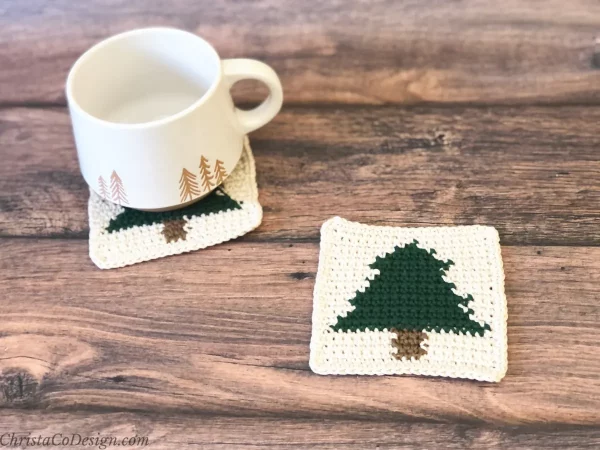 Crochet Christmas Coasters – free pattern
Those coasters look festive and make perfect little Christmas gifts! If you're new to colourwork, this pattern would be a great way to start. You can learn how to change colours with this easy crochet coaster pattern. You'll be a pro by the time you finish this coaster!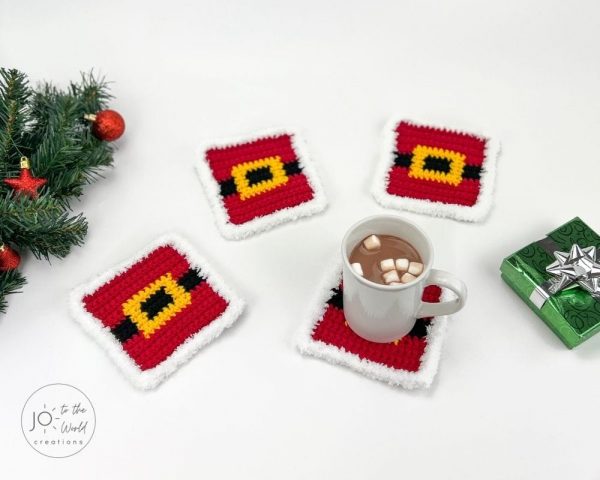 Crochet Snowflake Coaster Pattern – free pattern
This pattern is designed by me and uses a mosaic overlay technique which is great for someone who doesn't like changing colours! With this technique you will be working with one colour per row, so now changing colours in the middle of a row. If you're new to mosaic crochet, you might want to try this mosaic mug rug first as it's a little easier for beginners, in my opinion. Once you know how to read the mosaic chart, you'll be able to make any mosaic pattern!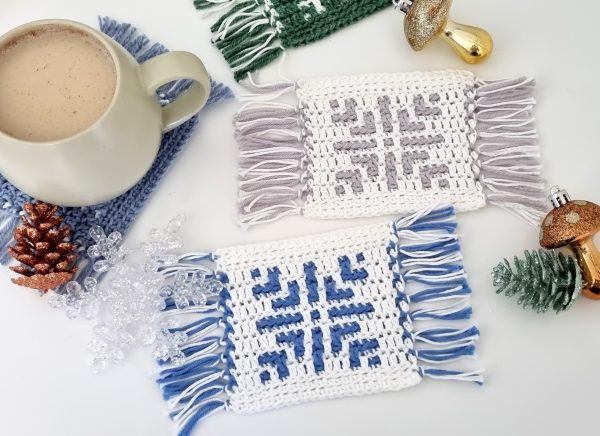 Christmas Tree Coasters
Another mosaic pattern by me! I love this technique because you don't have to change colours in the middle of the row. You use only one colour per row and it's only by alternating single and double crochets a pattern is created. Of course, you need to know where to insert your hook and work those stitches as well, but once you know the principles of mosaic crochet it's easy to do! There are two different mosaic patterns in one post, with written instructions row by row and both mosaic charts!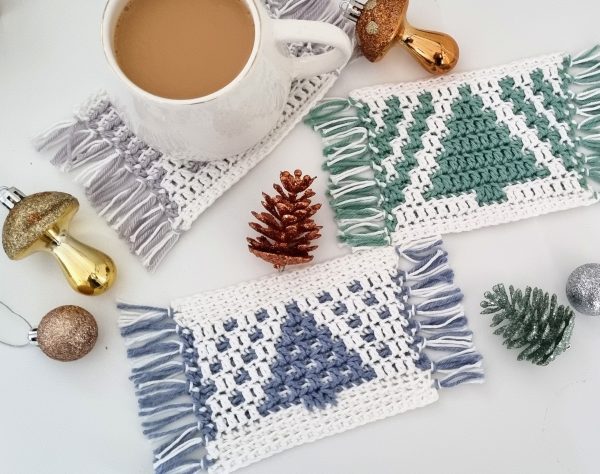 Coaster Christmas Pudding Crochet Pattern – paid pattern
These cute coasters can be made with any yarn colour & type. It's a fun crochet pattern and a quick make! You can get this Christmas crochet pattern from the designer's store.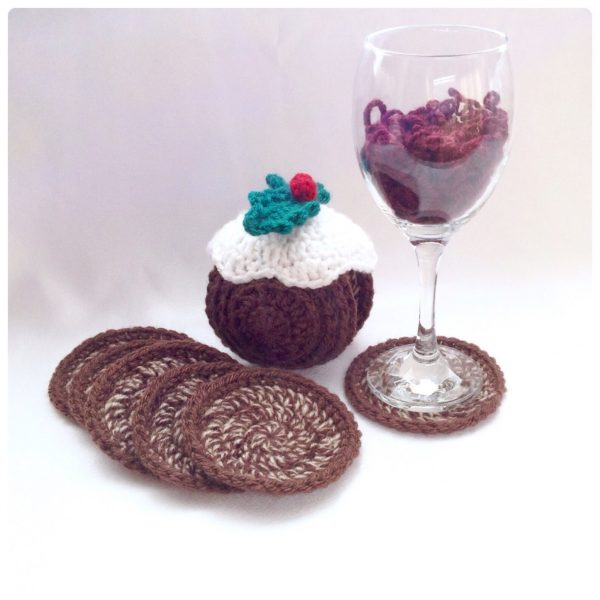 Peppermint Candy Coasters – free pattern
Fund and colourful crochet coaster pattern that will sweeten your day and transport you in a festive mood! Learn how to make the Peppermint Candy Christmas crochet coasters using this interesting, free pattern.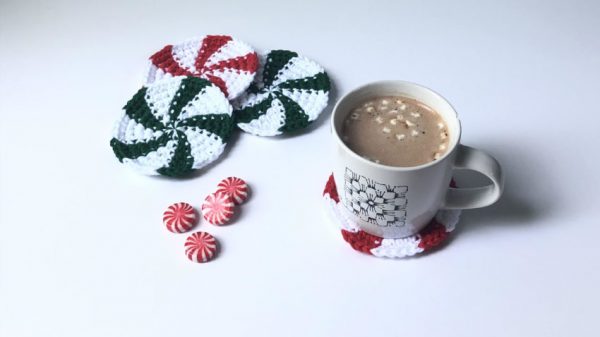 Boho Snowflake Crochet Coaster – free pattern
This beautiful snowflake pattern is very versatile! It can also be used to make Christmas ornaments, trivets and a placemat! If you are curious to see them all, head to designer's pattern page and take a look!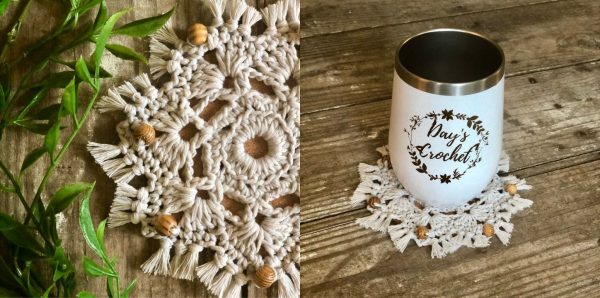 Crochet Wreath Ornament and Coaster – free pattern
Isn't this adorable?! This festive Christmas crochet coaster pattern can be adapted to make a Christmas ornament as well. Make sure to choose your two favourite colours to make your own version!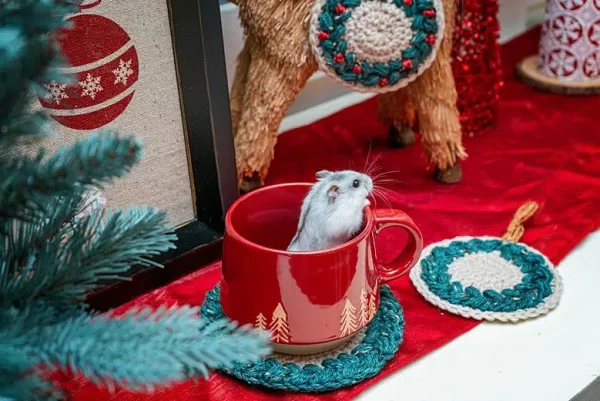 Crochet Christmas Mug Rugs – free pattern
Another super cute Christmas coaster idea here that will bring a smile to your face! Different crochet techniques are used in these coaster patterns. Choose one pattern to start and let's go!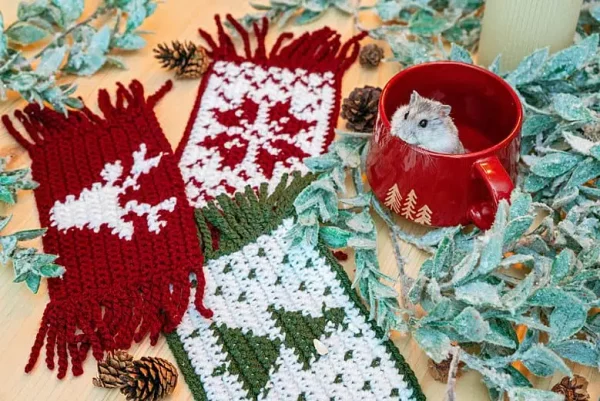 Crochet Merry Jingle Coaster – free pattern
Choose your favourite Christmas colours to make those festive crochet coasters for Christmas or any other colours to use all year round!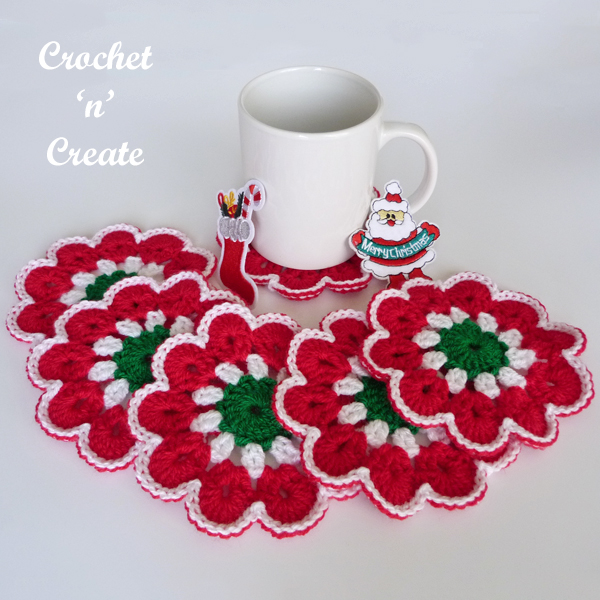 Christmas Coasters – free pattern
Decorate your table for the festive season with these little coasters and brighten up your home decor! They'll make cute little Christmas gifts, as they can be made last minute.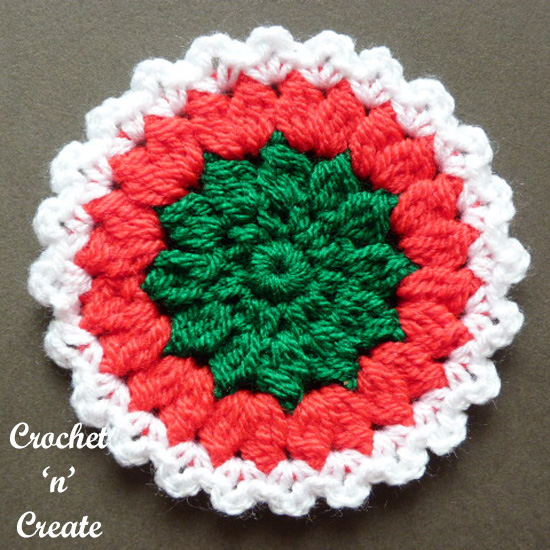 Diamond Crochet Coasters – free pattern
These pretty hexagon coasters can be used all year round! The diamond shapes are easier to create than you might think. The intricate crochet pattern resembles snowflakes, so it is perfect for winter & Christmas home decor.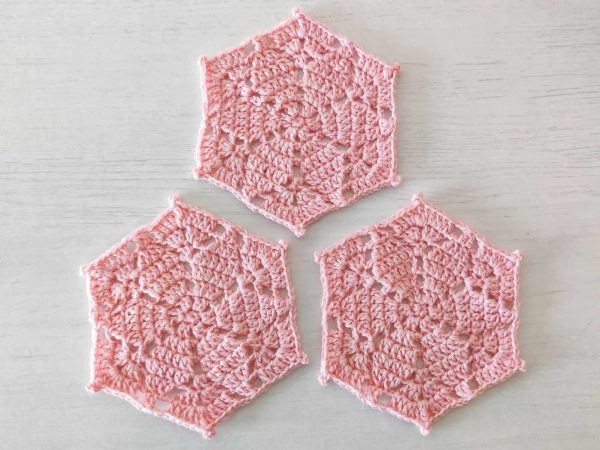 Country Chic Coasters – paid pattern
These country coasters are made using tapestry crochet. You can find three different designs of this pattern in the designer's Ravelry shop. Choose your own contrasting colours and make your own version of these Christmas crochet coasters!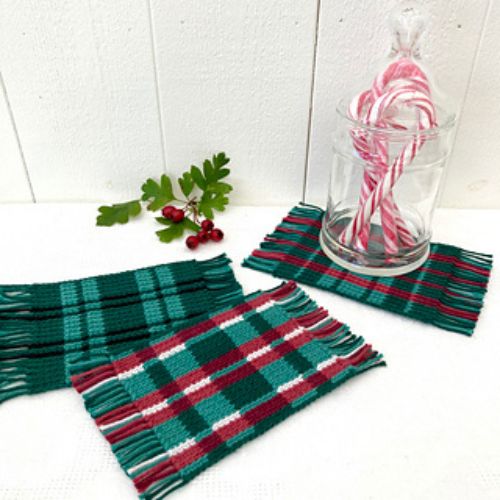 Peppermint Crochet Coasters – free pattern
These little peppermint coasters make great Christmas gifts for teachers, family and friends. Pick traditional Christmas colours or any bright and cheery colours and have some fun!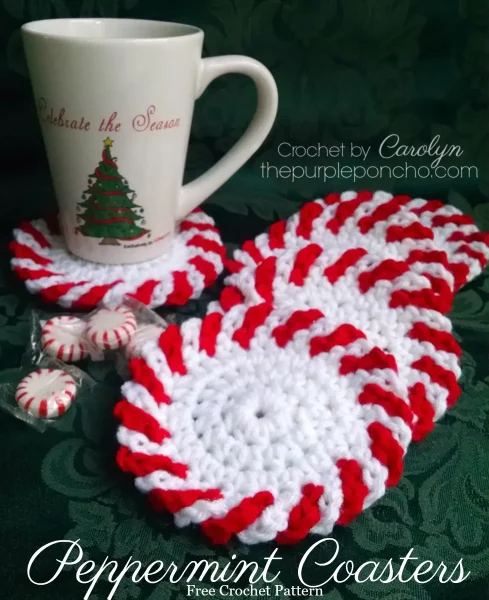 I hope you like those Christmas Crochet Coaster patterns! Which one is your favourite?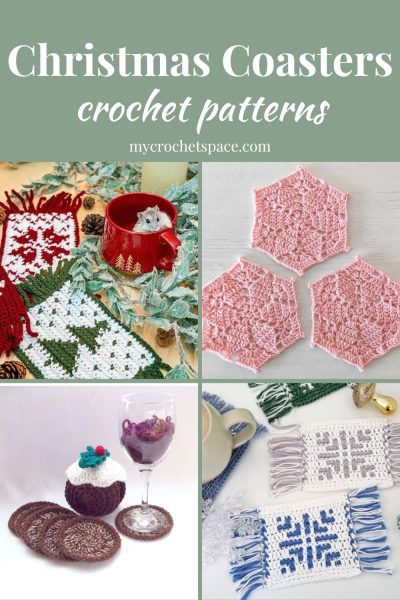 Free Crochet Patterns