The Cross Stitch (Single Crochet) is a simple stitch that creates an interesting texture with an X-shaped pattern that will take your projects to the next level. Plus, it's super easy to learn – once you've got the cross stitch down, you can apply it to a variety of crochet projects.
Instead of just practising the cross stitch crochet with scraps of yarn, why not make something practical while you're at it? That way, you'll have a tangible result to show for all your hard work. That's why I've included a potholder pattern made entirely out of single crochet cross stitches in this post.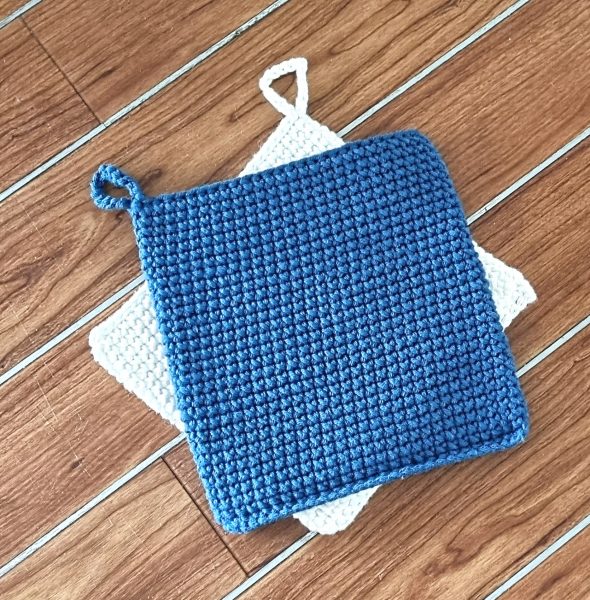 Potholders are one of those kitchen essentials that we all need but often don't think about until it's too late and we've burned our hands on a hot pot or pan. Why not make your next potholder a statement piece in the kitchen with a unique and easy-to-crochet design?
Whether you're a seasoned crocheter or just starting out, the Single Crochet Cross Stitch is a great pattern to try. Not only will you have the satisfaction of creating a useful item for your kitchen, but you'll also have the opportunity to learn a new stitch and build your crochet skills. And because the cross stitch results in a thick and durable fabric, your potholder will be able to withstand frequent use and protect your hands from heat.
About Cross Stitch (Single Crochet)
Single crochet cross stitch is a unique crochet stitch that creates an interesting pattern. However, it will only work when crocheted in the round. And here is why.
The nature of the cross stitch crochet is that it will only be visible on one side, which is the right side (the side you see in front of you when working on a row). On the other side, it will look like a normal single crochet stitch.
For this reason, you will need to go in the round to make this stitch consistently visible in every row. If you crochet in back and forth rows you will only see the cross stitch every second row and in every other row, you will see a normal single crochet. And that's not consistent enough to make the X-shape of the single crochet clearly visible.
Also, the texture of cross stitch will come out better if you use a bulkier yarn such as at least medium worsted, bulky or super bulky yarn. It would look great on baskets or bags or anything where you can use bulky yarn and crochet in the round. If you try and make something different, let me know how it looks!
How to Crochet the Cross Stitch
Cross stitch (Single Crochet Cross Stitch) is a very easy stitch to crochet. It's basically a single crochet with a slight change that makes all the difference.
And here is how you do the single crochet cross stitch: insert hook into stitch, yarn under and pull up a loop, yarn over and pull through two loops on hook.
The yarn UNDER will make the stitch slightly tighter and create a stitch that looks like an X.
Scroll down for the free potholder pattern using the X Stitch!
Crochet Cross Stitch – Free Potholder Pattern
Would you like to know about my new patterns when they become available? You can sign up below!
Skill level
Easy
Dimensions
6.5″ x 6.5″ (16.5cm x 16.5cm)
Gauge
16 stitches x 18.5 rows = 4″ (10cm)
Materials
Yarn: any 100% cotton, worsted medium weight #4 (I used Fiddlesticks Finch 100% cotton, 10ply in Ecru and Abbey Road Kung Fu Cotton Yarn in Dark Blue, 1 skein in each colour: 153y/140m)
Crochet Hook: 5mm (H/8)
Yarn needle (for weaving in ends)
Scissors
Abbreviations (US Terms)
Ch = chain
St(s) = stitch(es)
X st = single crochet cross stitch
Sl St(s) = slip stitch(es)
FLO = front loop only
BLO = back loop only
Special Stitches
Cross Stitch Single Crochet (X stitch): insert hook into stitch, yarn under and pull up a loop. You'll have two loops on your hook. Yarn over and pull through all loops on the hook.
Cross stitch is worked the same way as normal single crochet apart from one little change in the first part of the stitch – yarn under instead of yarn over. So, when you work single crochet, you insert your hook into a stitch, yarn over and pull up a loop, whereas in cross stitch, you yarn under. That way, you'll get an X-shaped single crochet instead of a normal, V-shaped one. And that little change makes all the difference!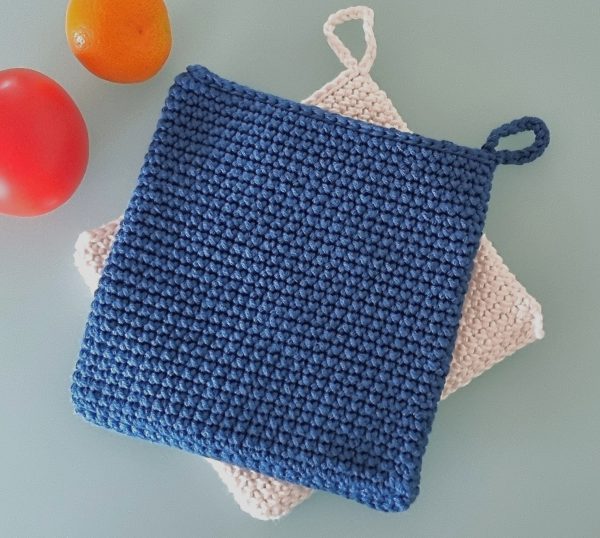 Pattern Notes
You can change the size of the potholder by chaining more or less (any number) and adjusting the number of rounds.
This potholder is worked in spiral rounds. Spiral rounds are not connected with a slip stitch; they are worked continuously.
You will know the start/end of a round by the location of the yarn tail from the foundation chain. It will be on the same side.
Written Instructions
Ch 28
Row 1: X St in second Ch from hook and every Ch to end of row (27). Ch 1, turn.
Round 2: X St in first front loop only (FLO) and every St to end of row. Turn and continue in the round. SC X in first back loop only (BLO). The back loop will now be in front of you as you turned your work – it's the unworked loop on the same row. Work X St in every back loop to the end of the row.
Round 3-27: Do not connect the round with a slip stitch as you normally would. Work an X St on top of the first St on the previous row. Continue working X St in spiral rounds until you reach your desired size.
Loop & Final Round
At the end of round 27 (or when you reach your desired size) make a loop by chaining 15 and slip stitch the two sides together.
The start/end of a round is on the same side where you see the tail of yarn from the foundation chain (as pictured below)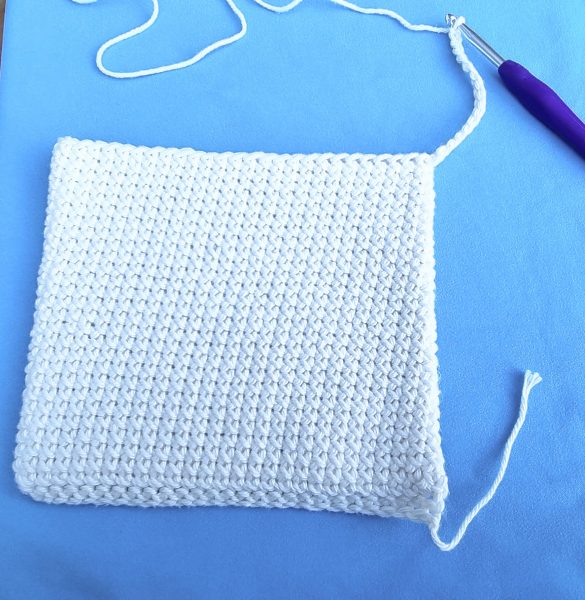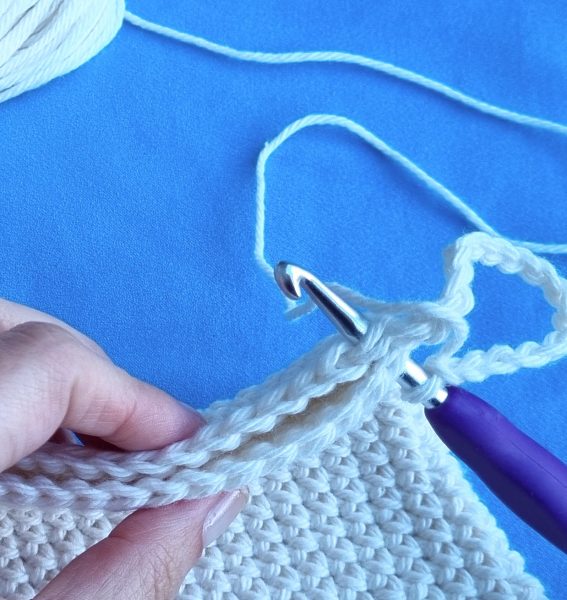 Fasten off and weave in all ends. You can leave the yarn ends inside of the potholder! 🙂
How do you like the single crochet cross stitch? Hope you enjoyed making the potholder using this stitch!
If you like making potholders, check out the thermal potholders below. They all have different variations of the thermal stitch.