This farmhouse style washcloth is very easy and so quick to crochet! If you're looking for a DIY gift then this would be a great idea as it can be done last minute. If you have some colourful cotton yarn ready, you could make a couple of them in a blink of an eye.
This washcloth took me an hour from start to finish – with a tea break 🙂
The pattern mainly consists of half double crochets and single crochets. So it's beginner friendly if you already know how to make those stitches. It is also a great way to practise colour change and carrying yarn if you're new to this!
Carrying yarn means that you don't have to cut the yarn and rejoin a new one each time you make a colour change. You can simply put the unused yarn on top of the stitches of the previous row and switch the colour whenever you need it. You can check the video below for more guidance.
Scroll down for the free pattern!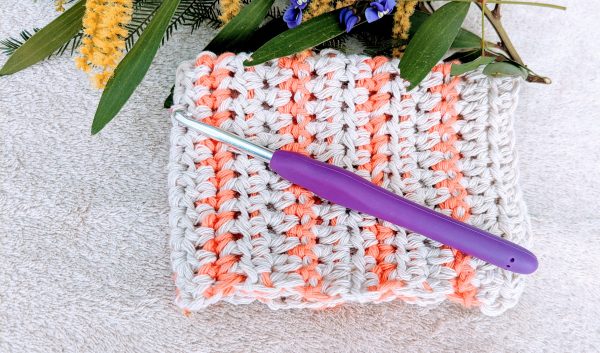 This post may contain affiliate links. For more information please see my disclosure page.
Material
Yarn: 100% Cotton 8ply (Off-White and Peach)
Amazon has a wide range of cotton yarn available here.
Hook: 5mm or H-8 (I'm using this set of hooks from Amazon)
Gauge:
3 Hdc stitches x 11 rows of HDC and SC as per pattern below = 4″
Dimensions:
This washcloth measures 19cm x 25cm (7.5" x 10")
Abbreviations:
Ch = chain
St = stitch
SC = single crochet
HDC = half double crochet
OW = Off White colour
P = Peach colour
Note: I have carried both colours throughout the pattern as I didn't want to have so many ends to weave in at the end. I find it easier and much neater looking. If you don't know how to carry yarn please refer to the video below.
Pattern:
Start with OW colour yarn.
Ch 25 or any nymber if you like to make it bigger
Row 1: Turn your chain and work on the reverse side (bumpy side, see photo below). HDC in the third bump from the hook and across (total 23) This will create a better looking finished edge.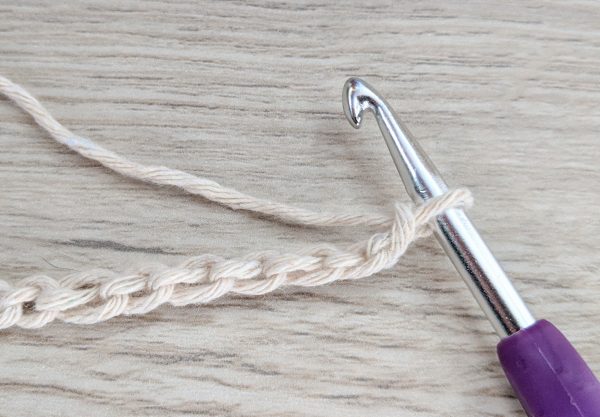 Row 2: Ch 1, HDC in first stitch and across. Change colour to Peach at the end of the row and carry the Off-White yarn (refer to video below if not sure how to carry yarn)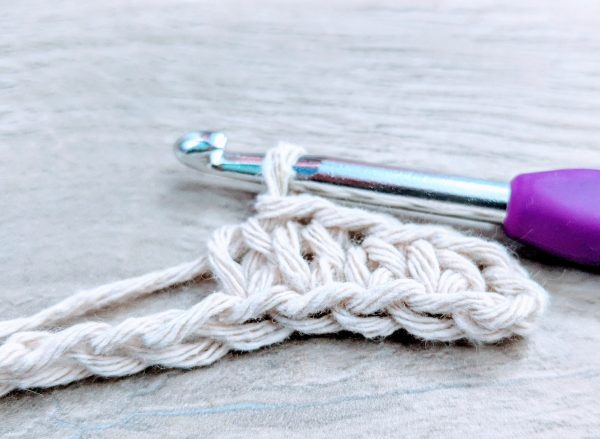 Row 3: Ch 1, SC across, switch colour to OW.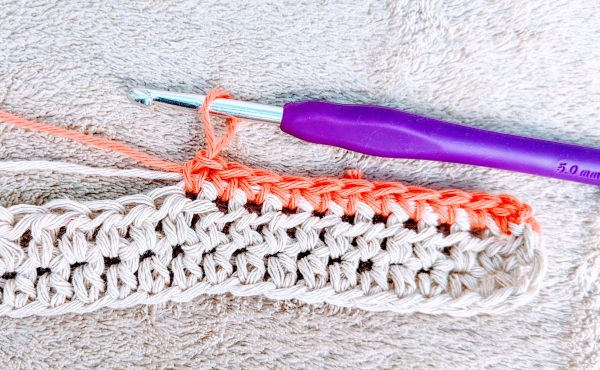 Row 4: Ch 1, HDC across
Row 5: Ch 1, HDC across, switch to P.
Row 6-26: repeat rows 3-5
You should be finishing with OW colour. Weave in ends.
Hope you enjoyed making this as much as I did. Let me know in the comments below how it turned out for you!