Looking for an easy crochet dishcloth pattern? Then you're in the right place. This crochet dishcloth pattern is not just easy and quick to work up, it also has a beautiful texture which makes it perfect for gifts!
Jump to Easy Crochet Dishcloth Pattern or scroll down for more information.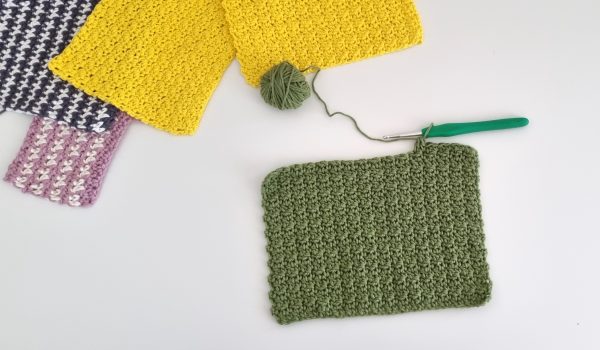 If you ever wondered what to bring as a housewarming gift, I think those crochet dishcloths would be perfect! They are fun, unique and you can make a couple of them using different colours and stitches! They are also easy and quick to work up and you'll only need one skein of cotton yarn – any brand, colour and type for one dish cloth!
Crocheted dishcloths work well as they have a nice texture that will help to scrub your dishes and make them sparkle. They are also gentle enough and not going to leave any scratches. It's also good to wash your crochet dishcloths regularly in the washing machine as the natural cotton fibres are robust and durable, so they can last a long time!
What crochet stitches are best for dishcloths?
To make a simple crochet dishcloth, the stitches don't have to be complicated. Some of the best crochet stitches for dishcloths are basic stitches that create textured and somewhat dense fabric. Single crochet, half double crochet, double crochet and a variety of different combinations of those simple basic stitches are some of the easiest and best stitches for crochet dishcloths.
In this dishcloth pattern I'm using a combination of single and double crochets which is why I think it's so easy. It's a one row repeat, which means that you repeat the same row over and over again until you reach your desired size. This is particularly easy to remember and great for beginners and experienced crocheters alike, when you just want a mindless crochet project to relax and unwind.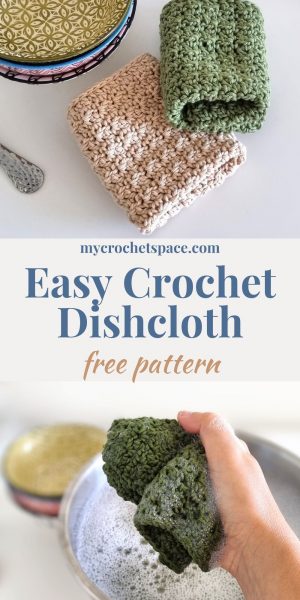 What yarn to use for crochet dishcloths?
Often people ask if you can crochet dishcloths with acrylic yarn or just in general, what kind of yarn should be used. And while you can certainly use acrylic, cotton yarn holds and absorbs water very well and just feels better and more natural. So, in my opinion, the best yarn for crochet dishcloths is cotton yarn or a blend of cotton. I personally, don't use acrylic yarn for any type of dishcloths, washcloths or towels.
For this crochet dishcloth I used 100% cotton yarn. I happened to have a few skeins of light worsted #3 yarn (DK/8ply) in different colours, so I just used one of the skeins to make a dishcloth. As it absorbs water better, it will also dry longer than acrylic. So it's good to rinse and hang your dishcloth to dry after each use to keep it in a good condition.
What's the best size for a dishcloth?
In general, 8″ by 8″ would make a good size dishcloth. But it really is a matter of personal preference. The best thing about being able to crochet a dishcloth is that you can easily customise your dishcloth and adjust the size by chaining more or less.
If you prefer larger ( 9″ or 10″) crochet dishcloths just chain until your foundation chain measures 9″ or 10″, or whatever size you want it to be. A dishcloth doesn't need to be a perfect square, it can be a rectangle or whatever shape you like. So, if you're wondering how many chains you need to chain for your crochet dishcloth, it will depend on the type of yarn you're using and the size of the dishcloth you're planning to make. In general, it will be somewhere between 30 and 40 chains. But the best way to make the perfect size dishcloth for you is to chain until you reach the desired width.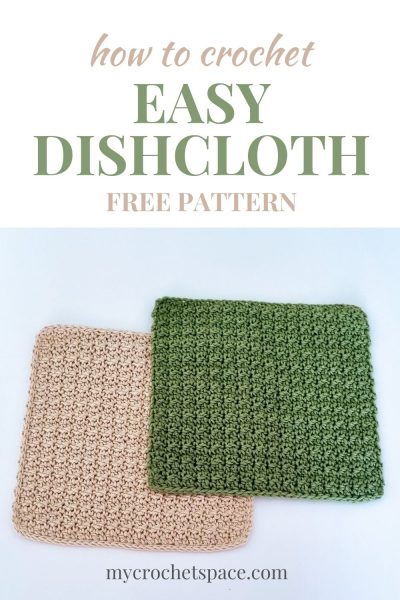 Easy Crochet Dishcloth Pattern
Difficulty: Easy
Dimensions
Width: 8″ (20cm)
Length: 8″ (20cm)
Gauge
16 St x 14 rows = 4″ (10cm)
Abbreviations (US Terms)
Ch = chain
St = stitch
SC = single crochet
DC = double crochet
Materials
You can use any 100% cotton yarn. I used Flinders 8ply (light worsted #3 / DK) but you can use worsted weight yarn #4 which will make your cloth slightly bigger and more robust.
126 yards (115 meters), 50 grams (1.76 ounces)
Crochet hook 4.5mm
Scissors
Yarn needle
Special Crochet Stitches
The dishcloth pattern uses the Crumpled Griddle Stitch, which is a combination of single crochet and double crochet stitches.
Pattern Notes
This crochet dishcloth measures 8 inches square and the size can be easily adjusted by chaining more or less for your foundation chain. The amount of chains will depend on the thickness of your chosen yarn and the size you want for your dishcloth. Simply chain any even amount until you reach the desired width and work an amount of rows until you reach your desired length.
The pattern is a one-row repeat.
Every row starts and finishes with a SC.
SC should be worked into SC in previous rows and DC should be worked in DC in previous rows.
Easy Crochet Dishcloth Pattern
Chain 34 or any even amount of chains until your chain measures 8 inches or desired width.
Row 1: SC in second Ch from hook, *DC in next Ch, SC in next, repeat from * across the row. You should finish with a SC in last stitch.
Row 2: Ch 1 and turn. *SC in first, DC in next, repeat from * across the row. Your last St should be a SC.
Row 3 – 28 or until you reach 8 inches in size: repeat row 2
Row 29 or last row: Slip stitch in the first St and across the row.
You can keep going and slip stitch around your dishcloth like I did with the cream coloured one, as pictured above. Simply turn your dishcloth when you reach the end of last row and continue slip stitching into every row, 1 slip stitch per row. Turn again to work on the foundation chain side, and work slip stitches in each chain across. Then turn again and work on the last side of your dishcloth, 1 slip stitch into each row as on the other side.
The slip stitch border is not necessary and it's almost not noticeable but if you like making borders that's an option. The green crochet dishcloth doesn't have a border and I only slip stitched in the last row. Slip stitches in the last row make the edge a little tighter so it doesn't stretch too much and it will help to keep your crochet dishcloth in shape.
Fasten off and weave in all ends.
I hope you like this simple and easy crochet dishcloth pattern! I honestly think this may be the best crochet dishcloth pattern you can possibly get. It's easy, quick and looks pretty nice too! What do you think?
If you make anything using my patterns and share them on Instagram make sure to tag me @my_crochet_space! I would love to see your makes! 🙂
If you have any questions about this crochet dishcloth pattern or suggestions for a next one – leave a comment! And if you like more easy crochet patterns, take a look at those below.
Easy Crochet Patterns
Easy Crochet Stitches for Dishcloths