If you're looking for a crochet project that's both fun and useful, you'll definitely want to try out this crochet washcloth pattern. It's super easy to make and produces a finished product with a beautiful, almost three-dimensional texture. Plus, because it's a quick project, you'll have plenty of time to make a few extra washcloths to keep for yourself or share with loved ones. Give it a go, and you'll have a pretty crochet washcloth in no time!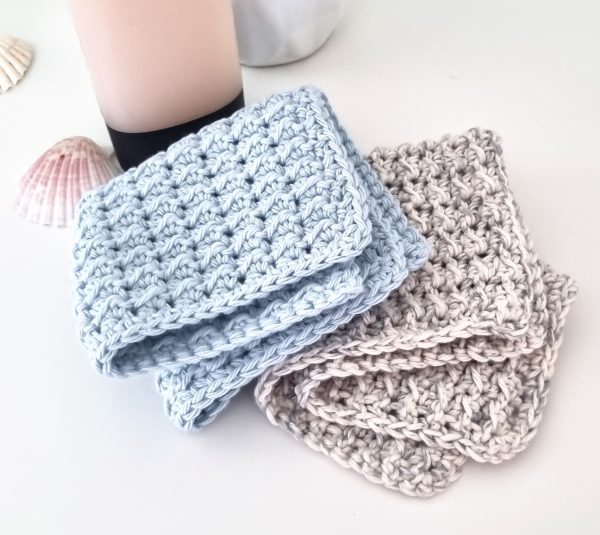 If you're just starting out with crocheting or are looking for a simple project, this crochet washcloth pattern is a great choice. It's easy to follow and suitable for beginners, so you can learn and practice your skills while creating something useful and beautiful.
To make this washcloth, you'll only need to know a couple of basic crochet stitches, like the half double crochet and slip stitch. As long as you're familiar with these stitches and feel comfortable using them, you should have no trouble completing this project.
If you're completely new to crocheting and are looking to learn the basics, our step-by-step guide on how to crochet is a great place to start. This guide will teach you everything you need to know to get started with crocheting, including how to make a slip knot, how to chain, and how to make a single crochet stitch. Once you've mastered these basics, you'll be ready to tackle more advanced projects like the washcloth pattern mentioned above.
I personally don't usually add borders to my crochet washcloths unless there's a specific reason to do so, like hiding rough edges or yarn ends when working with multiple colours or using a crochet stitch that doesn't produce straight sides.
Another reason I might consider adding a border is if the item is too stretchy, and I want to keep it from losing its shape. In those cases, a border can help keep the item from stretching out of shape. But ultimately, it's up to personal preference and what works best for the project.
So, if you decide to have a border, you can make a round of single crochet stitches around the washcloth, like in this pattern, or come up with a different border design if you have something else in mind. It's up to you!
Textured Washcloth Free Crochet Pattern
Scroll down for the free crochet washcloth pattern, or get the ad-free & premium PDF pattern with step-by-step photos and written instructions from my Etsy or Ravelry stores.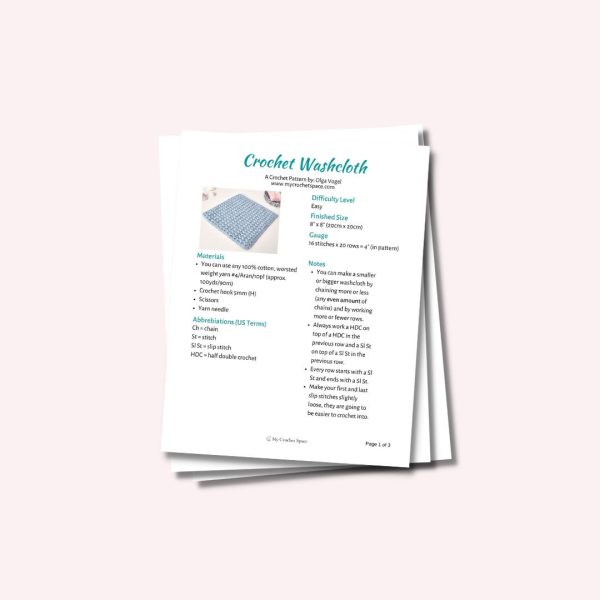 Textured Washcloth Crochet Pattern PDF
Or pin this textured washcloth crochet pattern to your Pinterest Board for later!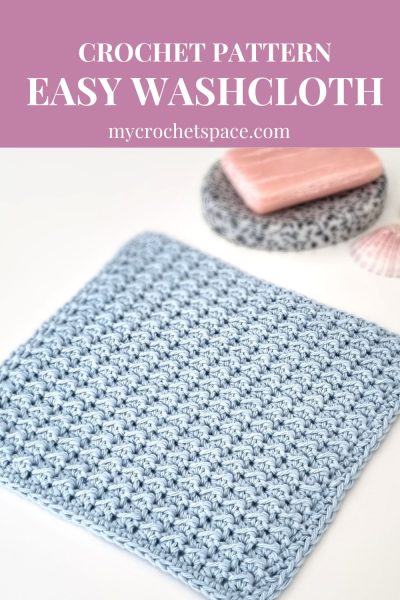 So grab your crochet hook, and let's get started on these crochet washcloths!
Difficulty level
Easy
Finished Size
8″ x 8″ (20cm x 20cm)
Gauge
16 stitches x 20rows = 4 inches (10cm)
Materials
Any worsted weight cotton yarn #4 (Aran/10ply) approx. 100yds/90m.
Crochet hook: 5mm (H)
Yarn needle, scissors
Abbreviations (US Terms)
Ch = chain
St = stitch
Sl St = slip stitch
HDC – half double crochet
Stitch used in this pattern: Even Moss Stitch.
Crochet Washcloth Pattern Notes
This washcloth can be made in any size. Chain any even number of chains to make it bigger or smaller.
Always work a HDC on top of a HDC in the previous row and a Sl St on top of a Sl St in the previous row.
Every row starts with a Sl St and ends with a Sl St.
Make your first and last slip stitches slightly loose, they are going to be easier to crochet into.
Crochet Easy Washcloth Written Instructions
Ch 30 (or any even number for your desired size).
Row 1: Work a Sl St in the second Ch from hook, then work an HDC in the next Ch. Sl St in next, HDC in next. Keep alternating Sl Sts and HDC across the row. You should finish the row with a Sl St in last Ch. Ch 1 and turn.
Row 2-35 or your desired size: Work a *Sl St in the first St, then a HDC in the next stitch. Repeat from * across the row. Work a Sl St in the last St. Ch 1 and turn.
Border (optional)
When you reach your desired size: Ch 1, turn. Place one SC into the first and each St around the washcloth. Place SC, Ch 1, SC into each corner. Sl St to first St to close the round. Fasten off and weave in all ends.
Winter Washcloth Series Blog Hop January 2023
The Textured Washcloth pattern was featured in the Winter Washcloth Series Blog Hop. The blog hop is now over, but the good news is we've gathered all 31 of those stunning crochet patterns and bundled them conveniently for you. Whether you're a beginner or an expert, this bundle caters to everyone's style and preferences. You can explore this fantastic collection of crochet patterns in the Winter Washcloth Bundle below.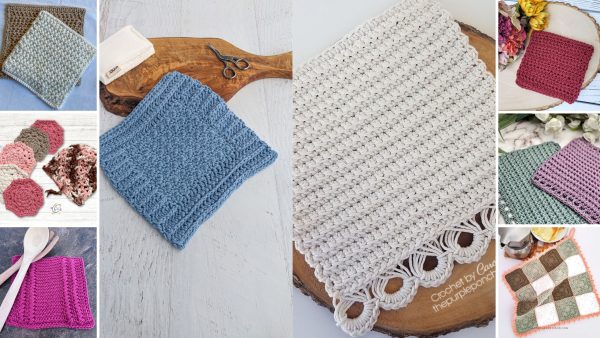 Benefits of purchasing the Bundle:
Save money compared to buying patterns individually.
Explore a diverse range of designs.
Learn and master new stitches.
Create handy, fast projects perfect for gifting.
Access to the patterns forever.
Pin it to your Pinterest Crochet Board for later!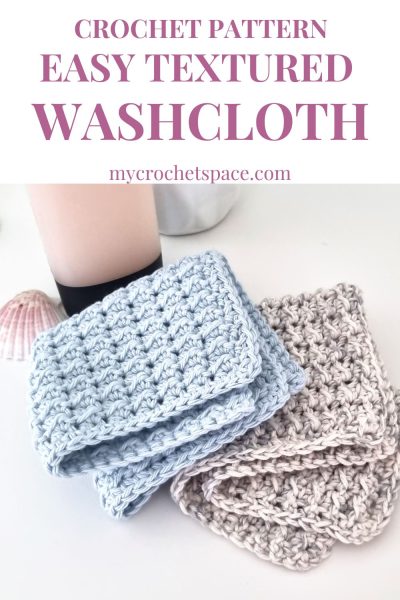 More Crochet Patterns