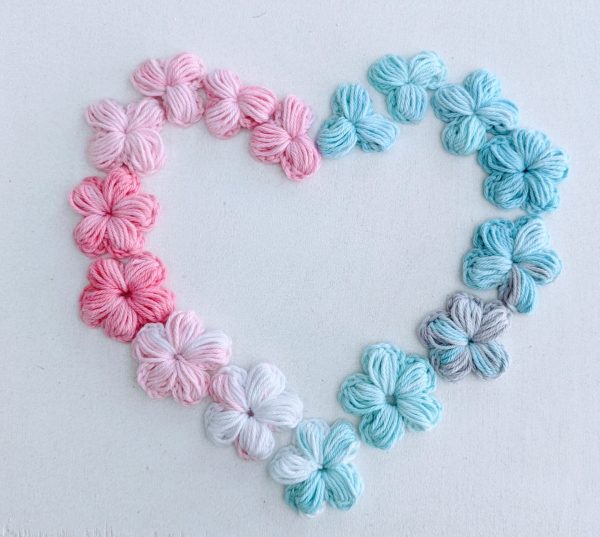 There are so many different versions of crochet flowers! And this is just one of many ways that I believe is very simple but very cute and also very pretty! So, if you want to know how to make crochet flowers – scroll down! You'll find step-by-step photo instructions and a video demonstration!
In this Crochet Flower Tutorial:
I fell in love with those little crochet flowers as soon as I made the first one. I really like the simplicity of this pattern.
Difficulty
Easy. While I don't think they are the easiest project to start with if you're an absolute beginner, I also would like to encourage you just to try. If you watch the video demonstration below, it'll be easier for you to follow. Just have some fun and enjoy making those little crochet flowers, even if you never held a crochet hook in your life!
How long does one crochet flower take to make
Minutes. Depending on your skill level and the number of petals you choose to make. You can crochet one in just a couple of minutes if you are familiar with the Puff Stitch. Or it can take a few minutes longer if this stitch is new to you.
The pattern is very simple as it consists of one round of petals. All petals will be coming directly out of the centre. So if you would like to crochet more than just one, it won't take too much of your time.
Cotton yarn vs Acrylic – my experience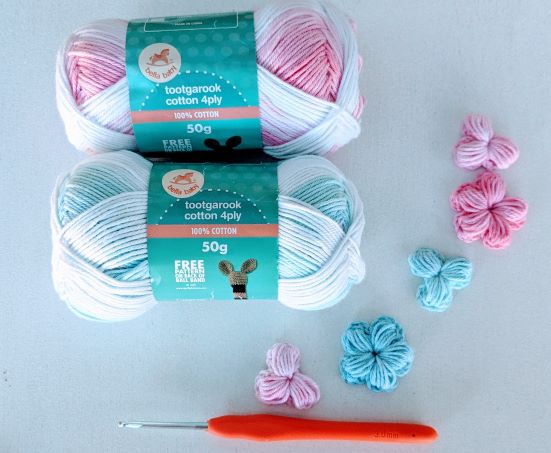 I have experimented with different types of yarn. I had this beautiful 100% Cotton yarn 4ply / fingering (pictured above), and because I love those colours, I really wanted to crochet some flowers out of this yarn.
Especially because it's changing colour on its own from pink to white to pink again (same with the sky-blue colour yarn), I wanted to see how it might add some life to the flowers.
And don't get me wrong, I love cotton yarn. But I guess it wasn't the best choice of yarn for this particular project, and I found it harder to work Puff Stitches with this yarn. Not that the process was harder, but it's the end result that looked different. The Puff Stitches (or petals) looked a little flat and heavy.
I also had to re-arrange the strands of yarn inside the stitches to make them look more harmonious and evenly distributed, as they were not bouncing back in shape as the acrylic did. I found that no matter how much I tried to be consistent with my tension and stitch height, most of the time, there were still one or two strands that stood out as being slightly too long or too short.
Acrylic, on the other hand, was much easier to work with. I used Acrylic 8ply (light worsted), and it felt like the yarn was much softer and more elastic. The Puff Stitches turned out really airy and springy, and at the end, I got a puffy flower with a more even distribution of strands of yarn in each petal (see picture below).
But again, this is just my own experience with those particular types of yarns!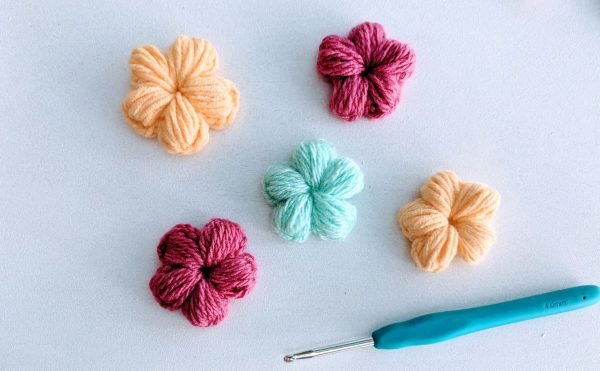 I also experimented with making different amounts of petals – I made 3-petal, 4-petal and 5-petal flowers. I think they all look cute, but for me, the winner is the 5-petal flower!
Special Crochet Stitches
There is only one type of crochet stitch used in this pattern which is the Puff Stitch. And the whole flower is done in just one round of those stitches. If you never used Puff Stitches before – they are very easy to do, but it can get a little fiddly as you need to pull the hook through a lot of loops and sometimes the hook can get stuck in the middle of the stitch. But normally, if you pull the loops tall enough, then there will be enough space for the hook to pass through.
The difficulty also depends on the type of yarn you're using. If the yarn you're using doesn't split easily, then the hook will glide through the loops much smoother without getting stuck in the middle of the stitch.
The most important thing here is to keep the right tension when making the petals. Pull all the loops very tall and to the same height as your other loops, and remember to turn the hook down when pulling through all the loops.
Puff Stitch (Pf St): *yarn over, pull up a long loop** repeat from * to ** six more times (total 7). You will have 15 loops on your hook. Yarn over and pull through all loops. Ch 1 to finalise the Puff Stitch. You can watch the short video demonstration below, where I demonstrate how to crochet those flowers.
If you like Puff Stitches, take a look at my Crochet Laptop Sleeve where I used this stitch in another pattern!
See below the step-by-step instructions or watch the short video demonstration on Youtube.
How to Make Easy Crochet Flowers Step by Step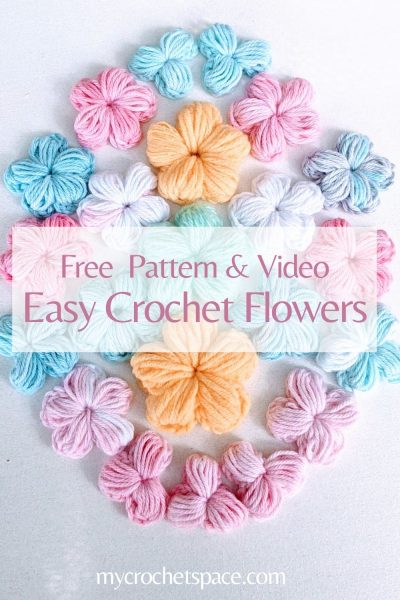 Material
Yarn: I've used 100% Cotton, Super Fine #1 (4ply/Baby) and Acrylic light worsted #3 (8ply/DK). But you can use any type/size of yarn and colour you like.
Hook: 3mm (D) for Cotton and 4mm (G) for Acrylic. Adjust the size of your hook to the type of yarn you're using.
Dimensions:
Cotton flower measures approx. 1.5" (3cm) across, and Acrylic flowers were slightly larger because of the yarn thickness, approx. 2″ (5cm) across. If you use a different type of yarn and hook, you may have a different measurement.
Abbreviations (US Terms):
Ch = Chain
St = Stitch
Sl St = Slip Stitch
Pf St = Puff Stitch
Easy Crochet Flower Free Pattern
Ch 5 and join with a Sl St to form a ring.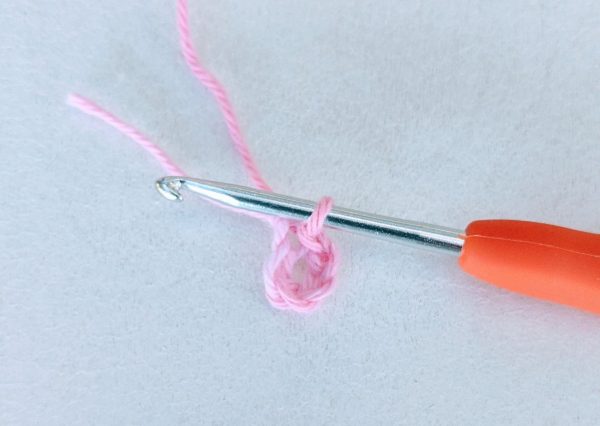 Crochet Flower Petal Steps:
Ch 3,
Pf St into ring,
Ch 3,
connect with a Sl St into the ring.
That's one flower petal. See pictures below for each step.
Chain 3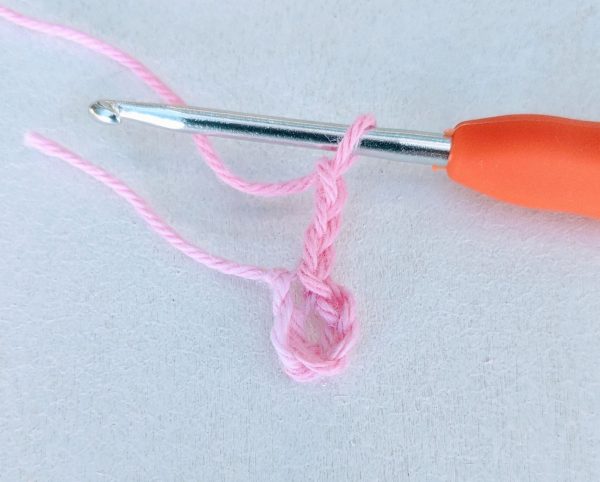 Pf St into ring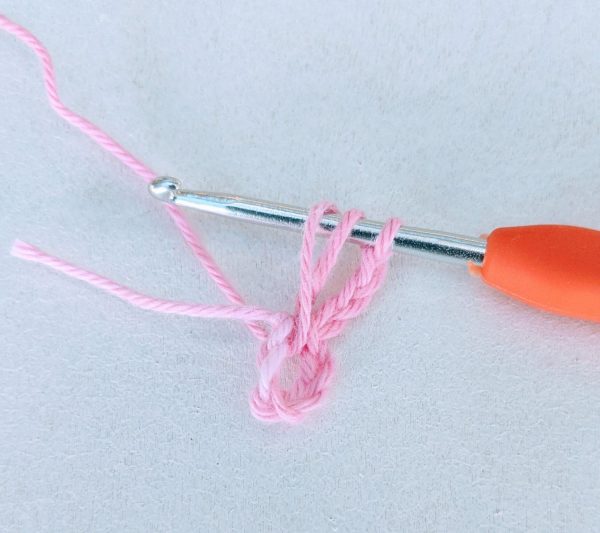 Pf St into ring (x7 yarn over & pull up a loop) – you should have 15 loops on your hook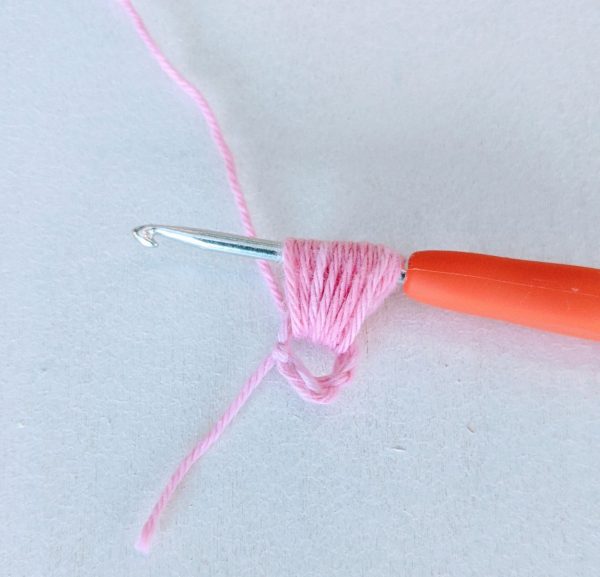 Yarn over and pull through all loops on hook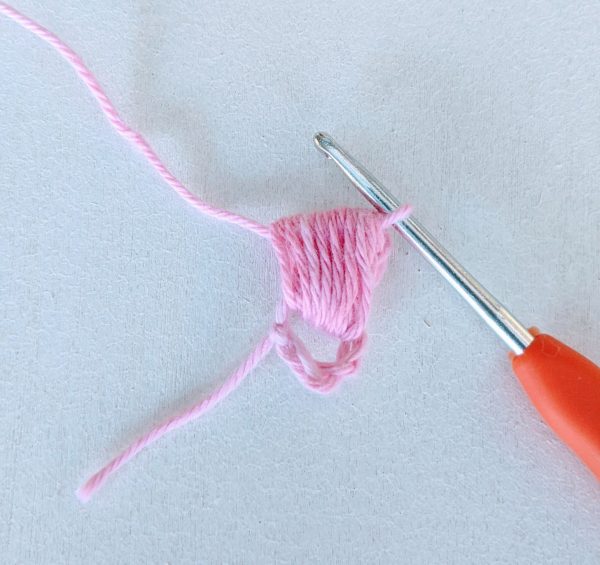 Ch 1 to secure the Pf St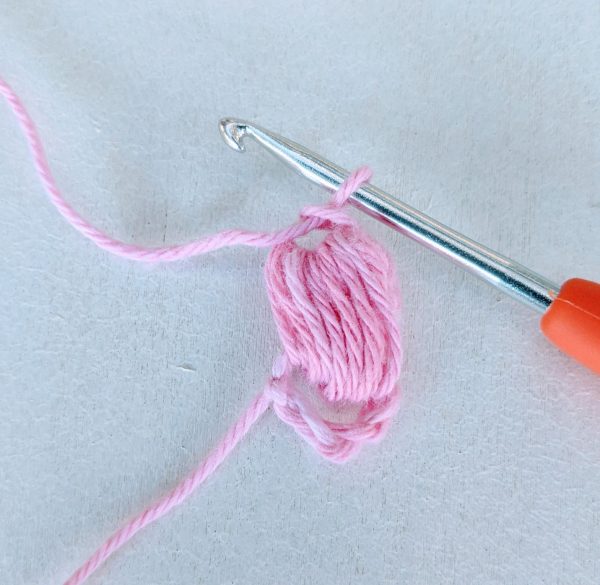 Ch 3 again to finish up the side of the petal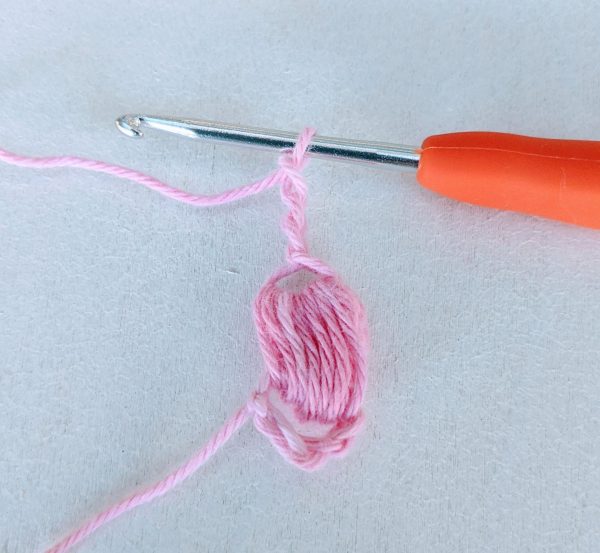 Join to the ring centre with a Sl St.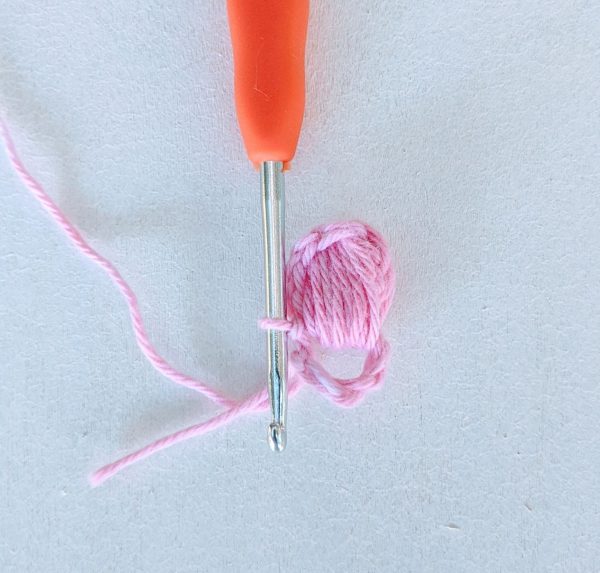 One petal done!
Now repeat 4 more times for a 5 petal flower or as many times as the amount of petals you would like to have.
Chain 3 again to start the second petal.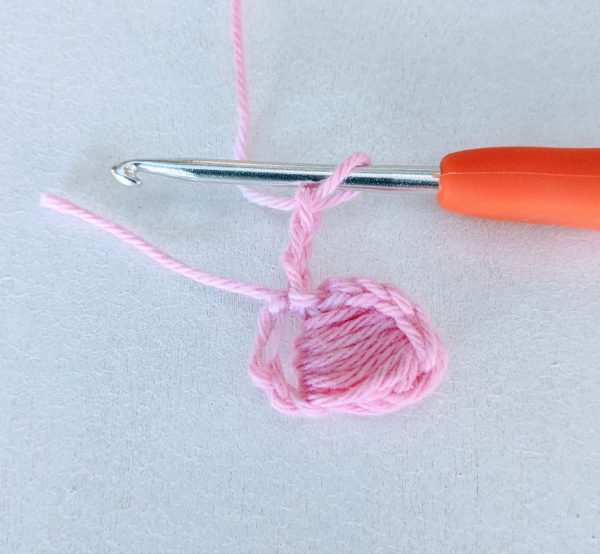 Puff Stitch (yarn over and pull up a loop x7, chain 1 to finalise the Puff Stitch)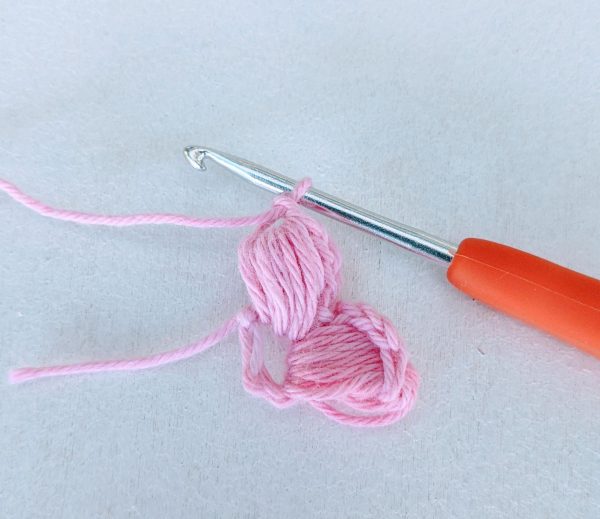 Chain 3 and connect with a Sl St to the centre of the ring. That's the second flower petal done.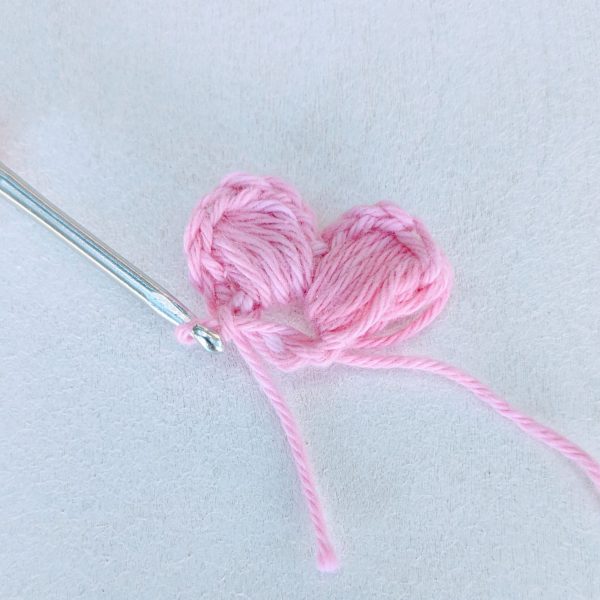 When you get to the last couple of petals it may look like you're running out of space. Just push all the petals you have on the ring together towards the first one to create some more space for the rest of the flower. And if you're using a soft yarn it should be quite easy to do!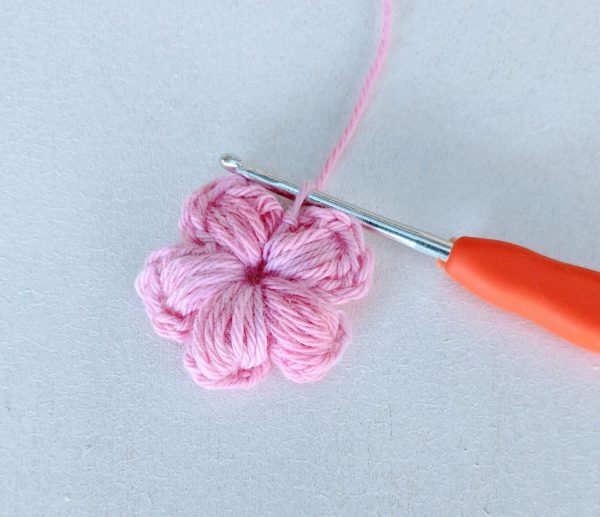 Finishing off
After you finish your last petal: Ch 1 to secure the last stitch, cut the yarn and fasten off. If you are using this crochet flower to stitch on a garment then you can leave a longer tail of yarn you can use for sewing.
After finishing all the petals, take a look at the flower and normally there is one side that looks better than the other. I normally choose the better side to be the 'right' side and pop the Puff Stitches out on that side so that the chain 3 along the sides of the petals will stay on the other side (the back of the flower). But that's up to your preference!
Weave in all ends.
How to Crochet Simple Flowers Video Tutorial
What can you do with crochet flowers
You can leave a longer tail and stitch those little crochet flowers onto beanies, scarves, hats, blankets, throws. You can make a brooch or stitch a little flower on a headband, hair tie/hair accessory. Or make a crochet wall art. There are many different ways to incorporate them into your crochet or any type of projects!
I've used a 3-petal flower on my Cup Sleeve that I made sometime last year.
I'm also planning to use all of those crochet flowers and make another project – I think some type of wall art. So check back soon to see it when it's finished!
And where would you use those crochet flowers? Let me know in the comments below if you found it easy to crochet these simple flowers!
More Free Crochet Patterns