I have made a few crochet laptop cases in the past, but this time I wanted to share the pattern with you! I love this pattern because of its simplicity, modern look and thickness of the stitches, which will provide protection for your laptop.
You can modify this pattern by making it all in just one colour or adding more stripes in one or different colours – lots of possibilities to make your crochet laptop case look quite different from my version!
Scroll down for the free crochet pattern!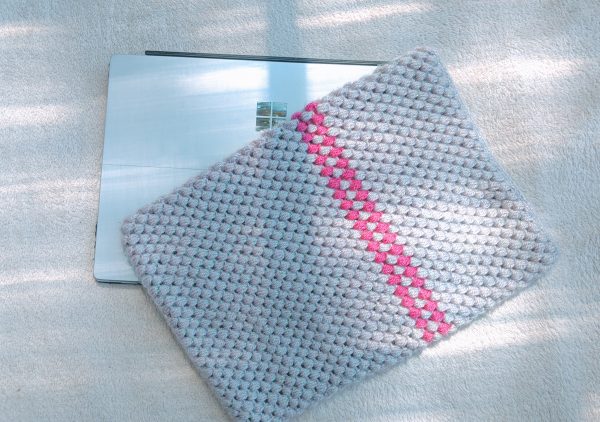 This pattern is very simple and it's also quick and easy to work up. You could easily make one in just one day. Once you have a few rounds – it's Puff Stitches all the way!
For the most part, it is just one stitch (Puff Stitch) all the way throughout the pattern. If you're trying this stitch for the first time, it can be a little fiddly as you have to pull through 9 loops to make a puff stitch. Make sure your tension is not too tight, and pull all the loops quite tall so the hook can glide through all 9 loops without getting caught.
The yarn I'm using is Moda Vera Starlight, 100% acrylic, light worsted weight. It's very soft and easy to work with. I especially like the colour, which is difficult to capture in a photo. It has a green sparkling hue to it that's unfortunately not visible in pictures. I love how it's reflecting the sunlight.
You can use any type of yarn in any colour. You'll need to adjust the size of your crochet hook if you use a different weight yarn. You can find the recommended size on the yarn label.
Special Stitches
Puff Stitch: yarn over, insert hook in the next stitch and pull up a long loop (approx. to the height of a double crochet). *Yarn over again and insert your hook into the same stitch, pull up a long loop*. Repeat from * 2 more times. The total amount of times to yarn over & pull up a loop is 4 times into the same stitch. Refer to the video demonstration below.
Puff stitches vary in how thick or 'puffy' they are, depending on the pattern. So the number of times you yarn over and pull up a loop into the same stitch can vary. You can make the stitches puffier or slimmer by adjusting the number of times you yarn over & pull up a loop.
Take a look at my Crochet Shawl/Wrap, where I used a combination of puff stitches and double crochet stitches to create a more lacy look.
Difficulty
Easy (Advanced Beginner-Intermediate)
If you already have some crochet experience and know how to do the basic stitches, then you'll have no problem with this pattern!
Material
Yarn: Moda Vera Starlight, acrylic. Colours: Off-White 3 skeins and Tea-Rose 1 skein. (or any 8ply/DK/light worsted yarn)
Hook: 3mm
Gauge
10 puff stitches x 13 rows = 4″ (10cm)
Note
This pattern is for a Surface Pro laptop. Adjust the number of chains and rows to fit the width and length of your laptop.
The initial amount of chains will depend on the type of yarn you're using. Cotton yarn tends not to stretch as much as acrylic.
Dimensions
Surface Pro laptop dimensions: width 20cm (8") and length 29cm (11.5")
Crochet Sleeve dimensions: width 21.5cm (8.5") and length 32cm (12.5")
Abbreviations
Ch = chain
SC = single crochet
HDC = half double crochet
St = stitch
Sl st = slip stitch
Pf st = puff stitch (yarn over & pull up a loop 4 times in the same stitch. Refer to the video demonstration below. Note that I'm demonstrating the stitches and all the tips for starting the rows and joining rows on a smaller example which is not the actual size of the laptop case. This is just for demonstration purposes 🙂
Crochet Laptop Case Free Pattern
Ch 43 (or any odd number if you need to make it bigger)
Row 1: HDC in second chain from the hook and across, turn (total 42)
Note: It may look a little shorter than your laptop's width in the beginning, as you can see in the photo below. But it should stretch as you continue with the next rows (that is, if you used the same type of yarn as me). It may not stretch if you're using a cotton or cotton blend yarn.
When you complete the first row, test it by stretching it to the width of your laptop, and if it is not stretching, you will need to chain more.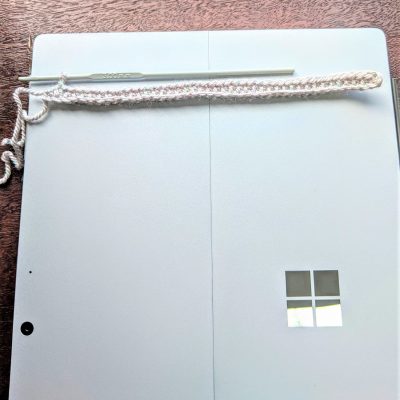 Row 2: Do NOT chain as you normally would when starting a new row, simply stretch the loop you have on your hook to the height of your puff stitch. Yarn over and insert your hook into the first stitch, yarn over & pull up a loop four times for this pattern. Finalise the puff stitch. *Skip 1, Pf St in next*, repeat until the end of the row. (Refer to the video demonstration below for more detailed instructions on Puff Stitches)
Working in rounds from this row onwards, rotate and keep working on the other side of the chain. Pf St in the first chain, *skip 1, Pf St in next *until the end of the row, Sl St (Total 42 Pf st).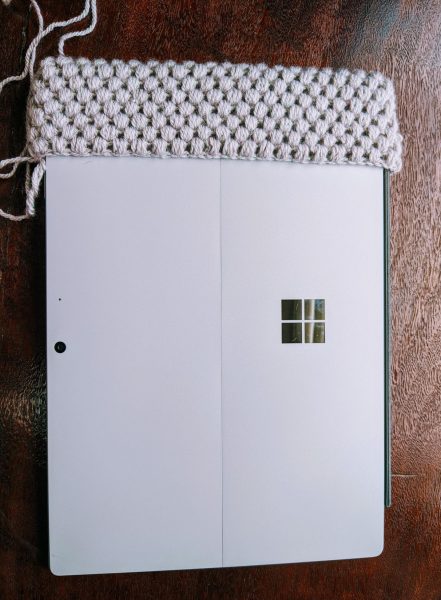 Row 3: Pf St in the gap between the puff stitches in the previous row, behind the loop on the hook (refer to video) and in each gap across. Sl St.
You can watch the short video below. For demonstration purposes, I'm showing all the stitches on a smaller size. It's not the actual size of the case 🙂
Crochet Laptop Case – Puff Stitches – short video demonstration
More Free Crochet Patterns