This little crochet purse is a great project for beginners! It's so easy and quick to make using only one stitch – single crochet. This clutch can be done in a few hours or just in one day even if you're just starting out in your crocheting journey.
Scroll down for the free pattern!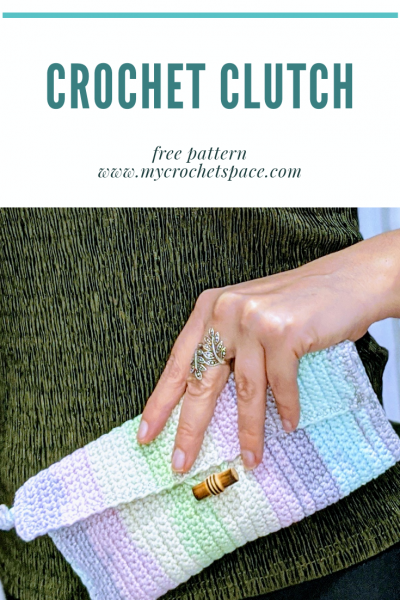 If you know how to crochet single crochets then that's all you need to know for this project. And if you are an absolute beginner, I made a video tutorial where you can learn how to crochet from the very beginning. You can find the video in my How to Crochet & Single Crochet Stitch post.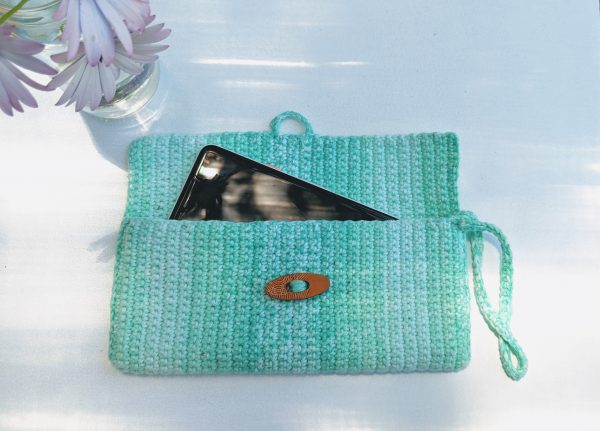 Pattern Notes:
This clutch is worked flat in back & forth rows to make a rectangle. The bottom part will fold and the sides need to be sewn together.
Always Ch 1 at the beginning of a row. Ch 1 does not count as a stitch.
You can make a bigger size by chaning more in the beginning and working more rows to make it longer.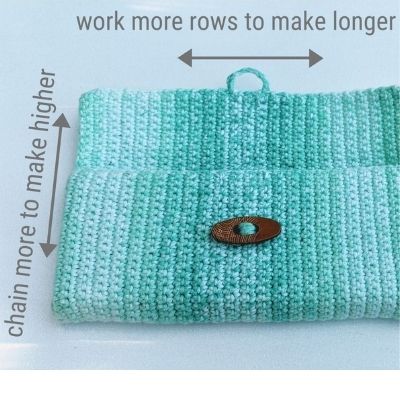 Materials:
Hook size: 3mm
Yarn: I used cotton & bamboo blend (8ply/DK/Light Worsted).
Yarn needle for sewing the sides together and weaving in ends.
Scissors.
Dimensions:
19cm x 10cm (7.5′ x 4′)
Gauge:
25 SC stitches x 26 rows = 4" (10cm).
Abbrevations:
Ch – chain
SC – single crochet
St – stitch
Crochet Clutch Free Pattern
Ch 53
Row 1: SC in second chain from hook and across (total 52 stitches), turn
Row 2: Ch 1, SC in first chain from hook and across, turn
Row 3-52: repeat row 2.
Handle
At the end of row 52, after your last SC: Ch 60 (chain more if your hand doesn't fit inside comfortably. The handle should still be loose around your wrist. Depending on the size of your hands, you would need to adjust the number of chains.)
Row 1: SC in second Ch and across all the way to the first chain. Finish off, leave approx. 40 cm (15″) yarn for sewing the sides together.
You should have a flat rectangle with a handle in one of the corners. Now turn your rectangle vertical so that the handle is on the bottom and the rows going vertical. Count approx 21 stitches from the bottom and fold it there as pictured below. Sew the sides together and weave in the ends.
Button
Choose a large decorative button. Fold the top part down and mark where you would like to place it. It should go right in the middle and just under the edge of the closed top cover. Sew the button in place.
Button Loop
Crochet a loop for your button by chaining 10 (adjust the number of chains to fit your button) from the middle of the top cover. Make sure to start the loop slightly off-centre on one side and attach it to slightly off-centre on the other side. So the empty space in the middle of the loop is exactly in the middle and the button fits inside the loop.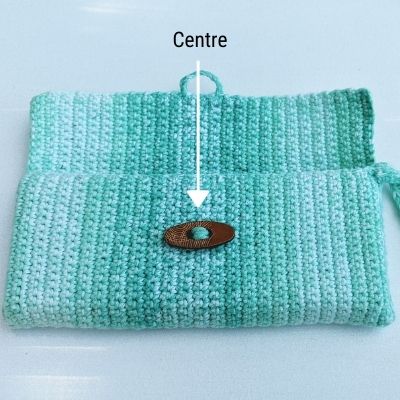 For this particular button on the photo I needed to chain 10 but you may need more or less. Adjust it accordingly to fit the size of your button.
Weave in all ends.
I hope you enjoyed making this clutch 🙂
Let me know in the comments below if you like to see a video demonstration on how to crochet this clutch.