Are you a crochet beginner and would like to make something that's really simple, easy and quick? This single crochet dishcloth pattern is the easiest of all patterns! It's perfect for beginners to practise the single crochet stitch and make something practical at the same time!
Single Crochet Dishcloth – How to crochet a dishcloth for beginners
To crochet a simple dishcloth that any beginner will be able to make, it's important to use basic crochet stitches. Single crochet stitch is one of the most basic stitches in crochet that every beginner learns first. It's also especially easy because this dishcloth pattern is using one stitch only, apart from the border. But the border is optional and not necessary as it looks great with or without it.
This single crochet dishcloth pattern is a one row repeat, which means that every row is the same as the previous one. This makes it perfect for beginners to practise the single crochet stitch, the tension, how to hold the hook and the yarn and to get comfortable with the crochet craft. Learning and practising the single crochet stitch will speed up your crochet time naturally. And with time, your crochet stitches will look better and the edges get straighter.
The best part of this crochet project is that you'll be making a dishcloth, and not a garment! So, if your dishcloth doesn't have straight edges or your single crochet stitches are not perfectly aligned – no one is going to see that apart from you. Important is that you enjoy the process of making something with your hands, learning a new skill and hopefully having fun! The single crochet dishcloth pattern is one of the most basic and easy patterns, and you'll be able to produce a dishcloth that you can be proud of!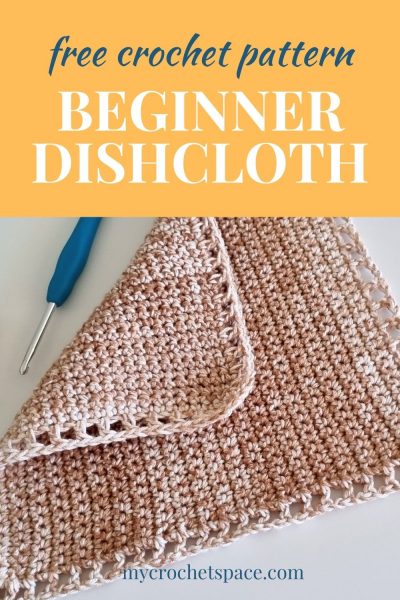 With this single crochet dishcloth pattern, you'll be able to make a durable cotton washcloth. It can be washed in the washing machine, and you can just add it to your washing load.
Single Crochet Dishcloth Pattern
Difficulty: Easy / Beginner level
Dimensions
Without the border: 7″x7″ (18cm)
With border: 8″x8″ (20cm)
Abbreviations (US Terms)
Ch = chain
St = stitch
SC = single crochet
Materials
You can use any 100% cotton, medium worsted weight yarn #4 (you can also use light worsted #3/DK/8ply yarn)
Crochet hook 5mm (or match hook size to your yarn, see yarn label for info)
Scissors
Yarn needle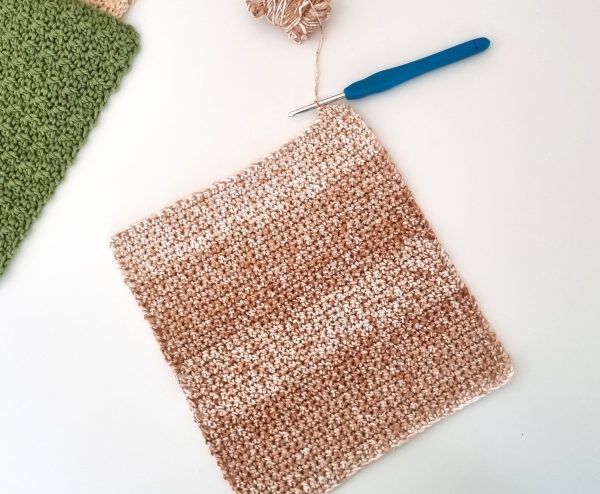 Pattern Notes
This crochet dishcloth measures 7 inches wide and 7 inches long. The size can be easily adjusted by chaining more or less for your foundation chain.
The amount of chains will depend on the thickness/weight of your chosen yarn and the size you want your dishcloth to be. Simply chain any amount until you reach the desired width and work an amount of rows until you reach your desired length.
Ch 1 at the beginning of a row serves as a turning chain and does not count as a stitch.
Border is optional and uses double crochet stitches. If you want to add a border as pictured, you'll need to chain an odd amount of chains for your foundation chain.
This dishcloth pattern is a one-row repeat.
Single Crochet Dishcloth Instructions
Chain 27 or any amount of chains until your chain measures 8 inches or desired width. (If you wish to make a border, you need to chain any odd amount of chains)
Row 1: SC in second Ch from hook and across the row. You should have 26 stitches.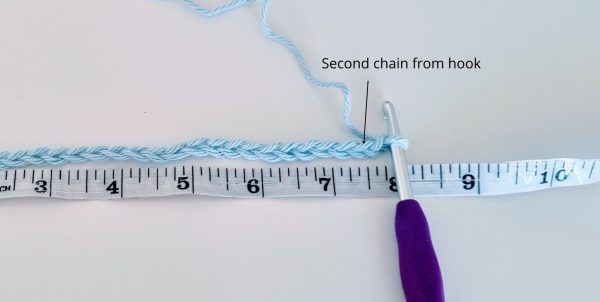 Row 2: Chain 1 and turn. SC in first St and across the row. Total 26 stitches in every row.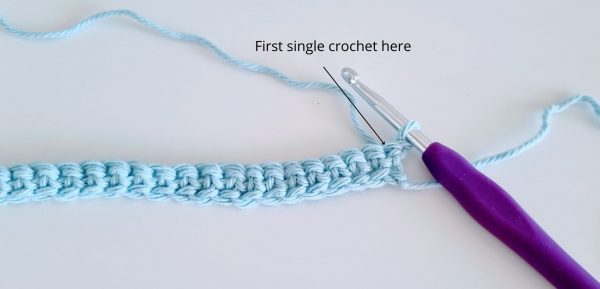 Row 2-32: repeat row 2.
Make sure it's the same amount of stitches in every row.
If you need to refresh your memory on how to crochet single crochet stitches, below is a video tutorial for absolute beginners.
Single Crochet Video Tutorial – for Absolute Beginners
A border is not necessary for this dishcloth and you can fasten off and cut yarn after you reach your desired size. But if you like to make a border around your dishcloth, you'll need to know how to double crochet (DC). So, if you would like to add a border for a more refined look, you can follow the instructions below.
Crochet Dishcloth Border
Ch 3 and turn. Skip the first stitch and work a double crochet (DC) in the next stitch. *Chain 1, skip 1 and work a DC in the next stitch. Repeat from * across the row.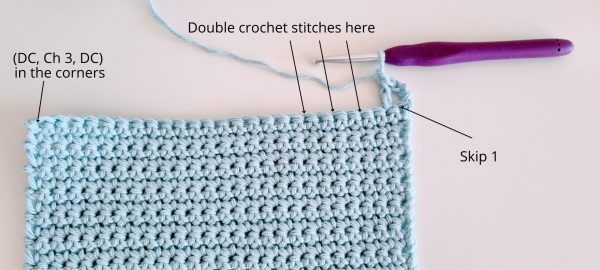 When you get to the corner, work (DC, Ch 3, DC) in the very last stitch, then turn and continue working (DC, Ch 1, DC) along the side, working into every second row.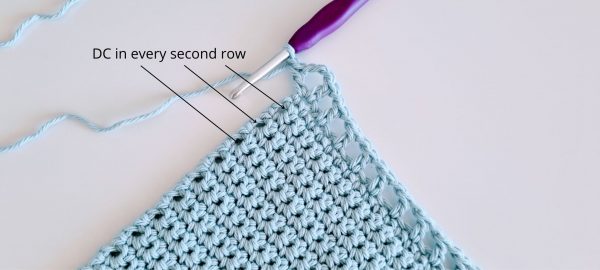 Continue around the dishcloth until you reach the beginning of the border. Work a DC in the last St and Ch 3, connect to first stitch with a slip stitch and fasten off.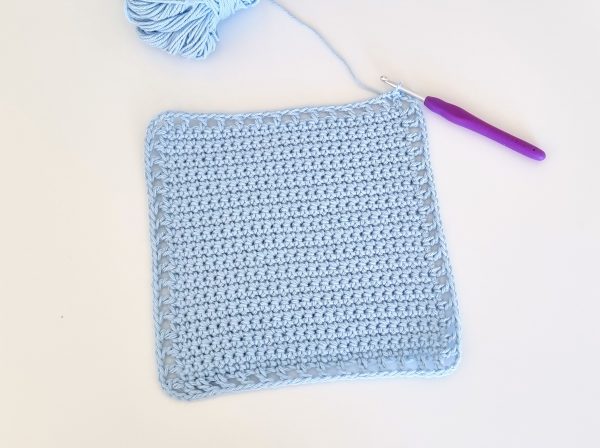 Weave in all ends and it's done! I hope you enjoyed making this dishcloth and maybe you want to make another one! Here is another easy crochet dishcloth pattern that uses single crochet and double crochet stitches. It has such a pretty texture and works up really fast too.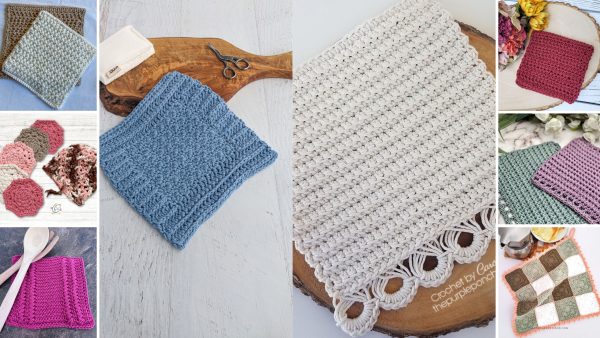 The Ultimate Washcloth Crochet Pattern Bundle
Looking for an exciting new project? Then you'll love this unique collection of 31 Crochet Washcloth Patterns!
By the way, I've been recently asked: What are the most common crochet stitches and what type of items can you make with these? This was for an article on porch.com to help their readers who would like to learn how to make their own home decor. If you're curious, you can find the answer to that question in this article: Decorate Your Home with Macrame, Crochet, Knitting, and Quilting: The Experts Tell Us How to Do It. And you might find more interesting and practical information from other experts!