This market bag is very easy to crochet and if you know how to crochet the basic stitches (single and double crochet) you'll be able to make it in a matter of couple of days. Well, it may even be a couple of hours, depending on your speed. I personally like to take it slow and enjoy the process!
Scroll down to see the pattern.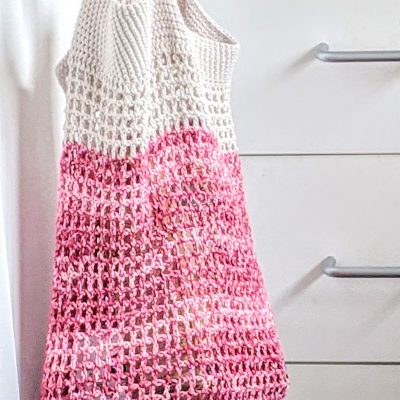 Material
Yarn: 100% Cotton (8ply/DK/Light Worsted) – 2 skeins in Red and 1 skein in Off-White (115m or 125 yards in one skein)
Hook: 3mm
Gauge:
12 DC (with Ch 1 inbetween as per pattern) x 10 rows = 4″ (10cm)
Dimensions:
This Market Bag measures 30cm (12") wide and 46cm (18") long (without handles)
Handles are 28cm long (11")
Note: This bag is a little longer than I was expecting it to turn out as it stretches when it's full. I would recommend to make it 10 cm (4") shorter.
Abbreviations:
Ch = chain
SC = single crochet
St = stitch
DC = double crochet
Sl St = slip stitch
CROCHET MARKET BAG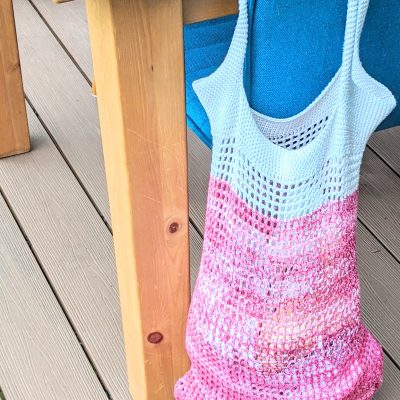 This post may contain affiliate links. For more information please see my disclosure page.
Bottom of the bag (to crochet in back and forth rows)
Ch 70
Row 1: Sc in the third chain from the hook and across (68 total) Turn.
Row 2-6: Ch 1, Sc in the first stitch and across. Turn 
You will have a rectangle at the end of row 6 that will serve as a bottom part of the bag.
Bag sides (to crochet in rounds)
Row 7: Ch 2 (counts as first DC), DC in the next 67 stitches until the end of the row. Do not turn, continue to crochet around the rectangle on the short side, work 5 Dc in total on this side. Continue on the long side, 68 Dc in total and on the short side 5 Dc in total. Sl st in the first DC. (total 146 in this round)
Row 8: Ch 2, Dc in each stitch across.
Row 9: Ch 3 (counts as first DC and Ch 1), skip one, DC in the next. *Ch 1, skip one, DC in next* Repeat from* to* until the end of the row. (total 73 DC). Sl st. 
Row 10- 46: Ch 3, DC in every stitch above DC from the row below.  Change colour (to Off-White) in the beginning of row 42.
Row 47: DC in each and across, Sl St (total 146)
Row 48-56: Ch 1, Sc in each and across. Sl St
HANDLES
Lay down your bag on a table and make sure the sides are straight. Count 17 stitches from each side towards the middle and place a marker or a piece of yarn. This is where your handles will start. In this case (take a look at the picture below) the rows start on the side and not right at the edge of the bag.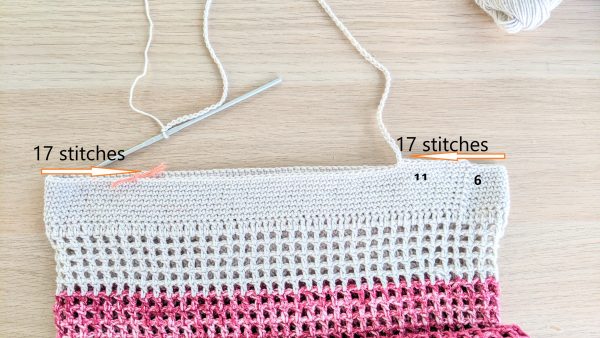 Row 57: ch 1, work SC into the next 11 Sts, chain 100, skip 39 Sts. Work SC into each of the next 34 Sts, chain 100, skip 39 Sts again and work SC in the next 23 Sts. Sl St.
Row 58-64: Ch 1, SC in each stitch, Sl St.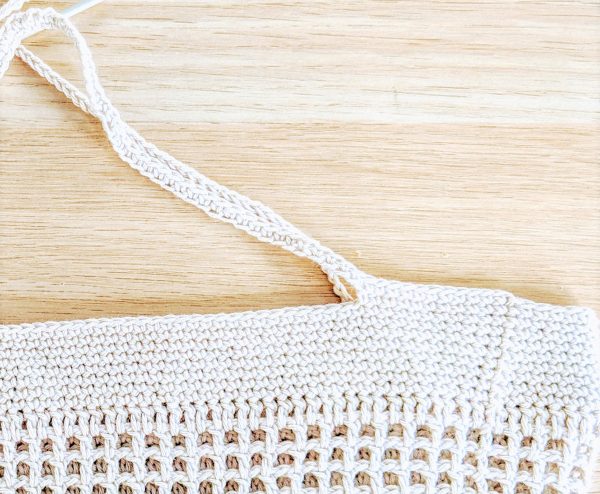 Weave in ends.
If you have any comments, share it below! Would love to see how your bag turned out!