If you're looking for a quick and easy crochet project, crochet fingerless gloves are the way to go! They can be made in any size, so they're perfect for both adults and children. Plus, fingerless gloves patterns are a great way to use up leftover yarn.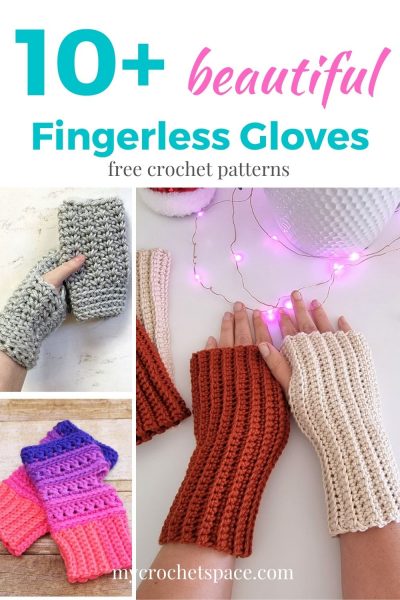 Just a word about the difficulty… Many people think that you need to be an experienced crocheter in order to crochet gloves. But that's not the case! There are many easy crochet patterns for fingerless gloves that are suitable for beginners, there is a pattern for every skill and level!
I agree, it can be daunting as a beginner to approach something that looks so complicated. But many crochet gloves patterns are surprisingly easy and using the most basic crochet stitches. If you're an absolute beginner you can learn and practise some basic crochet stitches before you attempt to crochet fingerless gloves.
Crochet gloves patterns don't have to be difficult. Here you can find the perfect pattern to suit your skill level!
There are many different crochet glove designs and patterns for every skill level and experience! Some of them can be worked in the round, starting from the wrist all the way to the finger tips. Some of the other gloves patterns are worked flat in back and forth rows and then stitched together. And some other fingerless gloves patterns again combine the two techniques in a variety of ways to make them more unique.
No matter which gloves pattern you choose, make sure to adjust the size as needed. Most of these patterns are for a standard adult size, but they can easily be adapted to fit anyone's hand. Just remember to keep track of your stitches and rounds and follow the pattern so that the gloves will fit your hand!
Scroll down to see those beautiful gloves and simply click on the title of your favourite glove to get to the crochet pattern!
More Free Crochet Patterns:
Useful Crochet Tutorials:
In this blog post, I will showcase 10 beautiful and easy fingerless glove patterns that you can crochet in no time. So get your hooks ready and let's get started!
Crochet Fingerless Gloves – Free Patterns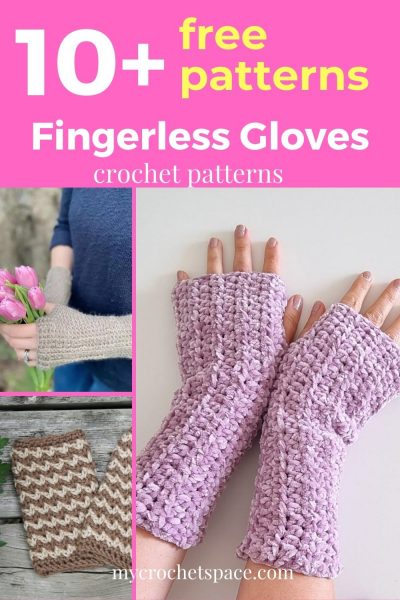 Add some personality and flair to your gloves with the Criss Cross stitch! With this free pattern, you can make a cute pair of fingerless gloves that are unique, bright and playful!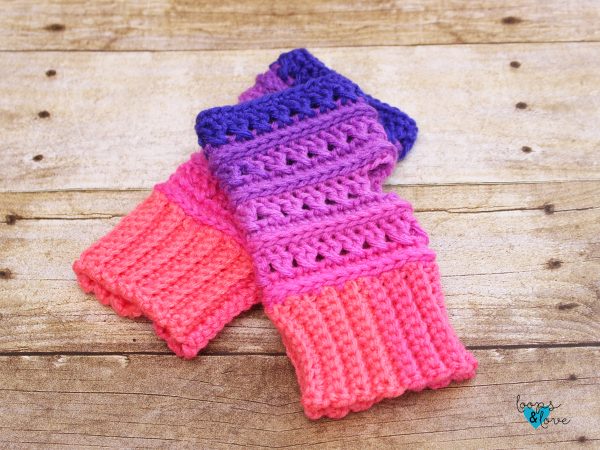 Design and Photo Credit: Loops and Love Crochet
Crochet mittens that are full of texture, luxury and style. The pattern is simple as they are made from a rectangle! These gloves will be a perfect gift for someone special in your life or keep them for yourself too; these mystical gloves will be your new go-to accessory this winter season (or anytime really).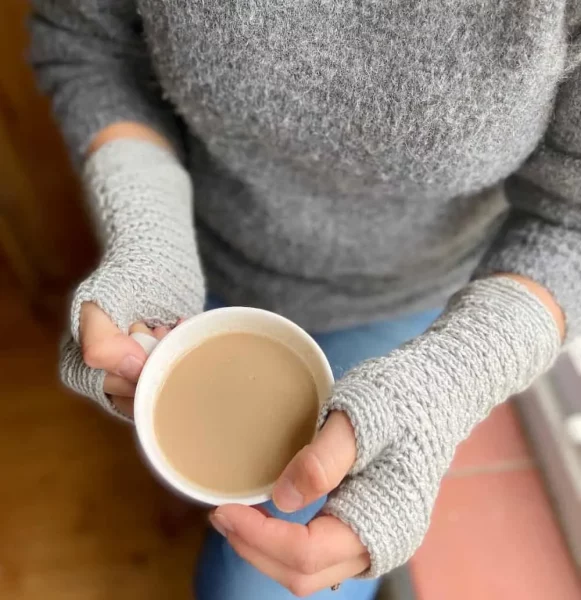 Design and Photo Credit: HanJan Crochet
A perfect addition to any outfit and task, these stylish crochet gloves are sure make you look like a fashionista while also keeping your hands warm.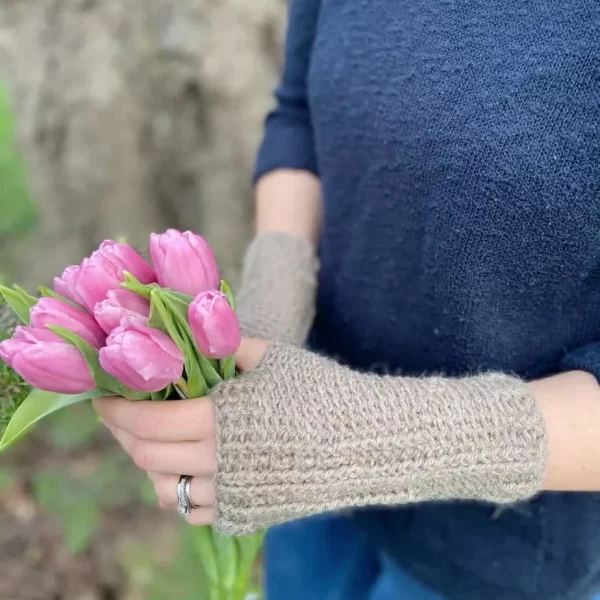 Design and Photo Credit: HanJan Crochet
This is the perfect pattern for beginners who want to make their own pair of gloves without dealing with complicated stitch patterns. The size is adjustable and it's easy enough for someone who is just starting out. You can work them up in no time!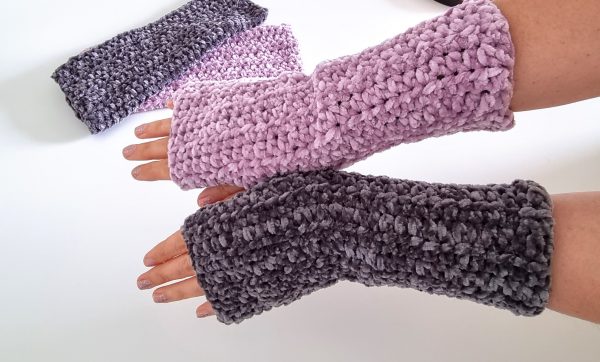 Design and Photo Credit: My Crochet Space
Simple yet stylish, these crochet fingerless gloves will be a beautiful addition to your accessories! The modern yet simple design makes them easy peasy for beginners! All you need to know is some basic crochet stitches!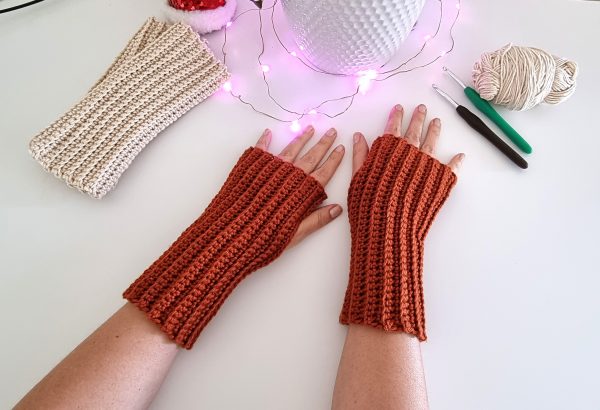 Design and Photo Credit: My Crochet Space
Here's a great idea for the man in your life. These cozy, crocheted gloves will keep his hands warm this winter. Crochet pattern includes different sizes for your convenience!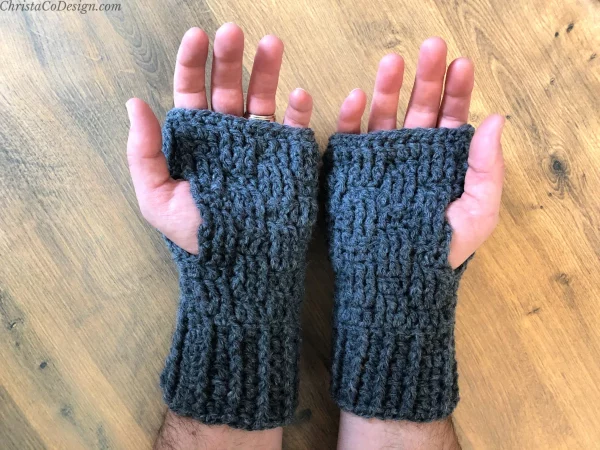 Design and Photo Credit: Christaco Design
These crochet hand warmers are perfect for any task! They can be made to fit any size or shape of your hands, making them perfect for adults and kids alike! They're especially great when you need the flexibility of using your fingers while still keeping them cozy and protected.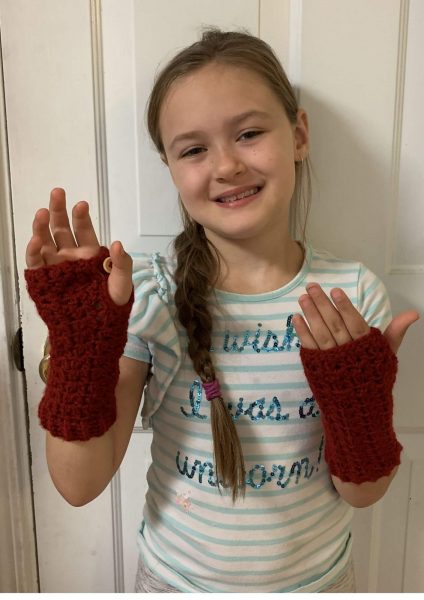 Design and Photo Credit: Fosbas Designs
Keep your hands warm this winter with these wrist warmers! Using basic crochet stitches such as double crochet and chain stitches make them perfect for beginners! They come in different sizes, so you can give one as a gift for loved ones of all ages!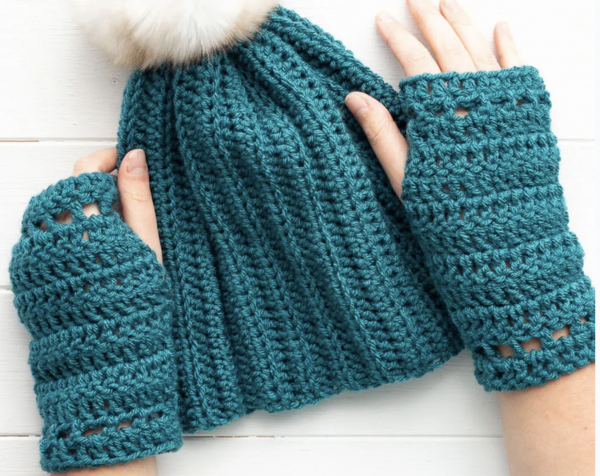 Design and Photo Credit: You Should Craft
Learn to make beautiful gloves with this easy-to follow pattern. With a video tutorial and detailed photos, you'll be able to work your way through crocheting in the round while staying mindful on every row! Create your own original design by choosing two of your own favourite colours!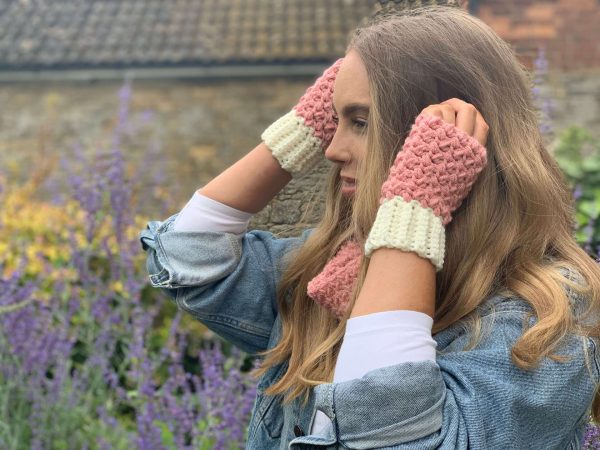 Design and Photo Credit: Cosy Rosie UK
This is another great beginner pattern. Create a pair of intricate looking pattern crochet gloves while using basic stitches and two different colours of yarn. It uses very little yarn, so it's also great as a stash busting project!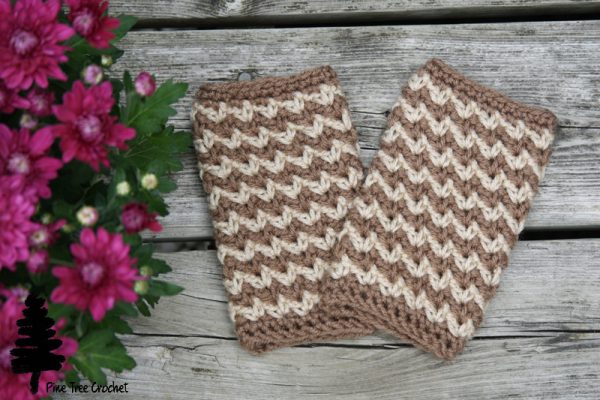 Design and Photo Credit: Pine Tree Crochet
The sedge stitch is a great way to add texture and detail while showing off your crocheting skills. This stitch is durable and attractive and can be used for a variety of crochet projects! The crochet gloves pattern is an easy one-row repeat, simple and easy to remember!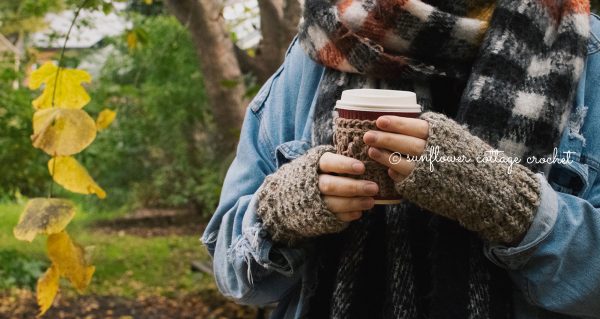 Design and Photo Credit: Sunflower Cottage Crochet
You can never have too many wrist warmers! These are the perfect gift to make for that special man in your life. They're practical, cozy and fun – what more could you ask for?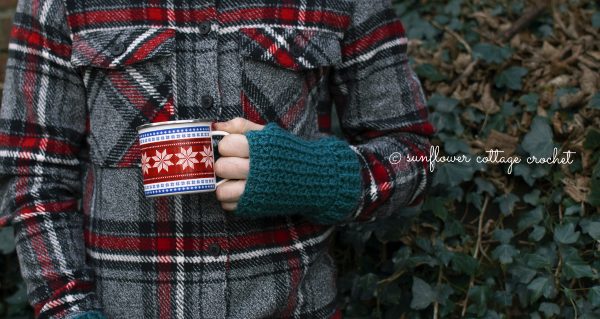 Design and Photo Credit: Sunflower Cottage Crochet
These fingerless gloves are a fun way to get through the cold winter months. Since they use bulky weight yarn, these gloves can be worked up quickly. Pattern available in three sizes to fit any age & gender group!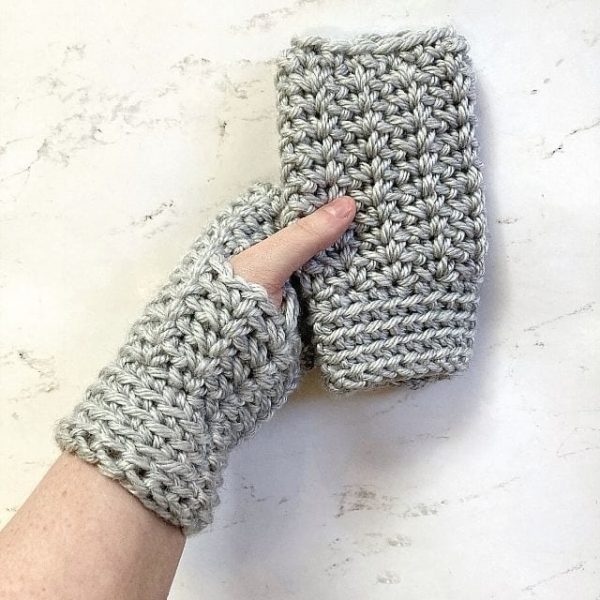 Design and Photo Credit: Simply Hooked by Janet
I hope you enjoyed these patterns and found some inspiration! Save this pin to your crochet Pinterest board for later!