If you're looking for an easy crochet scarf pattern then you're in the right place! This Crochet Ribbed Scarf is quick and easy to work up and you'll love how soft and squishy this scarf is!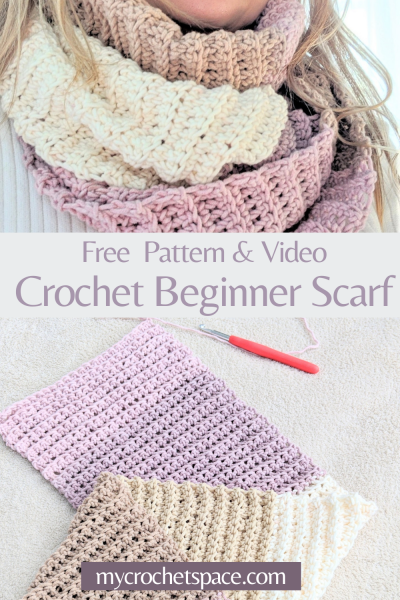 I wanted to make a scarf that would be perfect for the spring & autumn weather and is not too thick. That was the reason I chose a bigger crochet hook than what is recommended for this particular yarn. Bigger crochet hooks create more space (or holes) between the stitches – meaning the fabric is not dense. The bigger spaces create more air flow and the scarf feels lighter & airier. But you can easily transform it into a really warm winter scarf if you use a bulkier yarn.
This ribbed scarf crochet pattern is super adaptable. You can easily change the size of the scarf and even the design! To change the size, simply change the amount of chains in your foundation chain for the width and the amount of rows for the length. And to change the design, make a foundation chain for the length of your scarf and work in rows until you reach your desired width. That way the ridges in your crochet scarf will go from one end of your scarf across to the other end. You can see it my Ocean Breeze Crochet Scarf where I used this design with a different crochet stitch.
Here are some more free crochet scarf patterns I think you would like:
The stitch used in this pattern is commonly used for ribbing. It's elastic, soft and resembles knitting. The main stitches are single crochets (SC) that are worked into the back loops only. This pattern is super easy which makes it perfectly suitable for beginners. If you are an absolute beginner, you can watch this tutorial first on how to start to crochet, making the first loop and single crochet stitch.
I love the ribbing stitch and use it a lot to crochet scarves, headbands and even fingerless gloves! The best part about learning this stitch is that once you know how to do it, you can create so many different versions of scarves and other winter makes!
It's an easy and repetitive pattern, so you can easily relax and watch your favourite movie! 🙂
Scroll down for the free pattern or watch the video demonstration below.
Ribbed Scarf Crochet Pattern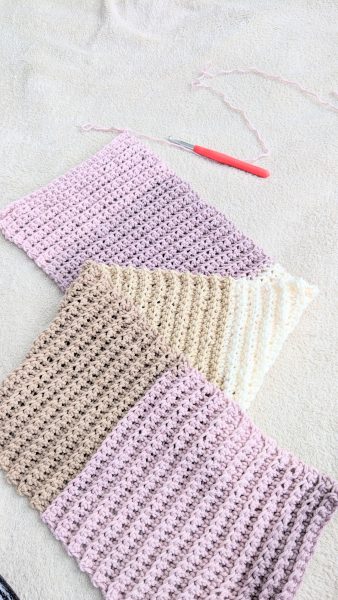 Scarf Pattern Notes
The scarf is worked by chaining any amount of chains for the width. You can easily adjust the width of your scarf by chaining more or less (any number of chains) and adjusting the number of rows until you're happy with the length.
Material:
Yarn: Caron Cotton Cakes from Yarnspirations (medium weight #4, 60% Cotton, 40% Acrylic. 3.5oz/100g, 211 yds/193 m) 2 skeins, colour Rose Whisper
Hook: 6mm and 7mm for the foundation chain
Dimensions:
7.5" x 64" (19cm x 164cm)
Abbreviations:
Ch = chain
St = stitch
SC = single crochet (single crochet tutorial here)
SC blo = single crochet in back loop only
Special Stitches
Single Crochet in Back Loop Only = Insert hook into the back loop only of the next stitch and work a single crochet (video demonstration below).
Crochet Ribbed Scarf Instructions:
Ch 27 (chain more if you like a wider scarf)
Row 1: SC in second chain from hook and across, turn (total 26)
Row 2: chain 1, SC blo into the first St from hook and across the row, turn (refer to video demonstration below for more guidance)
Row 3: repeat row 2 until you reach the desired length of your ribbed scarf.
Fasten off and weave in the ends. Your crochet scarf is ready! That's all there is to it. I hope you like this pattern and enjoyed making your scarf 🙂 Would love to hear how it turned out for you. If you have any questions let me know in the comments below!
Easy Crochet Scarf for Beginners Video Demonstration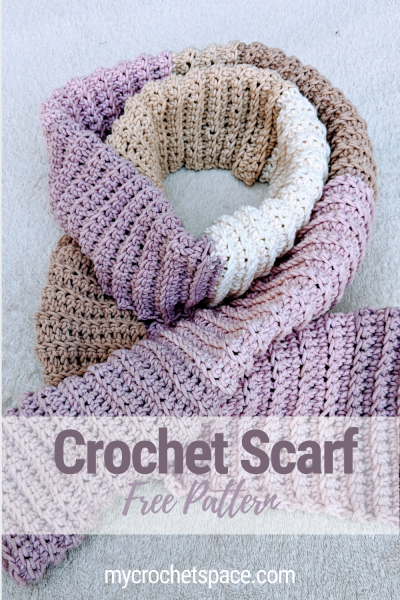 More Free Crochet Patterns