Crochet Granny Stitch is one of the easiest and quickest stitches you will find! It's also a very traditional stitch that goes back many many years.
Granny stitches can be worked flat in straight lines & stripes, in a shape of a rectangle or square, in a shape of a triangle (Crochet Triangle Shawl) and as a granny square.
Granny stitch is based on a couple of very simple and basic stitches such as double crochet and chain stitches. If you can crochet those stitches then you can crochet the granny stitch! It's just a matter of grouping those stitches in the right order.
It's also very versatile, you can create so many different patterns, looks and designs with the granny stitch.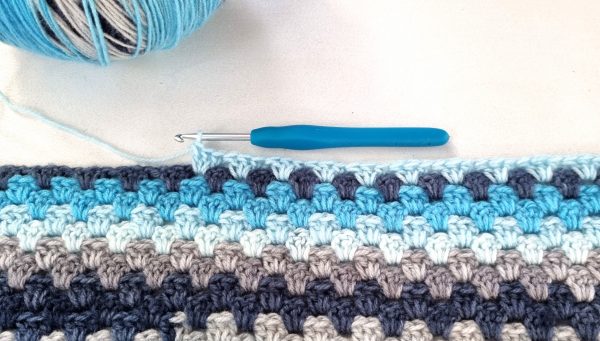 This post may include affiliate links, view my disclosure policy for details.
How to Crochet the Straight Granny Stitch
Granny Stitch is basically a cluster of three Double Crochet stitches worked in the same space or stitch. Sometimes the clusters are separated by chain stitches but it depends on the individual crochet pattern you're following. In the example below there are no chain stitches between the DC clusters.
How to Start the Granny Stitch
To start the Granny Stitch, you'll need to chain a multiple of 3. Then follow the written pattern below.
But there are also other ways of starting with a different number of multiples. Depending on the pattern you're following it may require you to chain a different multiple. There is no right or wrong, it all depends on the project you're working on.
Skill level
Easy / Beginner
Materials
Yarn: any type of yarn – I'm using medium worsted #4, acrylic
Crochet hook: match the hook size to your yarn – I'm using 5mm / H
Abbreviations (US Terms)
Ch – chain
St – stitch
DC – double crochet
DC cluster – three double crochet stitches worked in the same stitch
Sk – skip
Crochet Granny Stitch Pattern Notes
To make your crochet project bigger or smaller – chain any multiple of 3.
Ch 2 counts as the first DC stitch.
Always ch 2 in the beginning of a row.
Crochet Granny Stitch – Written Instructions
Chain 15 (or a multiple of 3)
Row 1: Work 2 DC in the third Ch from hook. *Sk 2 and work three DCs in next Ch. Repeat from * across the row.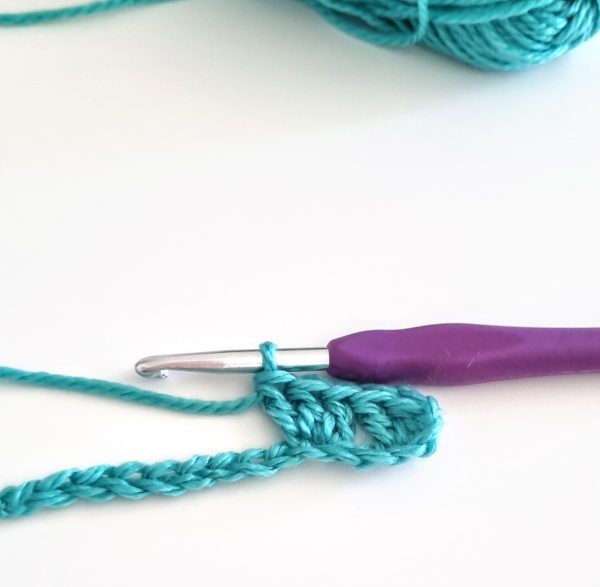 Row 2: Ch 2, turn. Work three DC stitches in the first and every space between the DC clusters. Work 1 DC in the last St.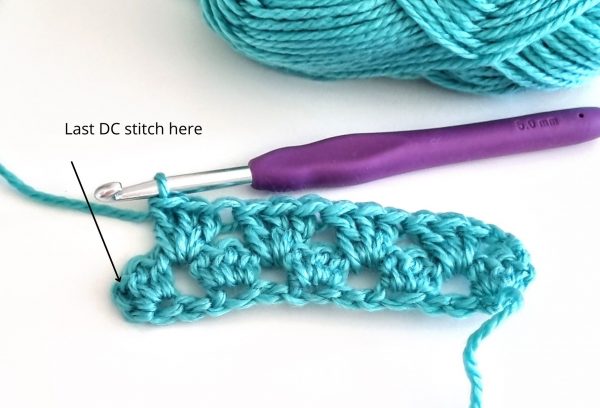 Row 3: Ch 2 and turn. Work 2 DC in the first space before the first cluster in the previous row. Then continue working DC clusters in each space between the clusters in previous row. The last DC cluster is worked between the cluster and Ch2 in previous row.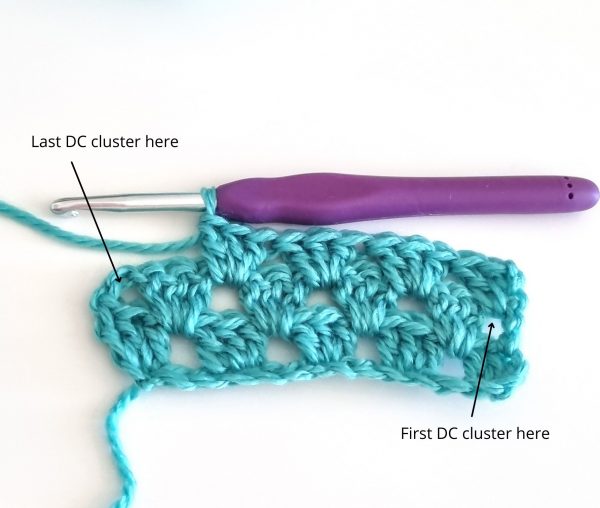 Row 4: repeat row 2
Row 5: repeat row 3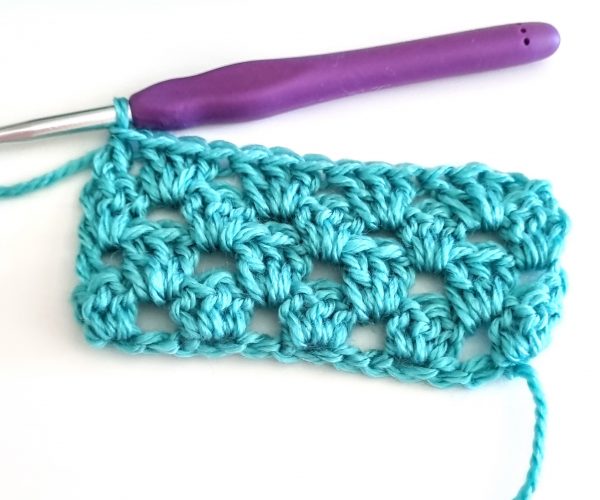 Continue for as long as you like! When you're ready, you can start with a bigger project. See below what you can make using the granny stitch.
Granny Stitch Crochet Uses
Blankets
Bags
Hats / headbands
Cardigans
Shawls / scarves
Wall hangings
Tops
Home decor
Granny Stitch Crochet Pattern Bundle
Do you like the Granny Stitch and want to make something really special?
This awesome crochet bundle is all about the Granny Stitch! You'll find a variety of gorgeous patterns, from small crochet projects that can be worked up in no time (especially handy for last minute gifts!) to easy granny stitch shawls, headbands, bags, cardigans and home decor!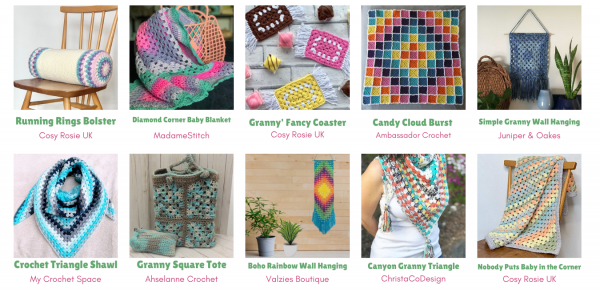 This bundle features 23 crochet granny stitch patterns from selected designers and has a perfect combination of patterns that use granny squares (bags), straight granny stitches and granny stripes (blankets), granny stitches in a triangle shape (triangle shawls).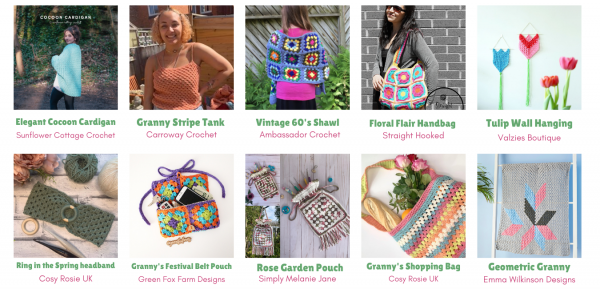 The granny stitch bundle is a perfect way to practise the stitch in so many different and creative ways! Just print one of the patterns and get started right away. This is perfect for when you're looking to make gifts for Mother's Day, Birthdays, Christmas etc. Grab this bundle for just $18 (that's less than a dollar per pattern!) and get started!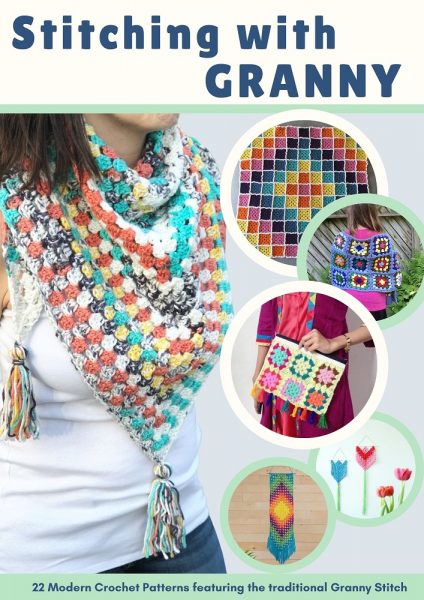 Let me know what you think of the granny stitch in the comments below! If you share your makes from my patterns on Instagram, don't forget to tag me @my_crochet_space, I would love to see them!
More Crochet Stitches
More Crochet Patterns