Ever stumbled upon the word "Crocheter" but have no idea what it actually means? Well, here it is. A crocheter is simply someone who crochets. Crocheters can create all sorts of amazing things, from cute and cozy hats and scarves to big and beautiful blankets and even fashionable clothing.
There are two types of crocheters: those who love following crochet patterns step by step and those who prefer to let their creativity run wild and come up with their own designs.
And, of course, there are also many crocheters who do a bit of both. They may start with a pattern as a base and then add their own creative touches to make the project their own. Or they may use their own designs but incorporate familiar techniques or stitch patterns they've learned from following patterns in the past.
And whether they're a by-the-book pattern follower or a free-spirited crochet artist, it all comes down to enjoying the craft!
Some crocheters take it easy and use the craft as a fun way to de-stress, while others turn their love for crocheting into a full-time job.
You can find out more about the craft of crocheting here. And if you're ready to jump right in and learn how to crochet, I've got a step-by-step guide for beginners complete with a video demonstration and photo tutorial to make it easy for you.
This post may include affiliate links, view my disclosure policy for details.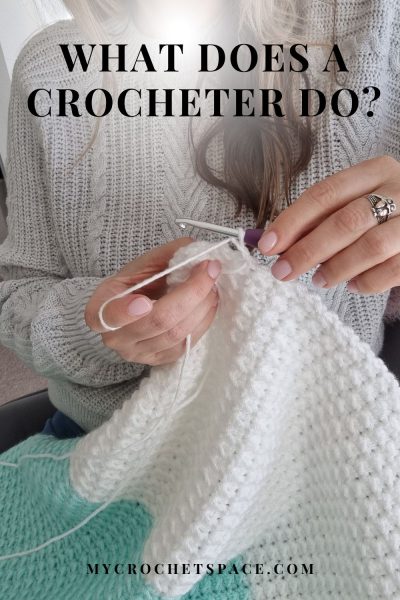 What are knitters and crocheters called?
So now that we've established what a crocheter is, what would you call someone who both, knits and crochets? Knitters and crocheters are often called fiber artists, yarn crafters, or simply, knitters and crocheters.
And if they're super skilled in a range of crafts, including cross-stitching, embroidery and sewing, they might also be called needleworkers or textile artists, depending on their interests and expertise.
What is the difference between knitters and crocheters?
The main difference between knitters and crocheters is the tools and techniques used to create the fabric. Knitters use two (or more) pointed needles, whereas crocheters use a single crochet hook. This would be the easiest way to identify whether someone is knitting or crocheting.
Knitters and crocheters often get lumped together by people who aren't familiar with the crafts. Since knitting is more well-known and talked about, it's common for people to assume that anyone working with yarn is knitting. But don't worry, you can impress your crocheting friends by knowing the difference!
Just remember that crocheters use a hook instead of knitting needles. And if you want to really make their day, try asking, "What are you crocheting?" instead of assuming they're knitting. They'll appreciate your attention to detail and might even give you a big smile! 🙂
How can I be a good crocheter?
If you're already familiar with the craft of crocheting and want to get better at it, here are seven tips that can help you improve your crochet skills and have fun while doing it:
Enjoy: This is my personal number one rule. Crocheting should be fun, so don't take it too seriously. Let your creativity run wild and have fun with it. You'll be surprised at what you can create when you're having a good time.
Embrace mistakes: And this is my personal number two rule! Let's be real, you're going to make mistakes. It's all part of the process. Don't get discouraged when things don't go as planned. Instead, take a deep breath, have a laugh, and try again. Trying to make it perfect can kill all the creativity!
Practice, practice, practice: Like anything else, practice makes perfect. Set aside some time each day or week to practice your crochet skills. The more you practice, the more your tension improves, which means nice and even stitches throughout.
Start with small, easy projects: Small projects can be done in one sitting, and you can learn new stitches. Small projects also feel so satisfying as you have something finished and can use them straight away. Some small and easy crochet projects could be washcloths or coasters.
Get some quality tools: Investing in good quality tools is not necessarily essential, but as you progress as a crocheter, it can make a big difference in the quality of your work. Having a good hook, high-quality yarn, and other tools can improve your crochet skills and make the experience more enjoyable. It's similar to enjoying a delicious cup of coffee from a beautifully crafted mug. The mug doesn't change the taste of the coffee, but it definitely adds to the overall enjoyment of the experience. Treat yourself to some good gear, and you'll love crocheting even more!
Follow patterns: There are so many amazing crochet patterns out there. Find a few that you like, and try them out. Following patterns can help you learn new stitches and techniques, and you'll have some beautiful new items to show off when you're done.
Join a community: While not everyone is into this, it can be a fun and social way to enjoy the craft. You can meet new friends, share tips and tricks, and exchange creative ideas. Crocheting with others is not only fun, but it can also be inspiring and motivating. Join a group of fellow crocheters to share tips, tricks, and ideas.
I really hope these tips will help you become a better crocheter, but let me tell you a little secret: the only person who needs to believe that you're already a great crocheter is yourself! We tend to be our own harshest critics and don't give ourselves enough credit. So don't forget to take a step back, admire your work, and give yourself a pat on the back for all your hard work and progress as a crocheter. 🙂
Crocheter – Hobby or Profession?
Crocheting can be a very enjoyable hobby for many people. It's a great way to unwind, relieve stress, and express creativity. With just a hook and some yarn, one can create beautiful and practical items such as scarves, hats, blankets, and more.
However, some crocheters take their love of crocheting to the next level and turn it into a full-time profession. This can involve selling handmade items on platforms like Etsy or at craft fairs, teaching crochet classes, or even designing and selling their own crochet patterns.
For those who have turned crocheting into a profession, it can be a fulfilling way to make a living doing something they love. But it also requires a lot of dedication, hard work, and creativity. It's not just about the crocheting itself, but also about running a business, marketing, and managing finances.
Whether it's a hobby or a profession, crocheting can be a wonderful way to express oneself and create something beautiful and unique.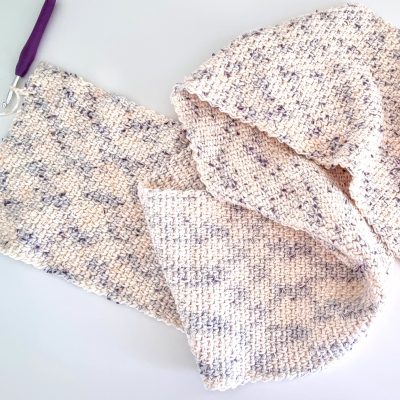 Ready to try crocheting?
The Moss Stitch Scarf is the perfect beginner-friendly project!
Quick to work up and easy to learn!
Can you earn money as a Crocheter?
Is it possible for crocheters to monetize their skills in crochet? If yes, what are some ways they can do so?
I can assure you, I've asked myself the same question before. The good news is that there are numerous ways to leverage your crochet skills and turn them into a source of income. Allow me to share with you everything I know about it below.
Back when I didn't have any plans of creating my own crochet blog, I used to spend a lot of time on Pinterest, browsing through different crochet patterns for inspiration. I always wondered why people would willingly share their crochet patterns and ideas for free.
While I know that some hobby crocheters share their patterns just for fun, I couldn't help but wonder if there was more to it. Creating a pattern requires a lot of time and effort, after all, so I couldn't help but wonder if these crocheters were making money from their work and, if so, who was paying them.
I did some research and found out that there are tons of ways to turn your crochet skills into a profitable business! Whether it's just to make some extra cash on the side or turn your hobby into a full-time job, there are plenty of options to explore.
Here are some popular options:
Selling finished crochet items at craft fairs: Speaking of craft fairs, they are a great way to showcase your crochet items and make some sales. Make sure to have a wide variety of items on hand, from small and inexpensive items like coasters and keychains to larger items like blankets and scarves.
Customize crochet items for customers: Some people might love the idea of owning a handmade crochet item, but don't have the skills or time to make one themselves. That's where you come in! Offer custom crochet services where you can make unique and personalized items for customers.
Selling crochet patterns: If you enjoy creating your own designs, you can sell your patterns online through platforms like Ravelry, Etsy, or your own website.
Teaching classes: If you are an experienced crocheter, you can offer classes or workshops to teach others how to crochet. You can offer classes in person or online through platforms like Zoom or Skillshare.
Create crochet kits: People love the convenience of all-in-one kits, so why not create your own crochet kits? You can include everything needed to complete a project – yarn, hooks, and pattern – and sell them online or at craft fairs.
Writing a crochet blog: You can start your own crochet blog and monetize it through advertising or affiliate marketing. You can share your patterns, tips, and experiences with your audience and earn money through ad revenue or by promoting products you use and recommend.
Freelancing: You can offer your crochet services as a freelancer for companies or individuals who need custom-made crochet items or patterns. You can find clients through platforms like Fiverr.
YouTube channel: If you're passionate about crochet, consider starting aYouTube channel to share your knowledge and projects with others. You can monetize your content through ads, sponsorships, or even selling your own products or patterns.
Collaborate with other crocheters: Crochet is a pretty popular craft, which means there are tons of other crocheters out there who might be interested in collaborating with you. Whether it's partnering up with other crocheters to create a collection or collaborating with a yarn company to showcase their products, the possibilities are endless!
In conclusion, there are a variety of ways to monetize your crocheting hobby, from earning some extra cash on the side to turning it into a full-time career. However, it's important to remember that each option requires significant time and effort, so it's best to focus on one thing at a time. Choose the option that aligns with your goals and personality, and stick to it.
Transforming your crocheting hobby into a profitable career takes dedication, creativity, and hard work. It may not happen overnight, but with persistence and a bit of business savvy, you can turn your passion into a successful venture. Just remember that success in this field is not only about being great at crochet but also marketing and building a strong brand.
If you're serious about starting a business as a crocheter, watch this masterclass! This course is packed with valuable information and tips, making it a true gem for anyone interested in turning their passion for crochet into a successful business.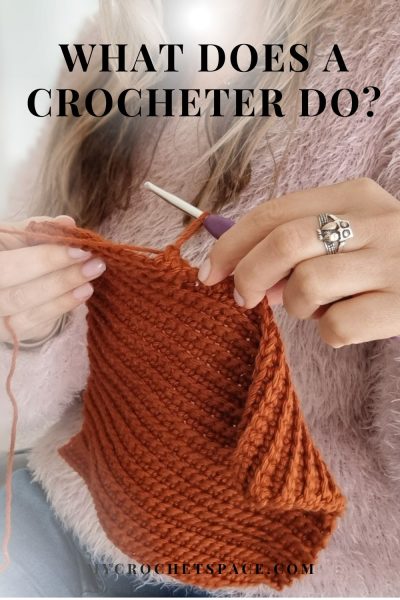 I hope this article has provided some useful insights into the world of crocheting and the craft of crocheters! 🙂 Let me know in the comments section below if you know anyone who loves crocheting or if you have tried it yourself! 🙂
Crochet Tutorials
Free Crochet Patterns