Do you enjoy simple and quick crochet projects? This crochet mens scarf is just that! It is easy, simple and quick to work up!
It took me some time to decide on a stitch for this crochet scarf, as I wanted it to look simple but still attractive. I made a couple of crochet stitch samples to show them to my husband and he picked this stitch, which is the Moss Stitch. I think the Moss stitch is one of the best crochet stitches for a men's scarf. It looks good and best of all it's quick and easy. The simplicity of this stitch makes it perfect for men's crochet projects!
The crochet pattern and the stitch are both very easy which makes it beginner friendly. It works up super fast and makes an attractive gift for men.
If you know how to crochet the Single Crochet stitch then you will find this pattern easy. And if you're an absolute beginner and you've never tried to crochet before then making this scarf as your first crochet project would be a great way to start!
If you are an absolute beginner, I recommend to first watch and follow along the short (approx. 15min) Single Crochet tutorial and then come back here and practise the stitches while making something special for yourself /friend or partner. It would make a very special Christmas of Father's Day gift!
About the Stitch
Moss Stitch: Sequence of single crochet and chain stitches.
Moss Stitch is a super easy crochet stitch which is great for beginners! It's much esier than it looks and you can create some amazing crochet projects by just using multiple colours!
If you like small projects, this crochet Tea Towel pattern is using the Moss stitch as well, but by alternating two contrasting colours you'll get a different look!
Scroll down to see the moss stitch scarf crochet pattern or watch the video demonstration below!
Easy Crochet Mens Scarf Free Pattern
This post may include affiliate links, view my disclosure policy for details.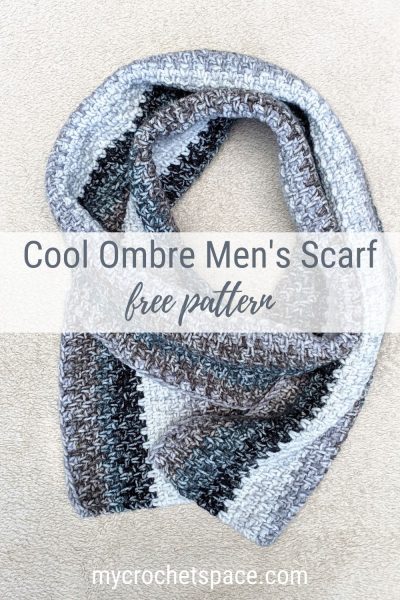 Men's Crochet Scarf Pattern Notes:
Pattern is worked in rows lengthwise.
Ch 1 at beginning of row does not count as a stitch.
You can make a longer or shorter scarf by chaining more or less – any even number.
You can make a wider scarf by adding more rows (or less rows for narrower scarf).
If you're making the scarf larger you would need 2 skeins of yarn.
Material
Yarn: Lion Brand – Mandala Ombre, 1 skein in Cool (Weight 4/worsted, 144yds/315m, 5.3oz/150g, 100% Acrylic). You'll need more yarn for a longer or wider scarf.
Hook: 5mm
Yarn needle, scissors
Dimensions
6" x 55" (15cm x 140cm)
Gauge
19 stitches x 20 rows in Moss stitch = 4″
Abbreviations
Ch = chain
St = stitch
SC = single crochet
Sk = skip
Ch-1 sp = chain 1 space (space between the stitches in the previous row)
Special Stitches
Moss stitch (also called Linen stitch) = a sequence of single crochet and chain 1 stitches.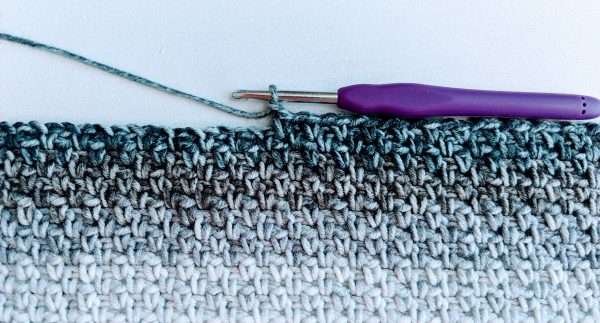 Men's Crochet Scarf Pattern Instructions:
Ch 250 (or more if you like to make it longer. You'll need more yarn!)
Row 1: SC in second chain from hook, *Ch 1, Sk 1 Ch, SC in next*. Repeat from * to * until the end of this row. Turn (total 125 SC stitches)
Row 2: Ch 1, SC in the first Ch-1 space, *Ch 1, SC in next Ch-1 sp*. Repeat from * to * until the end of this row. The very last SC should be worked into the space between the Ch 1 turning chain and the first SC from the previous row. Turn
Row 3-28: repeat row 2.
If you would like to make the scarf wider then just add more rows until you are happy with the width!
Easy Men's Crochet Scarf Video Demonstration
Finish off and weave in all ends.
Hope you enjoyed making this men's crochet scarf! Let me know in the comments below if you have any questions about the pattern. And if you need more inspiration check out the free crochet scarf & shawl patterns below.