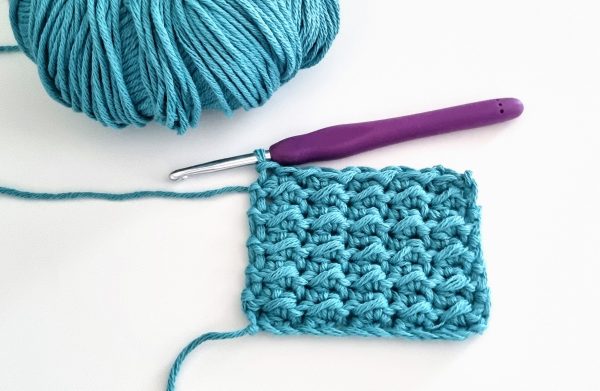 There are many crochet stitches that have beautiful textures and are easy to crochet. The Even Moss stitch is one of them. It's easy to learn, uses basic crochet stitches so that it's easy even for beginners!
Even Moss stitch is a great baby blanket stitch. Its beautiful texture is eye-catching and provides extra cushiness and padding for the baby. It's also quite dense and without any holes.
Apart from baby blankets, you can use this crochet stitch for tea towels, washcloths, scarves – and much more! Are you ready to start? You'll need some yarn and a crochet hook to learn this stitch. Let's go!
Difficulty
Easy
Abbreviations (US Terms)
Ch = chain
St = stitch
Sl St = slip stitch
HDC = half double crochet
Materials
Yarn: any type of yarn. I'm using worsted weight #4
Crochet hook: I'm using 5mm
Even Moss Stitch Instructions
Chain any even number
Row 1: Starting in the second Ch from hook work a *Sl St, then a HDC in the next chain. Repeat from * across the row. Work a Sl St in the last St. Ch 1 and turn.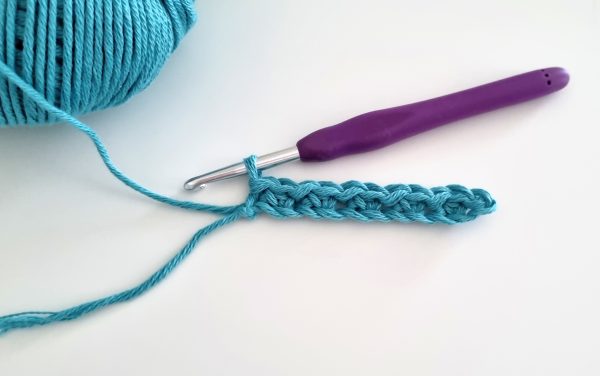 Row 2: Work a *Sl St in the first St, then a HDC in the next stitch. Repeat from * across the row. Work a Sl St in the last St. Ch 1 and turn.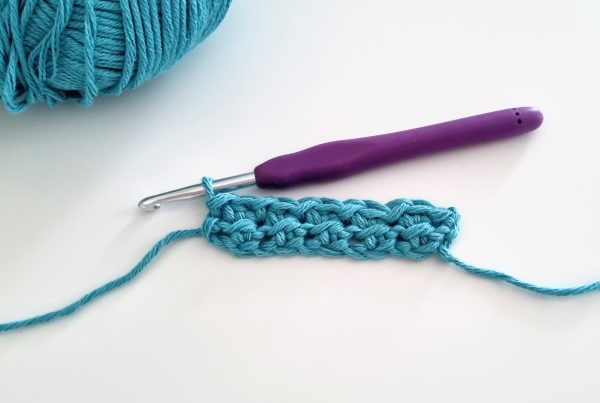 Repeat row 2 until you reach your desired size!
Notes:
Always work a HDC on top of a HDC in the previous row and a Sl St on top of a Sl St in the previous row.
Every row starts with a Sl St and ends with a Sl St.
Tip: Make your first and last slip stitches slightly loose, they are going to be easier to crochet into.
Even Moss Stitch Uses
Baby Blankets, Baby Clothing
Afghans, Throws
Towels, Washcloths, Dishcloths
Scarves, Cardigans, Beanies
Clutches, Bags
Even Moss Stitch is very versatile. You can use on its own, making the whole project like a baby blanket. Or using it as an accent for a couple of rows in other projects. It looks great with any type of yarn. I tried it using acrylic yarn for a baby blanket and it's really soft and squishy. I also tried it for a hand towel using cotton yarn and it's also great.
I find that a normal, single-coloured yarn brings out the texture of this stitch the best! But it all depends on the design and what you would like to create. Let me know in the comments below if you have any questions about this stitch!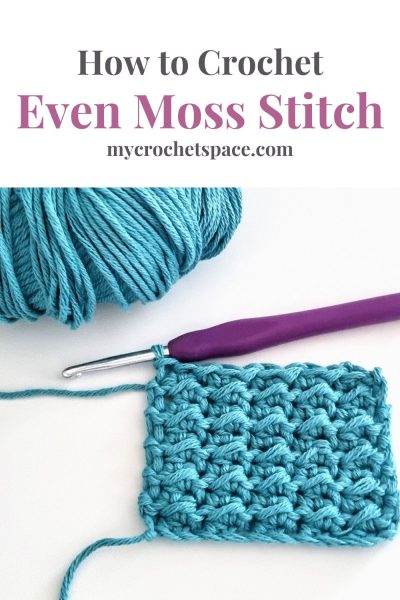 Free Crochet patterns using the Even Moss stitch:
You might also like these crochet stitches
Free Crochet Patterns