If you're looking for crochet coaster patterns to renew the look of your kitchen & table decor then these modern square crochet coasters will be perfect! They are nicely textured & thick and they stay in shape! 🙂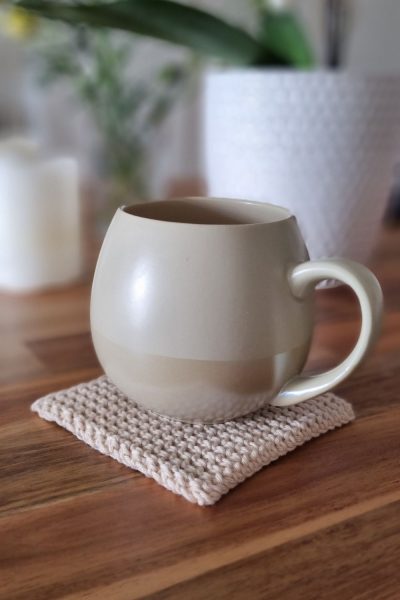 I love small crochet projects like this crochet coaster! It's quick to work up and is great for gift-giving. Especially in the summertime, when you maybe want to spend more time outdoors and less on the couch 🙂
If you're an experienced crocheter and are familiar with the Thermal stitch, then you will be able to make a couple of those in an evening. The coaster crochet pattern is for intermediate skills, meaning that the pattern is simple but requires you to know how to crochet the basic crochet stitches.
This Square Crochet Coasters pattern is using the Thermal Half Double Crochet Stitch – the same stitch I used to make extra thick potholders. But in this pattern, I'm using a thinner yarn (8ply/DK/light worsted #3) as we don't need that extra thickness for crochet coasters. The coasters are still pretty dense and thick and because of that, they keep their shape and don't curl as the thinner coasters do.
I really like this stitch and pattern, even though the stitch can take some time to master. I think the result is worth the time and effort!
The square crochet coaster pattern is worked flat in rows. You can use this pattern to customise your coaster the way you like – adjust the size and colours, make them in one solid colour, with stripes or use a self-striping cotton yarn.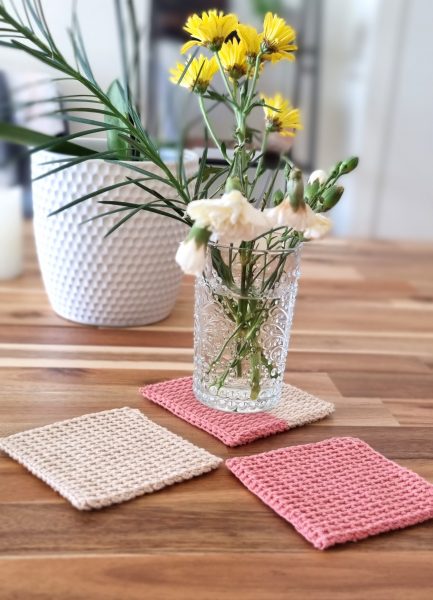 What Yarn To Use
I'm using 100% cotton yarn for these crochet coasters. But if you're intending to use the coaster exclusively for your cup of tea/coffee or cold drinks then you could also try a cotton blend. As long as you're not putting hot pots and pans on them they should be fine.
The reason why 100% cotton is best for potholders is that cotton will not melt. Whereas acrylic & nylon or other synthetic yarn melts when in contact with heat. If you're not sure what type of yarn you have on hand, just make a small swatch and test it out. Saying that, my preferred choice and recommendation is to go with 100% cotton yarn!
As this crochet stitch is quite dense, I used #3 light worsted (DK/8ply) yarn.
Square Crochet Coasters Pattern
Scroll down for the free pattern or get the ad-free & print-friendly version with step by step photo and written instructions for a small fee from my Etsy or Ravelry stores.


Or pin this to your Pinterest Crochet Board for later!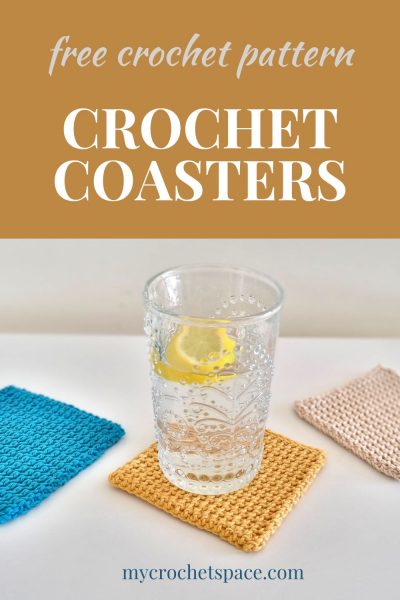 Crochet Square Coasters Free Pattern
Skill: Intermediate.
The Thermal stitch is not difficult for experienced crocheters. But it's not quite the easiest stitch for beginners. It can be tricky for the first couple of rows when you're starting a project as you need to find the right stitches to insert your hook into. Once you made the first four to five rows, the stitches are much easier to see and work into.
If you are not familiar with the thermal stitches, you can start with the Thermal Single Crochet. This stitch is also great for potholders as it's really thick and dense. There are three different patterns and thermal stitches you can choose from!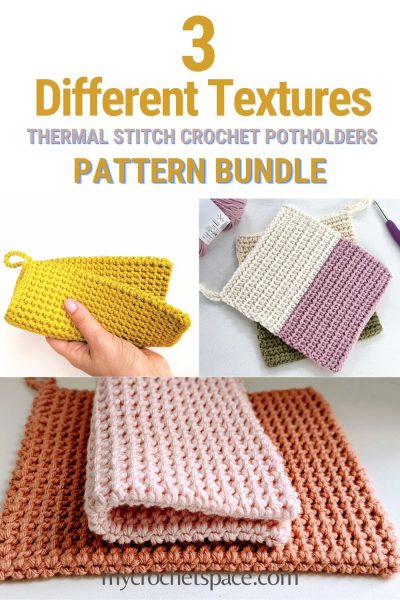 Dimensions
4.5″ x 4.5″ (11.5cm x 11.5cm)
Gauge
5 stitches x 4 visible rows (or 8 worked rows) in Thermal HDC per inch
Abbreviations (US Terms)
Ch = chain
St = stitch
Sl St = slip stitch
HDC = Half Double Crochet
Th HDC = Thermal half double crochet. Yarn over, insert hook into the back loop plus into the back loop (unworked) stitches on the row below, yarn over pull through 3 loops on hook, yarn over pull through all loops on hook.
You can find the accompanying video demonstration here.
Materials
You can use any 100% cotton, light worsted weight yarn #3/DK/8ply yarn (if you use worsted weight yarn, the coaster will be thicker and larger)
Crochet hook 4mm (G)
Scissors
Yarn needle
Crochet Coasters Pattern Notes
This crochet coaster measures 4.5 inches wide and 4.5 inches long. The size can be easily adjusted by chaining more or less for your foundation chain (any amount of chains) and by working more or fewer rows.
If you use a different yarn weight, you will need to adjust the number of chains in the pattern.
Ch 1 at the beginning of a row serves as a turning chain and does not count as a stitch.
The last stitch in a row may be harder to see as it's covered by Ch1. Tightening Ch1 at the beginning of a row will make it easier to see that stitch.
Make sure to count after each row to make sure you haven't skipped any stitches and catch any mistakes early. 🙂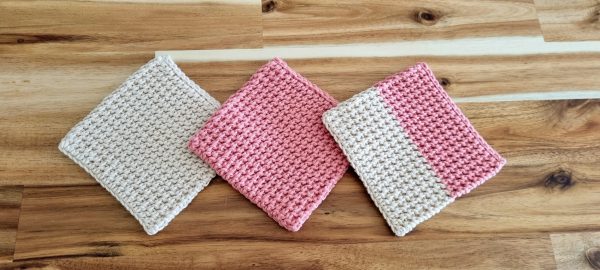 Square Crochet Coasters Instructions
Ch 19 (or any amount)
Row 1: HDC in second Ch from hook and across the row. (18)
Row 2: Ch 1, turn your work vertical as pictured below. Starting with Thermal Stitches. Insert hook into back loop + the unworked chain loop on a row below) and work a HDC in the first St and every St across the row. (18)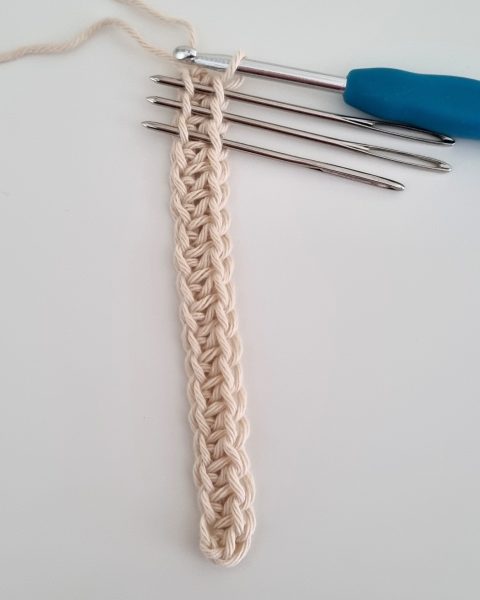 Row 3: Ch 1, turn vertical. Th HDC (this time back loop + two loops on row below) in first St and every St across the row. (18)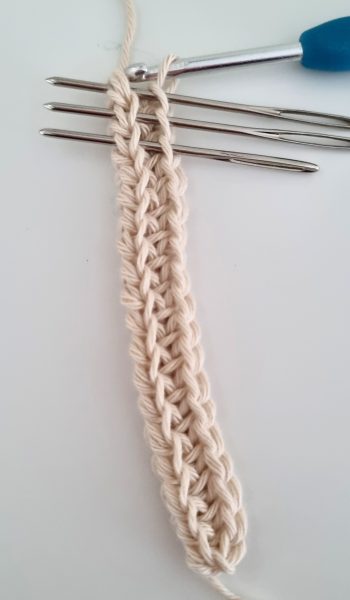 Row 4-28: repeat row 3 until you reach your desired size.
Row 29 (final row): Ch 1, tighten the chain slightly to make it smaller. Insert your hook under the third loop PLUS the two loops on row below as you did in previous rows. You will have 6 loops on your hook, work a slip stitch. Continue with slip stitch across the row. Please watch the video demonstration below.
Fasten off and weave in all ends!
You can get a printable ad-free PDF version of this pattern from Etsy here.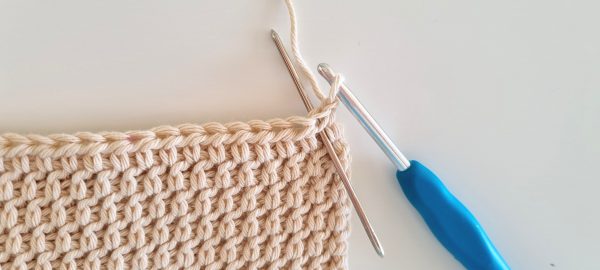 I hope you like this square crochet coaster pattern. If you make anything from my patterns, share them on Instagram & tag me @my_crochet_space! I love to see your makes! 🙂
Square Crochet Coasters Video Demonstration
The video shows how to work the thermal stitch from the very beginning, how to change colour (if you want to make a half/half coaster), how to slip stitch in the final row and to weave in the ends.
More Free Patterns